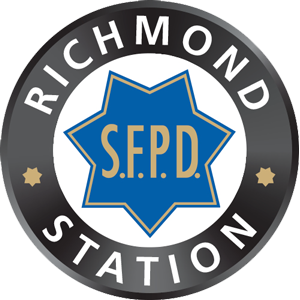 SFPD Richmond District Police Station
Weekly Update 12-04-2015
From Captain Simon Silverman
Holiday Toy Drive:
If you'd like to help out with our annual toy drive you can drop off a new unwrapped toy at Richmond Station (461 6th Ave) until December 15. We have a box in the lobby and we are always open.
Thanks to all of you who made our food drive a success. The SF Marin Food Bank picked-up two jam packed barrels from the station yesterday! (The barrels were actually packed with more than just jam… we had all kinds of food.)
Here are some recent incidents from the Richmond Police District:
BURGLARY OF AN OCCUPIED RESIDENCE / ROBBERY WITH A GUN
11/20/2015 6:00 AM
Anza & 22nd Ave
The victim awoke to find the suspects inside his ground floor apartment after they had gained entry through an unlocked front gate and the unlocked door of the apartment. One suspect was stealing his laptop and the other his video gaming console. The suspects ran out of the apartment with the victim in pursuit. Suspect #1 picked up a stick and threatened to hit the victim. The victim charged at suspect #1 at which point suspect #2 pointed a gun at him. The victim wisely retreated to his apartment.
Suspect #1: Latino male in his 40s, 5'8" 150 lbs, with short hair and dark clothing
Suspect #2: Latino male in his late 30s, 5'8" 150 lbs, with long hair and dark clothing. Armed with a small, dark colored handgun
Captain's Note: I recommend taking care to lock yours doors and gates. However, I do not recommend chasing suspects. Call 911 and let us do the chasing.
BURGLARY OF AN OCCUPIED RESIDENCE
11/21/2015 7:00 AM
Cabrillo & 40th Ave
The family awoke to discover that a number of items had been stolen from their home while they slept. The garage door was raised slightly, indicating that the suspect may have forced the automatic garage door open.
Captain's Note: Garage doors with an automatic opener are difficult to force open, but it can still be done. Using an interior latch to secure the door provides an extra measure of security, but you have to remember to open the latch or you might break the automatic door opener as it strains to open the door.
ARREST: DUI
11/22/2015 12:40 AM
California & 10th Ave
Officers on patrol saw a Mercedes make a very wide turn and begin driving in the curbside parking lane (fortunately it was empty due to the time of the night). The car was weaving down the road, so the officers stopped the driver. He admitted to having just come from a bar where he had the standard "one beer."
Captain's Note: Based on the suspect's performance on field sobriety tests it was a very big beer.
MISCELLANEOUS POLICE SERVICE
11/22/2015 2:06 AM
California & 26th Ave
An extremely intoxicated woman called 911 to report that her boyfriend had been kidnapped. According to the caller, the couple had just taken an Uber car home. She got out of the car assuming that her boyfriend was right behind her, but when the Uber car drove off her boyfriend was nowhere to be seen. As officers were speaking to the woman, her boyfriend (also extremely intoxicated) returned home. He explained that he was passed out in the back of the Uber car and had not been kidnapped.
Captain's Note: I applaud this couple's decision to get a ride home instead of driving (note the DUI arrest above). However, it's not a good idea to get so drunk that you can't conduct yourself in a safe and sensible manner.
PACKAGE THEFT / FOUND PROPERTY
Lake & 6th Ave
11/23/2015 10:51 AM
A resident was at home when she heard a noise coming from the porch next door. She went to look and found the suspect tearing open a package that had been delivered to her neighbor. The suspect put the stolen property into a shoulder bag and ran off. The resident yelled at the suspect. This alerted the neighbor who came out and chased the suspect while the resident called 911. As he pursued the suspect, the neighbor saw her drop her cell phone. He picked it up and later handed it over to officers.
Suspect: Unknown race female, 45-50 years old, 5'5" 100 lbs, wearing a black hooded sweatshirt and black pants. Missing a cell phone
Captain's Note: With the holiday season upon us thefts of packages from porches will skyrocket. Some merchants offer shipping to a nearby store for pick-up which may be a good option for valuable items. On the plus side, this case is a fine example of neighbors looking out for each other, although (as we saw in the first entry of this edition) I don't recommend chasing after suspects.
Captain's Note to the Suspect: Your cell phone can be picked up at the station… and so can you.
BICYCLE THEFT
Geary & 4th Ave
11/23/2015 1:00 PM
The victim left his bicycle "locked" to a light pole with a combination cable lock. He returned a half hour later to discover the bike and the lock gone.
Captain's Note: Regular readers know what I'm about to write… Cable locks are useless because any cable lock can be quickly and easily cut.
THEFT FROM A STORE
LaPlaya & Fulton
11/23/2015 4:00 PM
Store employees reported that two unknown suspects stole 75 bottles of cabernet sauvignon for a total loss of over $5000.
Captain's Note: Investigators are checking the files for suspects who've been arrested for stealing anything that might pair well with a nice cab.
THEFT
Geary & Arguello
11/24/2015 3:30 PM
The victim left her purse on the front seat of her car while she went into the gas station mini mart. During her brief absence, an unknown suspect reached through her open car window and stole the purse.
Captain's Note: Never leave your purse in the car, even if the car is locked up.
BURGLARY OF A GARAGE
11/25/2015 7:30 AM to 11/27/2015 10:50 AM
Locust & Pacific
The residents were out of town for a few days when an alert neighbor noticed that their garage door was open. The neighbor called them and they returned home to find that two expensive road bikes had been stolen. There was no sign of forced entry so the garage was possibly left open accidentally or left unlocked. The victims have no record of the serial numbers on the bikes.
Captain's Note: Without the serial numbers it is very unlikely that the bikes will ever be recovered. It is a good idea to keep a note of serial numbers for valuable items.
ARREST: PUBLIC INTOXICATION
11/27/2015 2:07 AM
Geary & 3rd Ave
Officers responding to a fight in the street found several men yelling at each other. One of them was shirtless (in the middle of the night during a record cold spell). Most of the subjects calmed down and were cooperative with the officers, so they were admonished and sent on their way. The shirtless subject was particularly intoxicated and offered to kick one of our police officers in the face. The suspect's offer was declined and our officer made a counter offer of warm accommodations for the night at Richmond Station (an offer the suspect could not refuse).
Captain's Note: It's a misdemeanor for a person to be in "any public place under the influence of intoxicating liquor…in a condition that he or she is unable to exercise care for his or her own safety or the safety of others."
WELL BEING CHECK
11/27/2015 10:00 PM
California & 18th Ave
Two officers from Richmond Station's night watch have befriended an 84 year old woman who lives alone and has no family in the area. They regularly check up on her and last saw her the day before when they brought her a Thanksgiving dinner. However, on this night she did not answer the door and they heard her inside faintly calling out to them. They got into the house and found that the woman's sofa bed frame had cracked causing her to fall through and become stuck. In fact, she had been trapped for over 12 hours. If the officers had not checked on her, she might have been stuck until her weekly home help visit which was still four days away. The woman was taken to the hospital to recover. While at the hospital the next day, she called SFPD dispatch because she needed her glasses, address book and cell phone from home and had no one else to get them. The officers happily got the items and delivered them to her hospital room.
Captain's Note: I don't usually name the officers in the newsletter, but in this case I want to recognize Officer Anna Cuthbertson and Officer Josh McFall for their caring and dedication. By the way, they didn't deliver dinner to just this one senior citizen on Thanksgiving. They raised money from their fellow night watch officers then bought, cooked and delivered dinner to 6 seniors living alone in the Richmond. Thanksgiving was their day off, but they chose to spend it in service to others.
ROBBERY / AGGRAVATED ASSAULT
11/29/2015 3:14 AM
Geary & Masonic
The victim (a petite 21 year old woman) was waiting at the bus stop when the three suspects approached her, shoved her to the ground and began kicking her. They stole her backpack and phone then fled on foot. All three suspects were Black males about 20-30 years old and all were wearing dark clothing.
BURGLARY OF A RESIDENCE
11/29/2015 10:00 PM to 11/30/2015 7:00AM
Anza & 33rd Ave
The resident discovered that someone had taken his lap top computer and tablet overnight. It appears that one of his roommates may have left a side door to the house unlocked after taking out the trash.
Captain's Note: Burglars will prowl through a neighborhood looking for unlocked doors and windows. Property criminals are generally lazy and want to take the path of least resistance. If a door is locked, they will often move on to the next house in search of an easier target. By being vigilant about locking up, you can greatly reduce your chances of falling victim to a thief.
ARREST: POSSESSION OF HASH OIL FOR SALE / POSSESSION OF PSILOCYBIN 12/01/2015 12:22 PM
JFK & Conservatory Drive West
An officer was on patrol in Golden Gate Park when he saw a car run a stop sign and almost hit another car. As the officer pulled over the car, all of the occupants tried to hop out and walk away but he told them to stop. As the officer approached the driver's side of the car he noticed a very strong odor of marijuana coming from inside the car. The driver had a suspended license and both passengers were on probation. In fact, one of the passengers was on probation in both Alameda and Contra Costa counties and was sweating profusely (despite the recent cold weather). He admitted to possessing marijuana and psilocybin (AKA "magic mushrooms"). He also had dozens of carefully labeled small plastic containers of marijuana hash oil, a digital scale (used to weigh out individual doses) and a ledger detailing his drug inventory and the expected profit to made from each product line (about $4500 total – but don't tell the IRS because he's not planning to declare this on his Schedule C for 2015).
ARREST: POSSESSION OF METHAMPHETAMINE FOR SALE / IDENTITY THEFT / POSSESSION OF STOLEN PROPERTY
12/01/2015 10:49 PM
Clement & 32nd Ave
A sergeant on patrol saw a suspicious occupied car in the parking lot of a store that was closed at the time. He approached the car and as he spoke with the driver he could see a baggie of methamphetamine sitting on the center console (oops). A further search of the car turned up numerous stolen IDs, fake IDs, stolen gift cards, and stolen credit cards. The suspect also had machines and software for making and reading magnetic stripe credit cards plus more methamphetamine and a digital scale.
Captain's Note: This case illustrates the common link between methamphetamine and identity theft crimes.
SCAM: FAKE CALLER CLAIMING TO BE FROM THE IRS
12/02/2015 7:47 AM
California & Commonwealth
The victim received a call from a very aggressive man with a strong foreign accent who claimed to be "IRS Agent Andy Smith." He told her that she owed $4700 in back taxes and said that the SFPD would arrest her if she did not pay the full amount immediately. He instructed her to wire the money to a bank account in the name of "Sophia Karim." Sadly, she wired the money and it is now gone forever.
Captain's Note: This is a common scam. The suspects are probably not even in the US but they spoof their phone number so that it appears to be local. The best clue that this was a scam was when the suspect demanded immediate payment via an untraceable, non-refundable method. You also have to ask yourself why the IRS would want their money sent to the individual account of "Sophia Karim" instead of to the US Treasury. The best thing to do in these cases is to hang up. The scammers call hundreds of people each day in order to hook a few victims. They may be nasty and aggressive, but they just want your money and they will move on quickly once they realize that you are not going to give it to them. No matter how much they may threaten, I have not heard of any case where the suspect actually showed up in person (remember, they are probably half a world away). Finally, local law enforcement agencies do not arrest people for tax problems on behalf of the IRS.
ARREST: VANDALISM / BATTERY ON A POLICE OFFICER
12/03/2015 1:17 PM
Geary & 23rd Ave
The suspect was yelling, behaving aggressively and tipping over a garbage can in front of a grocery store. He then threw an empty plastic water bottle at the cashier and tossed a chunk of metal at the store window causing it to shatter. Officers arrived to arrest him and while he was in handcuffs, he kicked one of the officers in the shin and spat on the officer's face.
Captain's Note: Is this a good place to remind you that we are recruiting police officers? In all seriousness, if you are an adventurous person with a desire to serve and you can keep your cool under difficult conditions we may have just the job for you. Check us out at http://www.sf-police.org/index.aspx?page=1645.
Next Community Meeting:
Tuesday January 19th, 2016 7:00 PM
Richmond Station
461 6th Ave.
NOTE: We will NOT meet on Tuesday December 15th 2015. As previously advertised, we met on Wednesday December 2nd instead.
Contact Us:
Richmond Station
461 6th Ave.
San Francisco, CA 94118
415-666-8000
E-mail: SFPDRichmondStation@sfgov.org