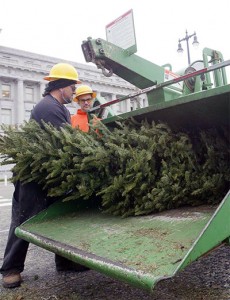 Before you just drag your tree out to the corner, note that there is an actual process the city asks residents to follow to ensure that your tree gets recycled, and not put in a landfill.
During the first two weeks of January (Jan 2 – 15), just put your tree next to your recycle (blue) bin by 6am on your regularly scheduled pickup day. Make sure all decorations, bags, tinsel etc. have been removed.
The collected trees will be chipped at Recology's transfer station and recycling center in the southeast end of the city. The wood chips will serve as biomass (boiler fuel) to generate electricity.
"Treecycling is a great way to keep the holiday season green," said Debbie Raphael, Director San Francisco Department of the Environment.
"San Francisco's commitment to chipping Christmas trees means that hundreds of tons of discarded trees will be turned into energy, instead of taking up space in our landfills."
Sarah B.