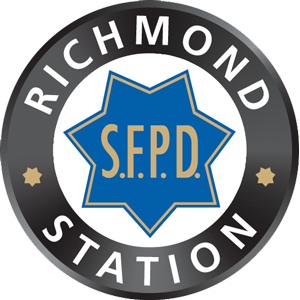 SFPD Richmond District Police Station Update
01-21-2016
From Captain Simon Silverman
Recent incidents from the Richmond Police District:
ARREST: IDENTITY THEFT / FALSE IDENTIFICATION / STOLEN CREDIT CARDS
01/16/2016 12:57 AM
Geary & Collins
A sergeant on patrol saw a car parked inside the car wash (closed at the time). He investigated further and found that the driver was on probation for drug charges and that as part of his probation he had agreed to submit to search without a warrant (a common condition of probation). A search of the car revealed several fake IDs, a handful of stolen credit cards and a notebook filled with other people's bank account numbers plus the associated PINs and passwords.
ARREST: SHOPLIFTING / ASSAULT
01/16/2016 3:51 PM
Geary & Masonic
Store security guards detained a suspect for stealing and he fought with them, biting two of them.
Captain's Note: One of the items shoplifted by the suspect was a U-shaped bicycle lock, which is the kind of lock I recommend. But don't take my word for it. If you need a bike lock, get the one that professional thieves choose (steal) for their own bikes.
ARREST: DRIVING UNDER THE INFLUENCE
01/16/2016 11:59 PM
Geary & 6th Ave
Officers saw a Honda Civic crash into the center divider at Geary & 6th Ave. Although the air bag deployed, the driver was uninjured. However she was intoxicated and had a blood alcohol content well over the legal limit.
ARREST: VANDALISM (SPRAY PAINT) / RESISTING ARREST
01/17/2016 2:55 AM
Clement & 8th Ave
Officers were dispatched to a report of a person spray painting several businesses. When the suspect saw them, he ran but they quickly caught him. He had extra cans of spray paint and a permanent marker in his possession.
THEFT
01/17/2016 5:23 PM
Geary & Masonic
The victim accidentally left her wallet at a store checkout counter. She returned a short time later, but could not find it. Store security officers reviewed their video which showed the suspect (who was behind the victim in line) picking up the wallet and hiding it in her coat. Just as she did this, the victim returned to the register area and asked if anyone had found her wallet. Instead of returning it to the victim, the suspect kept it and used one of the stolen credit cards to buy gas nearby.
Suspect: Latina female, 30-35, 5'5" 190 lbs wearing a maroon jacket, grey top, black leggings and brown boots.
ROBBERY
01/18/2016 4:47 PM
Fulton & 10th Ave
The victims (a 14 year girl and her 13 year old friend) were waiting for the bus when the suspect approached them and asked if they had any money. They told her that they only had money for the bus, and the suspect said, "No, I'm taking your money." Being afraid, the victims handed over their bus fare and the suspect walked away.
Suspect: White female, 17-20, 5'6" skinny, platinum blonde hair
Wearing a tan fur coat, light blue leggings and pink shoes
ARREST: SHOPLIFTING
01/19/2016 4:42 AM
Cabrillo & 7th Ave
The suspect tired to buy alcohol but the store refused to sell it to him (California does not permit alcohol sales between 2:00 AM and 6:00 AM). Undeterred, the suspect jammed a key into the lock on the case holding the cognac, opened it and stuffed two bottles into his jacket. He was just leaving the store as the first officer arrived. The suspect is on probation for grand theft in Alameda County and for possession of a deadly weapon in San Francisco.
ATTEMPTED BURGLARY OF AN OCCUPIED RESIDENCE
01/19/2016 4:45 PM
Lake & 9th Ave
The resident was home when she heard someone insistently buzzing the intercom of her multi unit building. She did not answer the door as she was not expecting anyone. A short time later, she saw suspect #1 in her hallway. When he saw her, he yelled to suspect #2 that someone was home and both suspects ran out of the building with the resident in pursuit.
Suspect #1: Black male, 25-35, 5'8" 220 lbs, light complexion with freckles, wearing a white zip up hooded sweatshirt
Suspect #2: Latino male, 25-35 5'10" 175 lbs
Suspects' Car: White boxy vehicle similar to a Toyota Matrix or Prius C.
Captain's Note: I do not recommend pursuing suspects.
ARREST: THEFT FROM A VEHICLE / POSSESSION OF STOLEN PROPERTY / RESISTING ARREST / PROBATION VIOLATION
01/20/2016 11:43 AM
MLK & Stow Lake Drive
An officer responding to a report of a person casing vehicles in Golden Gate Park saw the suspect running away. The suspect was in possession of two backpacks (both containing children's property). Another officer found a nearby Mazda with a broken window and the owner of the car identified the two backpacks as belonging to her children. The suspect fought with officers as they handcuffed him and was already on probation for a firearms violation.
Captain's Note: The owner of the car told officers that she saw the suspect as she was parking. She believed that he was casing cars so she put a blanket over the back packs. As this case illustrates, putting a blanket over something (or putting it under the seat, in the glove box, in the trunk etc) is not effective. The best practice is not to leave things in the car.
Contact us:
Richmond Station
461 6th Ave.
San Francisco, CA 94118
415-666-8000
E-mail: SFPDRichmondStation@sfgov.org
Next community meeting:
Tues 02-16-2016 7:00 PM
Richmond/Senator Milton Marks Library
351 9th Ave
San Francisco