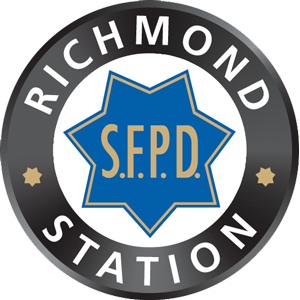 SFPD Richmond District Police Station Update
03-04-2016
From Captain Simon Silverman
Recent incidents from the Richmond Police District:
TRAFFIC COLLISION WITH INJURY
02/25/2016 5:16 PM
McAllister & Willard North
A bicyclist was northbound on Willard North when she ran the stop sign at McAllister and collided with a car that was going west on McAllister (there is no stop sign for west bound McAllister). According to witnesses, the cyclist went through the stop sign at speed and did not slow down. She was cited.
TRAFFIC COLLISION WITH INJURY
02/25/2016 11:28 PM
Geary & Park Presidio
An intoxicated pedestrian was crossing eastbound on Geary in violation of the red hand (don't walk) signal when he was struck by a car going north on Park Presidio. He suffered minor injuries.
Captain's Note: In the collisions above, a bicyclist and a pedestrian were at fault (which is uncommon in the Richmond). As these cases illustrate, it is critical that all users of the roadway obey the law. Cyclists and pedestrians usually suffer greater injuries than drivers, so they should be especially careful – for their own safety as well as the safety of others.
ARREST: TRESPASSING / RESISTING ARREST / BATTERY ON A POLICE OFFICER 02/27/2016 10:56 AM
Geary & 9th Ave
The suspect boarded a casino bound shuttle bus but she did not have a valid pass. The driver asked her to pay $10 and she refused. The suspect argued with the driver and declined other passengers' offers to pay her fare. The driver called the SFPD and officers tried repeatedly to convince the suspect to leave the bus. They explained that she would be arrested if she did not get off. When she refused, they tried to gently escort her off. She punched one officer and bit another so hard that his wound required medical attention.
Captain's Note: Some days you take a bite out of crime… Other days, crime takes a bite out of you. Fortunately, the officer is okay. The suspect has been charged by the DA's Office.
ROBBERY WITH A KNIFE
02/28/2016 1:24 AM
Anza & 42nd
The victim was walking home when the suspect approached her, pulled out a silver pocket knife and demanded her purse. She tried to run away but the suspect punched her in the face and forcibly took the purse from her.
Suspect: Black male, 25-30 years old, 6' 150 lbs, wearing a black hooded sweatshirt and black jeans.
ROBBERY WITH A KNIFE
02/28/2016 2:00 PM
Golden Gate Park (near Fulton & 4th Ave)
The victim was walking in a wooded area of the park and texting on his phone when the suspect approached, threatened him with a knife and told him to throw his valuables on the ground.
Suspect: White male, 25 years old, 5'9" 150 lbs, wearing a dark colored jacket and dark jeans. He was described as having "wide eyes."
DRIVING WITHOUT A LICENSE / EXPIRED REGISTRATION / NO INSURANCE
02/28/2016 2:08 PM
Geary & 27th Ave
An officer on patrol saw a car with no license plates and pulled it over. The registration had expired in May 2013, the driver was unlicensed and he had no insurance. He asked for mercy, telling the officer that he was a visiting student who had just arrived in the US to study at USF. A quick check with USF public safety revealed that he was last enrolled in 2010. He was cited for all three violations (just as he had been on 01/21/2016) and the car was impounded.
Captain's Note: You only have to have three things to drive a car in California: license, registration and insurance. Three strikes, you're out.
DEATH INVESTIGATION
03/02/2016 7:56 AM
Golden Gate Park (near Chain of Lakes)
A body was discovered in the water. The case remains under investigation but does not appear to be criminal in nature.
ARREST: DRIVING UNDER THE INFLUENCE / TRAFFIC COLLISION
03/03/2016 3:32 AM
Fulton & 36th Ave
A drunk driver crashed into the side of a building. Officers found the driver passed out behind the wheel with the car in drive and his foot still on the gas pedal.
BURGLARY OF AN OCCUPIED RESIDENCE
03/03/2016 6:52 AM
Cabrillo & 21st Ave
The resident heard noises coming from his garage and went to investigate. He saw the suspect who ran toward a side door to escape. The resident grabbed him and they wrestled briefly before the suspect got away.
Suspect: White male, 20-25 years old, 5'10" 180 lbs, wearing a dark colored jacket and blue jeans. The suspect was clean shaven and had short hair.
Captain's Note: I do not recommend that citizens get into physical confrontations with suspects. If a suspect is trying to flee, it's safer to let him go.
ARREST: DRIVING UNDER THE INFLUENCE
03/04/2016 1:58 AM
California & Baker
Officers were dispatched to a report of a naked man sitting in the driver's seat of a shuttle bus. They found the suspect with his head resting on the steering wheel and the horn sounding. The engine was running and he had his foot on the brake. The suspect was sweating profusely despite mild overnight temperatures. As officers banged on the door to try to get the suspect to open up, the bus began to lurch forward. They were forced to break the window to get inside and stop the suspect who is an employee of the bus company (well he was at the time of his arrest).
A message from the U.S. Department of Justice, Office of Community Oriented Policing Services regarding Community Listening Sessions:
The U.S. Department of Justice, Office of Community Oriented Policing Services (COPS Office) wants to hear your perspectives, concerns, and suggestions regarding the SFPD and its interaction with the San Francisco community. They are holding community listening sessions to hear from you. Your participation in these open forums will help guide their efforts to advance the operations, staff, policies, procedures, accountability systems, and training of the SFPD.
Please feel free to attend the session most convenient for you. Further, they would welcome your assistance in spreading the word to members of your community.
Tuesday March 8, 2016
Mission High School Auditorium
3750 18th Street
6-8pm
Thursday March 10, 2016
Gateway High School Auditorium
1430 Scott Street
6-8pm
Contact us:
Richmond Station
461 6th Ave.
San Francisco, CA 94118
415-666-8000
E-mail: SFPDRichmondStation@sfgov.org