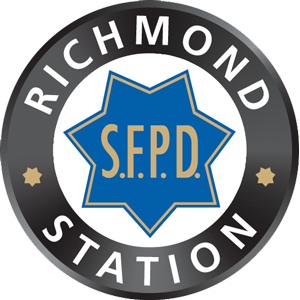 SFPD Richmond District Police Station
Weekly Update 04-07-2016
From Captain Paul Yep:
In this newsletter I will provide even more Auto Burglary prevention information and some IRS scam advice. Please note in the recent incidents summaries portion the great work your officers are doing daily to make the Richmond the safest district in the City!
*****Auto Burglary Alert*****
Many of you have seen the news stories reporting a significant increase in incidents of auto burglary occurring throughout The City. The Officers of Richmond Station, working with inspectors, SFPD Crime Analysis Unit and plainclothes Officers from other police districts, are working around the clock to identify hot spots and trends, target areas where thefts often occur and increase patrols to combat this concerning issue….but we need your help! Here is some advice on how to help us solve this problem:
– If you see someone acting suspicious (loitering near parking areas), looking into the windows of parked cars, trying to open car doors, or unfamiliar vehicles slowly circling your neighborhood without apparent purpose – call (415) 553-0123 or in emergencies "911"! You are our eyes & ears!
– Whenever possible park in well-lit and populated areas visible to patrolling officers.
– Never leave anything visible inside of your vehicle, including any bags/backpacks/luggage, GPS devices, electronics, phone accessories, loose change, tools, etc. What you know to be your gym bag full of sweaty clothes to an auto burglar looks like a great opportunity for a quick buck!
– If you are transporting a firearm, it should be unloaded and in a locked container in the trunk. When you arrive at your destination, do not leave the firearm in your vehicle, even if you'll "only be a minute."
At a community members request here is some IRS scam advice:
In general, if the real IRS needs to contact you, they will do so via regular US Mail first. If the IRS does contact you by phone, they will never demand immediate payment or ask for credit card or debit numbers over the phone. Also, the IRS never uses social media, text messaging or email when asking for personal or financial information. If you have any doubts or suspicions, do not give out any personal information and call your nearest IRS office to verify the person contacting you is real. Further information can be found at: https://www.irs.gov/
Here are some of the incidents that occurred in the Richmond Police District this week:
ARREST: DRIVING WHILE UNDER THE INFLUENCE OF ALCOHOL
04/01/2016 01:20 AM
31ST Ave. & Clement St.
Officers on patrol observed a vehicle first run a red light and then proceed to drive through several posted stop signs. Officers caught up to the car and made a traffic stop. As the Officers approached the vehicle they noticed all the windows were down and a strong odor of alcohol was emanating from the vehicle. When Officers spoke with the driver they noticed she was talking slowly with slurred speech and had watery, droopy eyes. The Officers had the driver perform several field sobriety tests which led them to suspect she was under the influence of alcohol. The woman was arrested and later booked into County Jail on suspicion of driving under the influence of alcohol.
THEFT FROM LOCKED VEHICLE; GRAND THEFT FIREARM
04/02/2016 8:15 PM
18TH Ave & Geary Blvd.
The victim drove to a local coffee shop and parked right out front. He locked his car, but left his backpack clearly visible on the seat. When the victim less than ten minutes later, found his window smashed and his backpack gone. There were two handguns inside the backpack.
** To Reiterate: Nothing of value, especially firearms, should ever be left inside parked vehicles. When transporting firearms, they should be unloaded, stored in locked containers in the vehicle's trunk, and removed from the vehicle once parked.
ARREST: PROBATION VIOLATION; POSSESSION OF BURGLARY TOOLS
4/02/2016 4:44 PM
La Playa & Fulton St.
Officers on patrol observed a known bicycle thief in the area of La Playa and Fulton St. and knew the suspect was on probation out of SF County. Officers made contact with the suspect and observed a large object tucked into his pants, concealed by his jacket. When the Officers asked the suspect what was in his waistband he said, "It's a bolt cutter I found in the park." Knowing a condition of the suspect's probation was not to possess bolt cutters (a tool often used by thieves to cut bike locks), Officers placed the suspect under arrest for a probation violation.
ARREST: STOLEN VEHICLE
04/03/2016 11:15 AM
JFK & 8TH Ave.
Officers responded to JFK & 8th Ave. to provide backup for Park Rangers regarding a mentally unstable female. Park Rangers stopped her vehicle as she drove through the barricades set up for Sunday Streets in Golden Gate Park. Sunday Streets allows adults and children to enjoy roadways without the worry of motor vehicles. When Officers arrived on scene they ran the vehicle's plate and discovered it had been reported stolen. Officers immediately handcuffed the suspect who was acting erratically. Officers contacted the owner of the vehicle who confirmed it had in fact been stolen. Due to the suspect's erratic behavior and actions, Medics transported her to the hospital for treatment. The suspect was later booked into County Jail.
ARREST: MALICIOUS MISCHIEF GRAFFITI
04/03/2016 8:33 PM
Geary & Masonic
A security guard at Target observed a male suspect spray painting on a wall located in the Target parking lot. Officers arrived on scene and located the suspect, who matched the person seen on surveillance video. The suspect informed the Officers he was on probation out of San Mateo County. A probation search revealed several cans of spray paint and miscellaneous graffiti tools. The male suspect was booked into County Jail on felony vandalism charges.
ARREST: STOLEN VEHICLE; NARCOTIC PARAPHERNALIA; LOITERING WHILE CARRYING A CONCEALED WEAPON; SALES OF METHAMPHETAMINE, ETC.
4/03/2016 12:59 AM
Funston Ave. & Geary Blvd.
Officer's patrolling the area of Funston and Geary observed a motorcycle driving on the sidewalk, in violation of the California Vehicle Code. The Officers saw the male driver and female passenger park the motorcycle and get off. Officers ran a computer check on the motorcycle's license plate which revealed it was stolen. When the Officers approached the suspects the man immediately ran into the bushes located on Funston Ave and the female walked towards the 711 gas station. Officers located the man hiding behind a bus shelter and placed him under arrest. Shortly thereafter Officers located the female suspect in the gas station parking lot and placed her under arrest. A search of the female located clear baggies containing suspected Methamphetamine and other drug paraphernalia as well as a 6" knife concealed in her waistband. Officers later booked both suspects into County Jail on several felony charges.
ARREST: RECKLESSLY EVADING A POLICE OFFICER
04/04/2016 12:28 PM
Clement St. & 18th Ave.
Officers were dispatched to the area of Clement and 18th Ave., regarding a possible domestic violence incident, where a woman could be heard screaming for help. When Officers arrived on scene they saw a man running to a parked vehicle. Officers attempted to stop the man but he got into the vehicle and fled at a high rate of speed westbound on the sidewalk. Although Officers attempted to stop the vehicle, the man continued driving and hit two cars in the process, disabling his vehicle. The man then fled on foot. As the Officers searched for the suspect several witnesses told them he ran through the park and was on 18th Ave. They located the suspect and placed him under arrest. After being handcuffed, the man began yelling and threatening Officers and once placed into the back of a patrol vehicle, attempted to kick out the window. The suspect was transported to Richmond Police Station and later booked into County Jail. The Officers went back and spoke with the female involved in the incident who told them there had been no violence involved but she was having a verbal dispute with her boyfriend.
Contact Us:
Richmond Station
461 6th Ave.
San Francisco, CA 94118
415-666-8000
E-mail: SFPDRichmondStation@sfgov.org