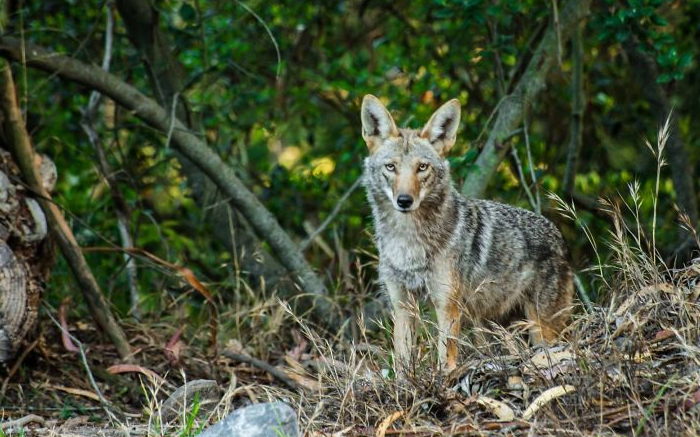 It's pup season for San Francisco's coyote population (March through October), and that means coyote parents are on high alert and ready to defend their dens. As a result, there's been an alarming increase this month in coyote sightings and interactions across the city, and in our own nearby Presidio.
Reader Lisa G. said her husband was walking their 80 pound Labrador retriever on Saturday, April 23 around 7:30pm when her dog was attacked by a coyote. The dog was on a leash.
"There were two coyotes that surrounded my husband and the dog while inching closer," Lisa wrote.
One of the coyotes bit her dog, and it wasn't until a golf cart drove up that they were scared off.
Lisa's dog didn't need medical attention, but she was shocked at their brazen approach.
"If these coyotes were comfortable enough to bite an 80lb dog and stalk my husband, what's next?"
It's an excellent question, especially as reports of coyote sightings and interactions this month are on the rise among owners that take their dogs on walks along the Presidio's southern roads and trails (more on coyotes in the Presidio).
In the last 2 weeks alone, we've heard of five incidents where coyotes approached and sometimes confronted a dog and their owner.
During the week of April 4, one woman encountered a pack of five coyotes along the Marine Cemetery Vista trail behind the Landmark apartments. She said two of the coyotes went for her dog, while the other three surrounded them. Her dog was not injured, but when we encountered her, she was on a mission to tell as many other dog owners as she could about the incident.
Another man walking his dog saw a coyote on the lake side of the fence near the eastern shore of Mountain Lake.
"My dog saw it first and stopped, then I saw movement in the bushes," he said.
We've had our own run-ins with coyotes on the Marine Cemetery Vista trail and on the Lobos Creek Valley Trail. The incidents have typically been in the morning hours, between 7am and 8am.
Our first interaction occurred on the Lobos Creek Valley Trail as we were approaching Battery Caulfield Road. A coyote came out of nowhere and loped along with us about 10 yards away, in a playful manner. Some shouting and stick throwing scared it off.
The next encounter, in that same area about 2 weeks later, was more serious. On Thursday, April 21, a coyote, in its usual stealth ninja style, appeared right next to my dog and growled and snapped its snout at it. I was able to scare it off but it was a much more aggressive interaction.
In another incident, a coyote popped up at the east end of the Marine Cemetery Vista trail and engaged in a flanking maneuver to get ahead of us on the trail and lie in wait.
"Nothing can be done"
After her dog was bitten, Lisa G. called the Presidio to report the incident. Their response was not helpful.
"When we called the golf course to report the incident we were told it's a national park and nothing can be done," Lisa said. "Why do these wild animals have more rights than we do?"
Other neighborhoods in the city are feeling the coyote crunch as well. At a hearing in March, concerned citizens were told they just have to learn to coexist with the animals whose population is growing rapidly.
"When I called the Department of Animal Control, I was told nothing can be done until a human being is killed," Ingleside Terrace resident Daniel Curzon Brown said. "Well, maybe that's what it's going to take."
In the Presidio, the response to the increase has been similarly tepid. According to Jonathan Young, a wildlife ecologist with the Presidio Trust, they are "securing garbage and requiring residents to keep small pets like cats indoors. They are also attempting to track coyotes and monitor active den sites."
The city first started receiving calls about coyotes in 2007. That same year, two were shot and killed in Golden Gate Park after an aggressive encounter with dogs. That resulted in public outcry and led the city to develop a policy that emphasizes coexistence.
But how much longer can that policy stay in place? A dog was killed by a coyote in Stern Grove in 2015, and just this March, a coyote attacked and killed a dog in front of a home in Balboa Terrace.
All the while, the coyote population continues to grow and the spaces they occupy stay the same, making their interactions with humans and pets more frequent.
What to do when you encounter a coyote
It's only a matter of time before a dog is seriously injured or killed in the Presidio or Golden Gate Park. So dog owners, please be very cautious and completely avoid areas where there have been sightings, or where warning signs are posted.
When you see a coyote, be sure to report it to Animal Care and Control by calling (415) 554-9400 or emailing acc@sfgov.org. Within the Presidio, report any incidents of concern (such as aggressive coyote behavior or visitors feeding a coyote) immediately at (415) 561-4148 or coyote@presidiotrust.gov.
Leashing your dog is also very important. Coyotes "may give territorial messages to dogs who come too close, the same as they do to any other non-family coyote who might potentially threaten their territorial claims: this could result in a nip to your dog's haunches — cattle-dog fashion — to get the dog to leave the area. And small pets may look like any other prey to them: so please leash your pets in known coyote areas and don't allow them to roam free." [baynature.org]
Here are some helpful tips from baynature.org on how to manage an encounter with a coyote:
Everyone with a dog should know how to shoo off a coyote who has come too close — it's know-how that's needed just in case there's an unexpected encounter. Simply harassing a coyote with screams, flailing arms and making yourself look big is often not effective. Coyotes get used to this and eventually ignore it as meaningless and quirky human behavior. It's best actually to:
1) approach or charge towards the coyote, and to,
2) do so menacingly as though you're out to get them, by eyeballing them with eye-to-eye contact and yelling "SCRAM, get out of here!"
Often, your piercing gaze into their eyes alone is enough to get them to move on.
However — and this is an all-important caveat — if they absolutely do not move, it will be because pups are close by. In this case, it's best to keep the peace by respecting their need to keep you out of the area they won't move from: just back away rather than provoke an incident, without running. If one follows you, turn and face the coyote — he's unlikely to come closer with your eyes glaring at him. However, if he just stands there, again, try charging in his direction as described above to get him off of your tail. As always, prevention is the best medicine — always keep your distance in the first place.
Stay safe everyone!
Sarah B.