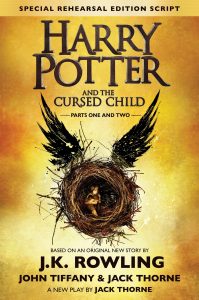 If you're a Harry Potter fan, you've been waiting a long time for something new from J.K. Rowling. Well the wait will soon be over when the eighth book in the series, Harry Potter and The Cursed Child, comes out on August 1.
In this latest book (350 pages), Harry Potter is 19 years older, an overworked employee of the Ministry of Magic, and a husband and father of three school-age children. In the book, which is actually a script for the London West End stage play that also opens July 30, Harry's youngest son Albus struggles with the weight of a family legacy he never wanted.
"As past and present fuse ominously, both father and son learn the uncomfortable truth: sometimes, darkness comes from unexpected places."
On Saturday, July 30 starting at 8pm, Green Apple Books (506 Clement) will host a launch event for the book which will go on sale at midnight. Come dressed in costume – 17 and under can win prizes including Green Apple gift cards, tote bags, and tee shirts. The winner will receive a free copy of Harry Potter and the Cursed Child at midnight.
Free snacks will be available all night. Complimentary adult beverages will be served starting at 9:30pm and other activities will include being sorted into a Hogwarts House, crafts for children, a photo booth, and House specific games.
Have fun, muggles!
Sarah B.