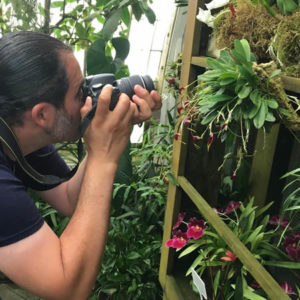 Are you an aspiring artist that longs for peace and quiet in the The Conservatory of Flowers so you can sketch, paint or photograph on the flowery grounds?
Now's your chance! The Conservatory in Golden Gate Park, home to 1,700 species of plants, will open early and stay open late on select days for artists to set up their easels and tripods inside the historic wood and glass greenhouse.
The Conservatory is testing out the program initially on September 27, October 11 and October 25, 2016. The extra hours are from 9-10am and 6:30-7:30pm on each day, and admission is $30 ($20 for members) which includes same day general admission to the Conservatory during normal operating hours (10am-6pm).
Artists must provide all their own materials and storage containers for the removal of all used water and non-toxic cleaning fluids. No fluids of any type are to be disposed of at the Conservatory. Watercolor or pencil only, no oils or acrylics please.
This is a great chance to take your time to get that extraordinary photo or capture a rare flower on canvas. Reservations are required, and space is limited – click here to purchase tickets online.
Sarah B.