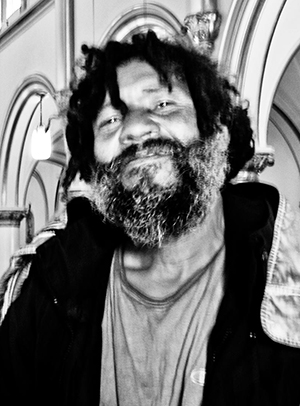 We got word this weekend that a couple of events are being planned to honor Thomas Myron Hooker, the long-time, homeless resident that passed away last week. Thomas most recently lived at the corner of Funston and Clement.
Memorial Service at Star of the Sea
On Monday, November 7 at 7pm, a public memorial service for Thomas will be held at Star of the Sea Church (4420 Geary). Thomas was a frequent attendee of Saturday services at the church. The service will be followed by a reception in the school auditorium with an open mic for people to share their remembrances of Thomas. The church will also show the Voices documentary after the service.
Documentary screening
A final date is still pending, but the Internet Archive (Clement & Funston) is planning to screen the documentary that featured Thomas called Voices (trailer below). The 2015 film "features the stark and intimate portraits of three very different individuals and their struggle with severe mental illness in America. The stories of Sharon, Thomas and Aaron illuminate the challenges, realities, and often complex emotions and choices that surround people with psychotic mental illness and those who love them."
UPDATE: The screening of the film will take place at Star of the Sea Church right after the memorial service on Monday, November 7. The film will begin around 8pm.
Honor at Board of Supervisors Meeting
Supervisor Eric Mar will end the Board of Supervisors meeting in Thomas' honor on Tuesday, November 1.
Sarah B.
"Voices" – Trailer from Hara Films on Vimeo.