On Sunday, an estimated 2,000 people came out for the San Francisco March for America. The march, organized by the Richmond District Blog, was an event that invited San Franciscans "to protest the results of our election and march for what we hold dear about our country and the democratic process: the freedom to express ourselves, tolerance, peace, education, safe haven for refugees and immigrants from around the world, equal rights, inclusion, justice, liberty and freedom."
The peaceful, family-friendly march began on John F. Kennedy Drive in Golden Gate Park, just behind the de Young Museum. Men, women, children and even dogs streamed in with homemade signs and t-shirts. Each participant was encouraged to wear a #safetypin on their clothing as a symbol of solidarity, support, and safety to those who are scared and upset at this time, a movement that started in the UK after Brexit.
The march began with two short speeches from event organizers Sarah Bacon and Brighton Miller.
"The fact that you're here means that you care about not only our city, but our country and the people that make it what it is. What brings us together today is about more than just one politician – it is something much bigger than any individual person. It's about resolving to not stand for hate. To not stand for racism. To not stand for misogyny. And to not stand for a President-elect that condones it," Bacon told the crowd.
"We are on the right side of history and we have come too far as a country to not go backwards. We must not forget that we have won the popular vote, and we must work together to make it known that this election is not a mandate to take away a woman's right to choose, it is not a mandate to tear families apart, it is not a mandate to deny science, and it is not a mandate to discriminate based on race, religion, or sexuality," Miller said between bouts of cheering from the crowd.
After the speeches, participants began marching west down JFK Drive towards Ocean Beach. As the march progressed, more and more people joined, swelling the number to almost 2,000 by the time the march reached Transverse Drive.
Chants of "Love Trumps Hate", "We're Still Here" and "Not My President!" were heard throughout the march.
The SFPD Richmond District was on hand throughout the event, leading the marchers with a squad car and bringing up the rear, and officers walked amongst the crowd during the hour long march.
As participants passed by the bison paddock, many cheered when the bison gave marchers a rare treat as they galloped around their enclosure. While it may have been a result of it being their feeding time, many took it as a sign of the bisons' solidarity and support.
The march concluded with participants crossing the Great Highway at JFK Drive and on to the Ocean Beach promenade.
After one last round of a "Love Trumps Hate!" chant, Bacon thanked the crowd for coming and said, "Never give up, we still have a lot of work to do but this is a great start."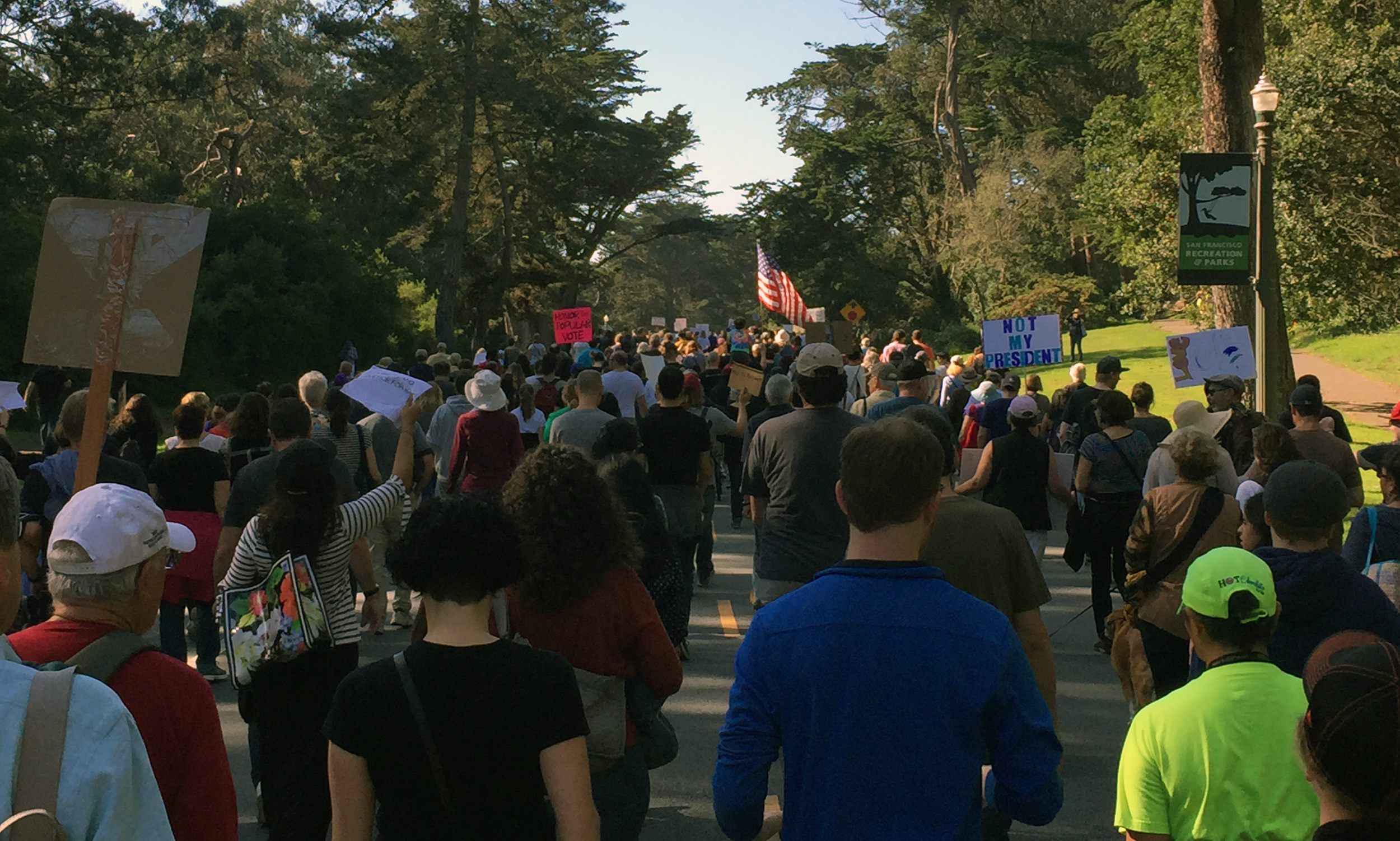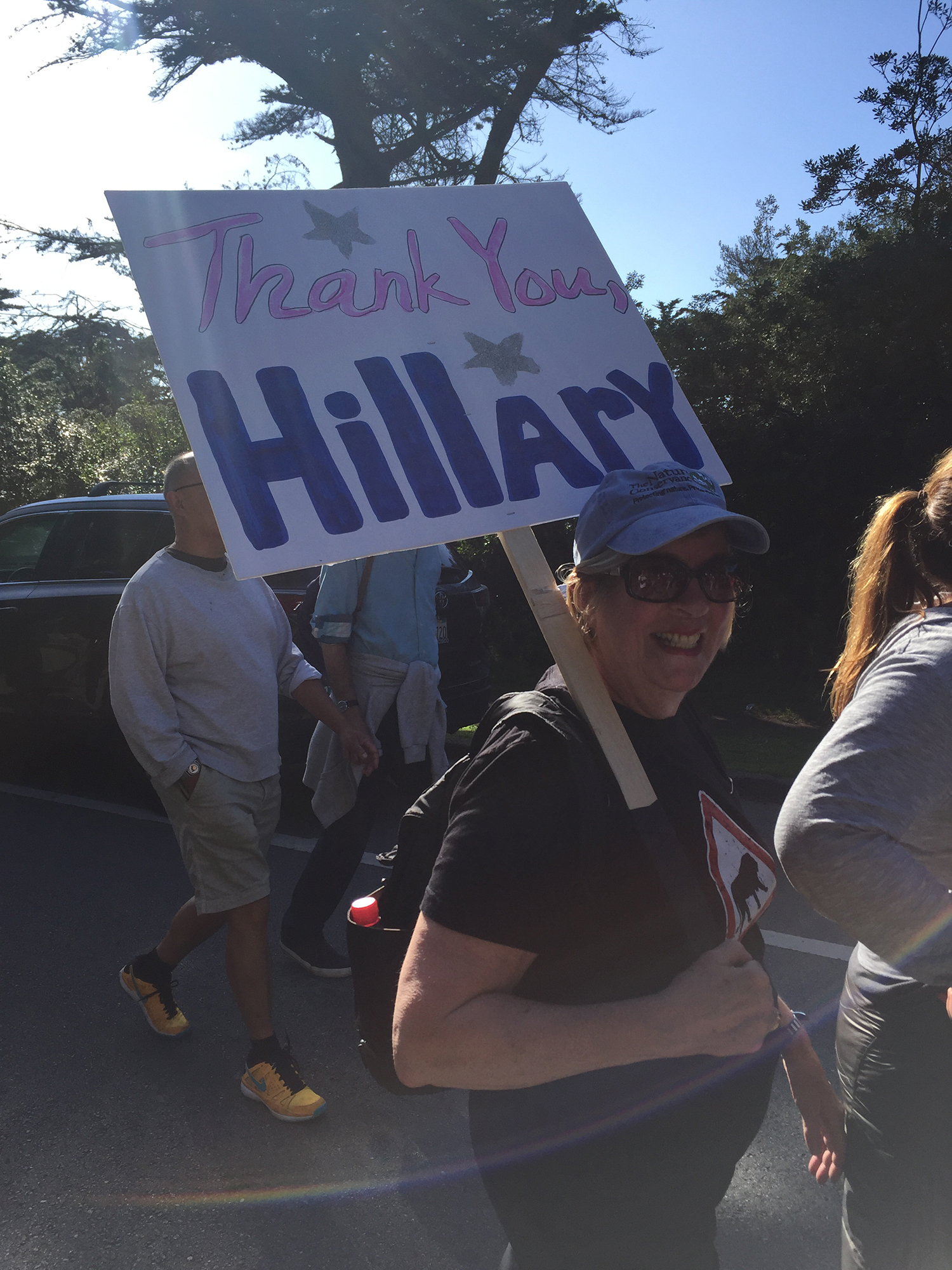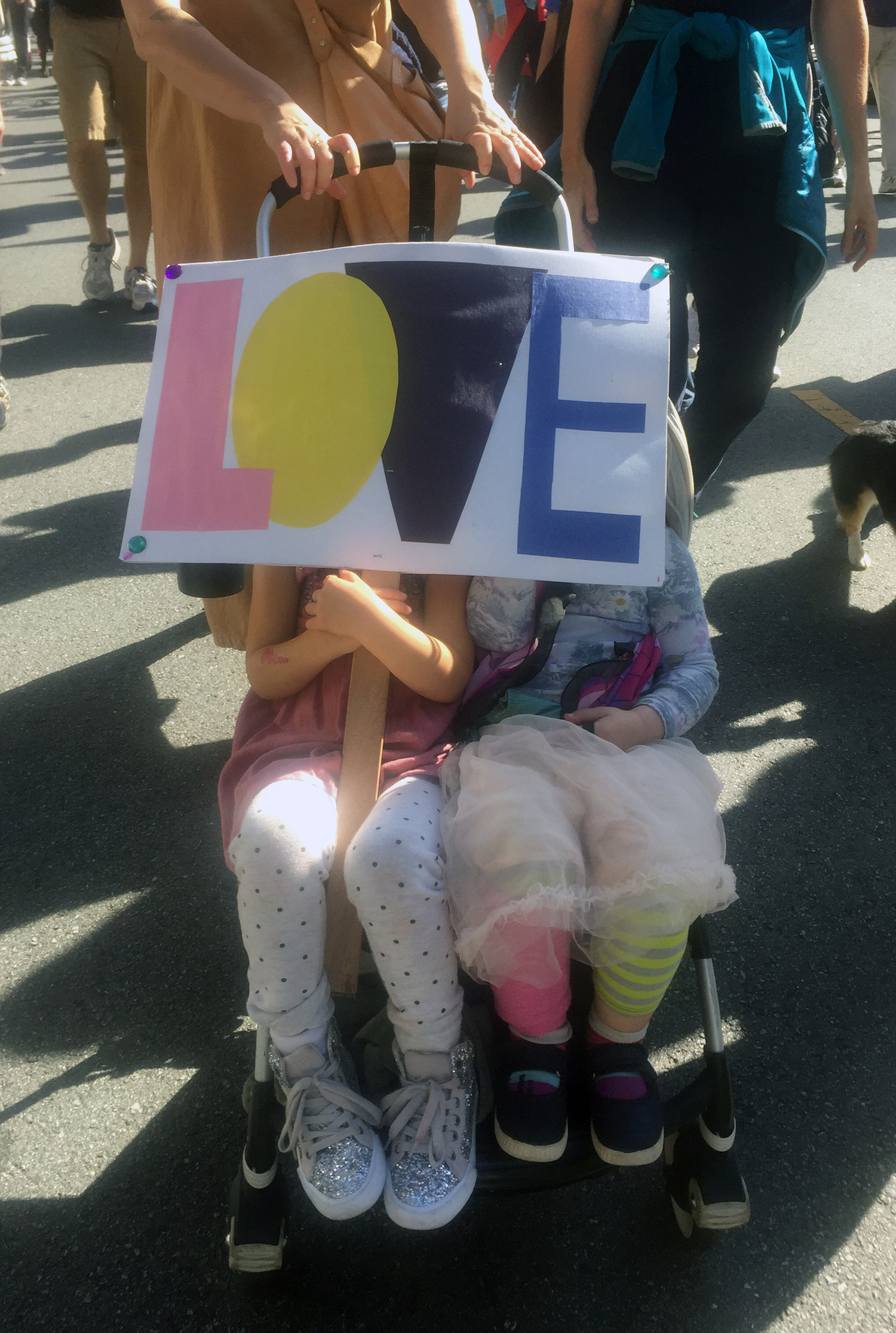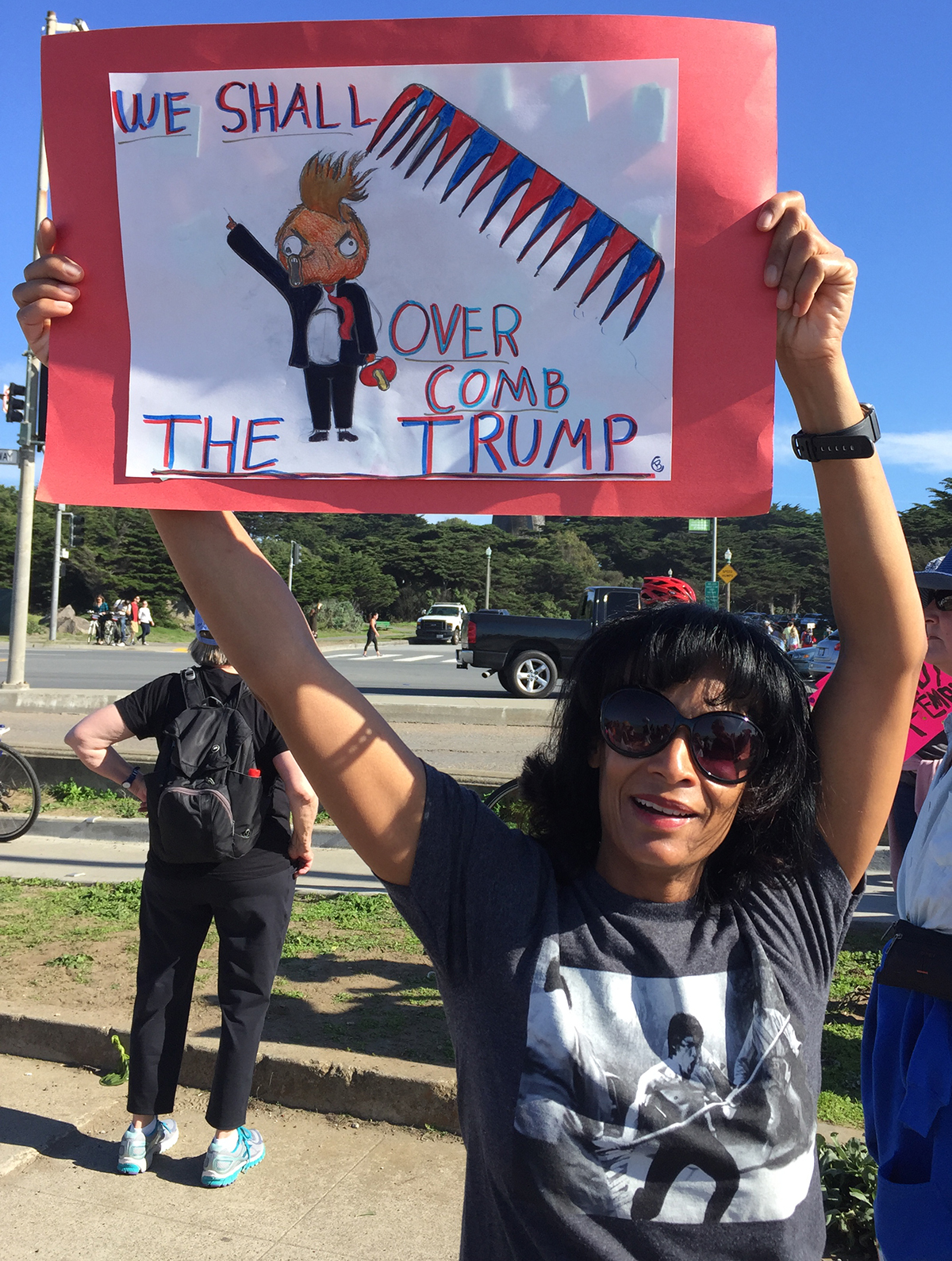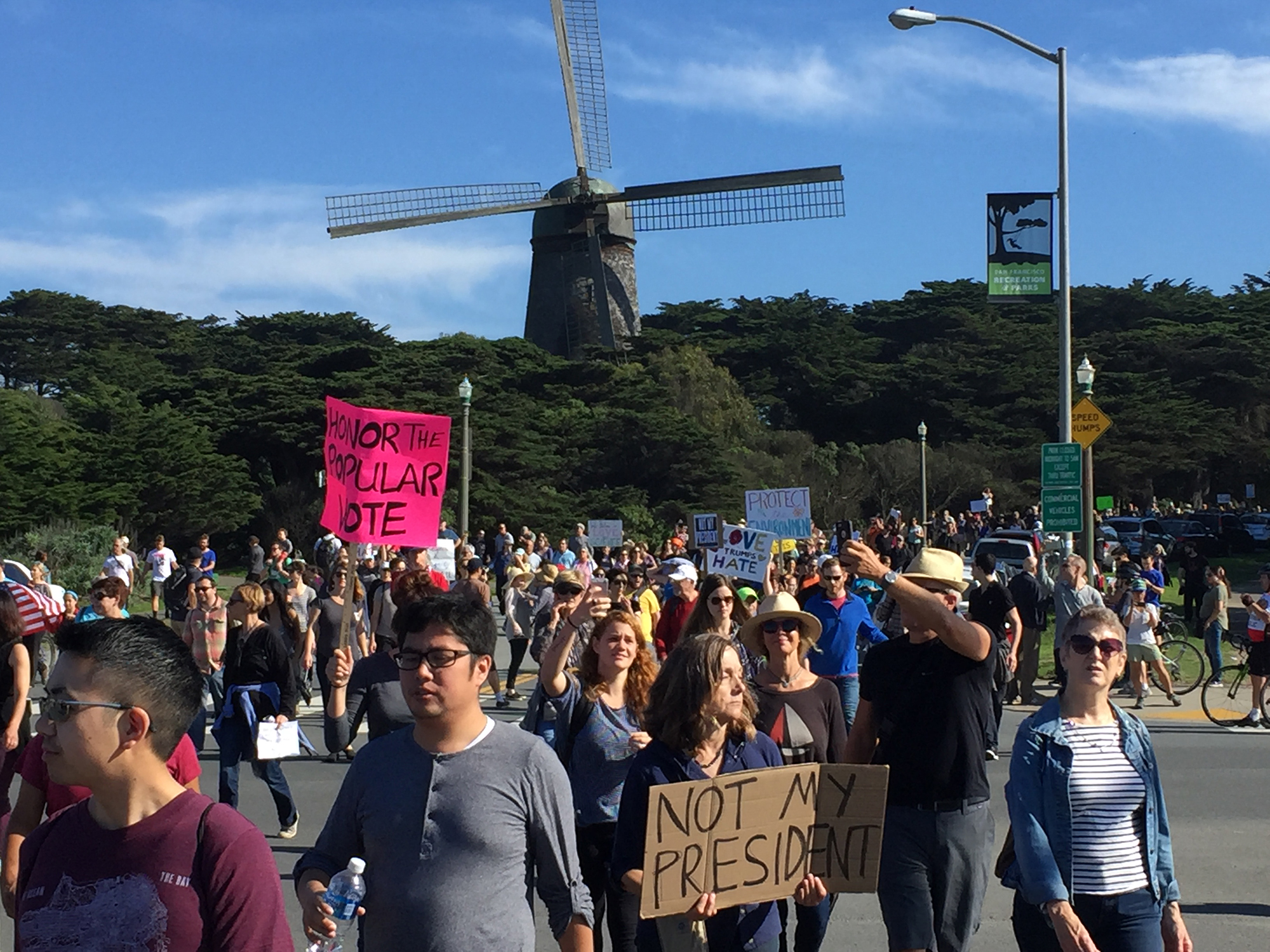 More scenes from Love Trumps Hate in Golden Gate Park. Thank you @richmondsfblog, @SFPD, and @GoldenGateNPS! pic.twitter.com/8yMAXnkzug

— Janna (@JKBartleby) November 13, 2016
Representing @NoRedButton at @richmondsfblog March for America. #lovetrumpshate @globalzero pic.twitter.com/Sg5K33wYtv

— Erick (@ErickWillemse) November 14, 2016
Come on down to @richmondsfblog's Love Trumps Hate march in Golden Gate Park! We've got flags! We've got kids! We've got dogs! pic.twitter.com/SJefxaMefK

— Janna (@JKBartleby) November 13, 2016
energized at today's SF for America MarchThanks to organizers: Sarah Bacon and Brighton Miller @richmondsfblog #lovetrumpshate pic.twitter.com/hbIQD07Mjl

— Gilda Harger (@G_elements) November 14, 2016