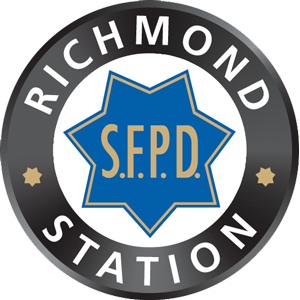 SFPD Richmond District Police Station
Weekly Update 12-01-2016
NEXT COMMUNITY MEETING:
Tuesday, December 20th, 2016 at 6:00 PM
Richmond Police Station Community Room
461 6th Avenue, San Francisco, CA 94118
3RD ANNUAL RICHMOND DISTRICT CLEAN UP
Come together with your neighbors for a morning of service! There is so much trash flying around the streets of our neighborhood and we want to do something about it!
Volunteers will meet at RDNC (741 30th Avenue) at 8:30 AM for coffee and to pick up their assigned area and cleanup supplies (the Department of Public Works will be supplying us with trash bags, trash pickers, gloves, vests, etc as well as giving a little introduction at the beginning of the clean up about what is safe to pick up, where to put trash bags, what we hope to accomplish, etc).
We will return to RDNC between 1-1:30PM to turn in their cleaning supplies and to pick up lunch!
Bring yourself, your family, your sports team, church group, etc.
Please Register here or on Facebook
For more information please contact Ricky at Ricky@rdnc.org or call 415-751-6600. Thank you!
JOIN THE SAN FRANCISCO COMMUNITY POLICE ACADEMY
The Community Police Academy is a ten-week program that is designed to inform interested participants various aspects of municipal policing, including emergency communications, first aid, patrol procedures and so much more. Classes meet once a week on Wednesdays. Students also get to participate in a ride-along with police officers at the end of the program.
The San Francisco Police Academy's goals are to develop community awareness through education and to develop a closer understanding and relationship between the San Francisco Police Department and its communities. Members of the community are encouraged to join and learn about the San Francisco Police Department. Participants are encouraged to ask questions and offer comments within each class. The next class is scheduled to start on Wednesday, January 11, 2017 from 6:30 pm until 9:00 pm. Classes will be held at San Francisco Police Headquarters, 1245 – 3rd Street. We encourage anyone 18 and over and living or working in San Francisco to attend. Applications are being accepted until December 5, 2016.
The Community Police Academy participants are selected by the program coordinators after an application process. Enrollment is limited to twenty-five students per class.
For more information, please go to http://sanfranciscopolice.org/community-police-academy or email sfpd.cpa@sfgov.org.
HOLIDAY SEASON SHOPPING SAFETY TIPS
With the Holiday Season fast approaching, many people are beginning to spend their hard-earned money on gifts for their loved ones. Unfortunately, as we all know, there are people who will steal your money and your gifts. They do not care how it will impact you, your family, or your Holiday celebration. Here are a few tips you can use to help avoid being the victim of specific thefts:
– Package theft. Try and be home when packages are scheduled to be delivered. Some package delivery services provide 'real-time' status updates and accurate delivery times. If you cannot be home, try and have the package delivered to a work address, a PO Box, or any alternate address where someone will be available to accept it.
– Vehicle burglary. Do not leave your purchases unattended in your vehicle. Do not store valuable items in your vehicle; it is not a good hiding spot.
– Online fraud. Ensure that the websites that you make purchases from are secure. Also, install security software on your computer to prevent your information being compromised.
When out shopping for gifts, be aware of your environment at all times and avoid distractions. If you see any suspicious activity, please contact the police as soon as possible. Be proactive about your safety to ensure you have as much fun as possible.
HERE ARE SOME OF THE INCIDENTS THAT OCCURRED IN THE RICHMOND DISTRICT THIS WEEK:
ARREST: ANIMAL CRUELTY; PROBATION VIOLATION, CONSPIRACY
M.L.K. JR DRIVE & METSON ROAD
11/22/2016 7:05 PM
An alarmed citizen called 9-1-1 to report two suspects filming their dogs attack wildlife in Golden Gate Park. The caller alleged that the two pit bulls had attacked both raccoons and coyotes. Officers responded to investigate.
Upon arrival, the Officers immediately located a dead raccoon on the grass, next to the suspect's vehicle. The suspects, who were belligerent and uncooperative with the Officers, were located and detained. Officers also located the two pit bulls, both of which appeared to have sustained injuries. The suspects claimed that the raccoons and coyotes had attacked their dogs while walking through the park.
Animal care and control responded to the scene and took the dead raccoon. They also took custody of the two pit bulls.
The Officers investigating located several cell phones belonging to the suspects. The suspects declined to consent to a search of their phones, which Officers suspected may contain evidence of animal cruelty. The Officers seized the phones as evidence.
It was later discovered that the suspects were being investigated in a prior animal cruelty incident. Officers determined that there was sufficient evidence to arrest the suspects for the offense. They were both asked to come to Richmond Station, where they were arrested for several felony charges. They were both subsequently booked at County Jail.
ARREST: BURGLARY, NON-RESIDENTIAL; ASSAULT, AGGRAVATED WITH OTHER WEAPON
GEARY BOULEVARD & ARGUELLO BOULEVARD
11/24/2016 2:47 AM
While on routine patrol in the Richmond District, Officers ran a record check of a vehicle stopped at a red light. Dispatch advised the Officers that the vehicle was wanted in connection with a prior burglary and felony assault. The Officers followed the vehicle, which went to a nearby gas station. Numerous Richmond Officers responded to assist, and they performed a high-profile felony vehicle stop. The suspect exited the vehicle and was detained. The vehicle was towed away pending further investigation.
A thorough investigation was conducted. The driver of the vehicle was identified as the suspect in the prior burglary and assault incident. He was booked at County Jail on felony charges.
ROBBERY WITH A GUN; INVESTIGATIVE DETENTION
10TH AVENUE & BALBOA STREET
11/25/2016 11:10 PM
As the victim was walking home from a friend's house, he saw a black vehicle driving at a high rate of speed toward him. The vehicle stopped abruptly when it reached him, and a suspect exited from the back seat. The suspect approached the victim holding a black semi-automatic pistol, and demanded the victim's money. As two additional suspects exited the vehicle to help their partner, a MUNI bus drove past the victim. The victim attempted to knock on the bus' door and alert the driver, but the bus continued on without stopping. The three suspects then went though the victim's pockets, stealing several items including his cell phone.
Officers responded to the scene, but the suspects had fled the area prior to their arrival.
A short time later, Officers were able to track the phone to an area of the Tenderloin. Numerous Officers from several districts responded, and were able to find the phone 'pinging' on a suspect. Unfortunately the victim was unable to identify the person in possession of his cell phone as being the suspect who robbed him.
The case was referred to Richmond Station's Investigation Team. After a meticulous follow-up investigation and some excellent police work, two of the robbery suspects have been arrested. The investigation is ongoing, and more arrests are expected soon.
ARREST: MALICIOUS MISCHIEF, VANDALISM; JUVENILE INVOLVED
FULTON STREET & ARGUELLO BOULEVARD
11/28/2016 10:05 PM
Richmond District Officers were dispatched to a 9-1-1 call regarding a person smashing windows at a MUNI shelter at this location. The caller provided a description of the suspect, and said he was using a hammer to break the glass. The suspect had fled prior to police arriving at the scene. Officers found that all 5 of the glass windows in the shelter had been smashed.
A suspect matching the provided description was detained nearby. The detained suspect was a 14 year old male. He was found in possession of a hammer shaped 'window punch.' The juvenile suspect was positively identified by the witness as the perpetrator of the vandalism.
It is estimated to cost thousands of dollars to repair the broken windows. The juvenile was cited for the vandalism and released to a parent.
CONTACT US:
Richmond Police Station
461 6th Avenue
San Francisco, CA 94118
(415) 666-8000
Anonymous Tip Line: (415) 668-7387