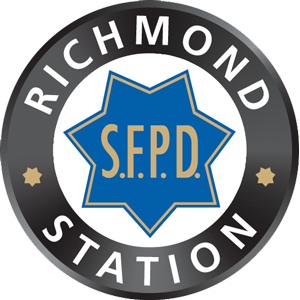 SFPD Richmond District Police Station
Weekly Update 01-12-2017
NEXT COMMUNITY MEETING:
Tuesday, January 17th, 2017 at 7:00 PM
Richmond Police Station Community Room
461 6th Avenue, San Francisco, CA 94118
Mr. Josh Gray, the "Rate Payer Advocate" and Consultant representing the Department of Public Works (DPW), will discuss Recology rate issues with our Richmond residents.
CRIME STATISTICS UPDATE FOR THE RICHMOND DISTRICT
This chart shows the reported incidents for the Richmond District for the months of November, December, and total for 2016:

*Please note that larceny theft and robbery are two separate categories in the chart. Larceny, for the purpose of this chart, includes non-violent property crimes such as: Thefts from vehicles; thefts from buildings, such as shoplifting; thefts from people that do not involve any violence or threat of violence; thefts from any public place, such as package theft.
RECENT SURGE IN 'PG&E' SCAMS
Richmond District residents have noticed an increase in 'PG&E' scams. This is when people call claiming there is an outstanding balance on their PG&E account and demand payment over the phone. Here is some useful information about how PG&G operate, and what to do if you think you're being scammed:
• Customers should always ask to see identification before allowing anyone claiming to be a PG&E representative inside their home. PG&E employees always carry their identification and are always willing to show it to you.
• If a person claiming to be a PG&E employee has identification and you still feel uncomfortable, call PG&E's customer service line at 1-800-PGE-5000 to verify an appointment and/or PG&E's presence in the community. If you feel threatened in any way, you should notify local law enforcement immediately. Do not allow anyone who makes you feel uncomfortable access to your home.
• Customers who have an appointment with PG&E will receive an automated call back within 48 hours prior to a scheduled visit, or they will receive a personal call from a PG&E gas service representative prior to a scheduled visit.
• PG&E's Credit Department will not ask for personal information or a credit card number over the phone. Anyone who has received such a phone call and provided credit card or checking account information should report it immediately to the credit card company or bank and law enforcement.
• Customers with concerns about the legitimacy of a call about a past due bill, a service request or a request for personal information are encouraged to call PG&E at 1-800-PGE-5000.
PG&E takes security seriously and will actively work with law enforcement to help stop any scam impacting customers. Anyone who has received a call or visit similar to the one described above can report it immediately by calling PG&E at 1-800-PGE-5000.
HERE ARE SOME OF THE INCIDENTS THAT OCCURRED IN THE RICHMOND DISTRICT THIS WEEK:
ARREST: WARRANT ARREST
48TH AVENUE & POINT LOBOS AVENUE
01/07/2017 4:37 AM
While on routine patrol in some particularly foul weather, a compassionate Richmond District Officer observed a homeless man who appeared as though he could use some assistance. The Officer contacted the man to try and offer him services and get him out of the rain. However when the man identified himself to the Officer, the Officer immediately recognized the man's name as he is a prolific burglary suspect. The Officer was also aware of a hefty warrant for his arrest.
The suspect was placed in custody, and taken to dry off at County Jail.
ARREST: STOLEN VEHICLE; DRIVING WITH A SUSPENDED LICENSE
FUNSTON AVENUE & GEARY BOULEVARD
01/09/2017 1:14 AM
A simple stolen vehicle check on a license plate resulted in a great felony arrest when it was revealed that the vehicle was stolen. The Officers stopped the vehicle and detained the driver, who attempted to explain that the vehicle belonged to her relative.
After a thorough investigation it was determined that the suspect had been telling the truth; the vehicle did belong to her relative. Unfortunately for the suspect, her relative did not appreciate her taking the vehicle without permission and filed the stolen vehicle report, listing her as the suspect in the incident. Furthermore, the suspect's driving privileges had been suspended by the DMV.
The suspect was booked at County Jail for vehicle theft and driving on a suspended license.
ARREST: THEFT FROM A LOCKED VEHICLE; WARRANT ARREST; PROBATION VIOLATION
M.L.K. JR. DRIVE & HAGIWARA TEA GARDEN DRIVE
01/09/2017 12:16 PM
In an area of Golden Gate Park which is frequently hit by auto burglaries, a Richmond District Officer observed a male suspect acting very suspiciously. Using their keen investigative know-how, the Officers concealed themselves amongst the foliage and waited for the suspect to act.
Their instincts proved to be correct when they observed the suspect break a window of the parked vehicle and take items from inside. The Officers quickly approached the suspect and identified themselves, at which point the suspect decided to make a run for it. After a fairly short foot pursuit, the suspect was apprehended.
The suspect had an outstanding warrant for his arrest, and he was wearing an ankle tracker due to being released on bail for a prior arrest. The suspect was booked and charged with auto burglary, his warrant, and a probation violation.
ARREST: MARIJUANA, POSSESSION FOR SALE; DRIVING WITH A SUSPENDED LICENSE; TRAFFIC VIOLATION ARREST
GEARY BOULEVARD & BLAKE STREET
01/09/2017 9:02 PM
A vehicle with a broken headlight caught the attention of Richmond District Officers on the lookout for criminal activity. The Officers decided to stop the vehicle to issue a traffic infraction citation. They ended up with a fantastic felony arrest.
When the Officer approached the driver of the vehicle, he informed them that he did not have a driver's license. A computer check revealed not only that his license had been suspended, but also that the suspect had two large narcotics related warrants for his arrest.
During the incident, the Officers located a large amount of marijuana in the vehicle. The marijuana was separated into several small bags, leading the Officers to believe it was packaged for sales.
The suspect's night got even worse when the investigating Officers recognized the vehicle as being involved in a prior hit and run collision.
Eventually, thanks to the hard working Richmond District Officers, the suspect was booked at County Jail on several felony charges.
MENTAL HEALTH DETENTION
ARGUELLO BOULEVARD & EUCLID STREET
01/10/2017 12:33 PM
An individual in distress called a relative and informed them he was having a medical emergency. He also advised he had a gun, and that if anybody knocked on their door he would use it. Richmond District Officers answered the call and risked their lives to check on the subject's well-being.
When they arrived on scene, the Officers located the subject who agreed to speak with them at the door. The subject refused to show the Officers his hands, and refused to exit his apartment. Not knowing whether the subject was in possession of a firearm, the Officers continued to risk their own safety and communicate with the subject. He began making concerning statements to the Officers, causing them to believe he was about to endanger his life or theirs. The Officers were forced to take action immediately.
An Officer armed with a less lethal 'bean bag gun' fired at the subject and struck him in the side. This caused the subject to drop the knife he was concealing behind the door and try and run back into his apartment. The Officers followed the subject, and detained him.
The subject stated to the Officers that he wanted to end his life, and the he had wanted the Officers to shoot him.
This subject is still alive due to the brave and heroic actions of these Officers. He was transported to the hospital for a mental health evaluation.
CONTACT US:
Richmond Police Station
461 6th Avenue
San Francisco, CA 94118
(415) 666-8000
Anonymous Tip Line: (415) 668-7387