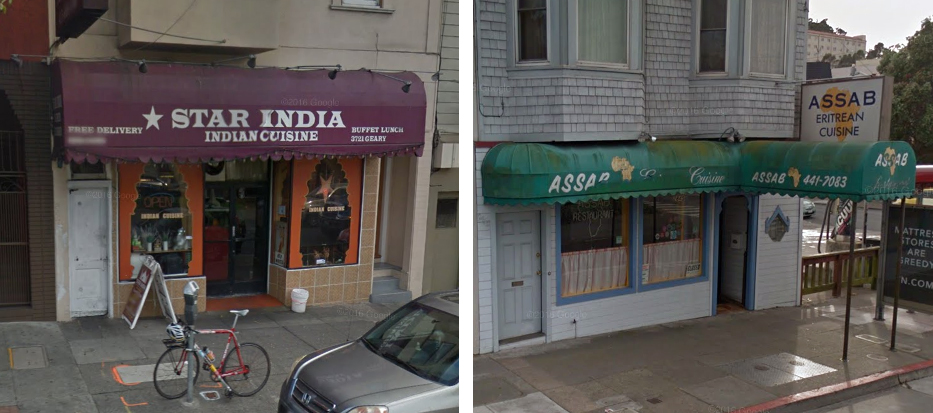 The Chronicle is reporting this morning that two shootings took place on Geary Boulevard on Sunday night around 7:20pm.
The first was a single shot at Star India Restaurant at 3721 Geary near Arguello, which shattered the glass, startling diners and staff.
A few minutes later, a bullet shattered the front window at Assab Eritrean Restaurant at 2845 Geary near Collins Street.
No one was injured in the shootings and the shooter(s) is still at large. Police are investigating whether the shootings were related.
No threats were made against the restaurants prior to the shootings.
Note: This story was updated 2/28/17 1:41pm to correct the date of the incident to Sunday, 2/26.
UPDATE: The Richmond District station newsletter sent out on 2/28/17 indicates that there were at least five shootings that took place on Sunday night along Geary:
The windows to several Richmond District businesses were victimized in what appears to be a string of potentially related incidents. Harrowingly, several of the buildings were occupied at the time. Thankfully no injuries were reported. There have been at least five reported incidents of business' windows being shot over the weekend. It is currently undetermined whether the damage was caused by a firearm, a BB gun, or another type of projectile.

Two of the victimized businesses were restaurants. Both restaurants had several customers inside at the time of the incident. Witnesses reported hearing the sound of glass breaking, and what appeared to be bullet-type holes were found in the front glass windows of the businesses.

These incidents are being aggressively investigated by the Richmond Station Investigations Team, and Richmond District Officers are vigilantly patrolling in the neighborhood. There is very limited suspect description at this time, and anybody with information is encouraged to contact Sgt. Kerow, Richmond Station Investigations, at (415) 666-8003, or call the SFPD Richmond Station Anonymous Tip Line.
Sarah B.