For over 30 years now, the Pacific Leadership Institute has operated a ropes course at Fort Miley. You may have walked or driven by it many times, and not even noticed it tucked into the forest just above the USS SF Memorial parking lot at Land's End.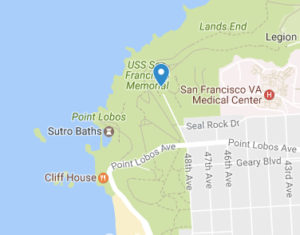 The course, built out of trees, with cables, ladders and ropes is designed "for individuals and groups to work together to develop confidence, trust, cooperation and leadership skills through actions", according to the institute's website.
In addition to hosting adults and youth for half and full day programs, the course also hosts Community Open Days on the first Sunday of every month from 1pm to 4pm.
The Pacific Leadership Institute now wants to expand by piloting an overnight program in another area of Fort Miley. The proposed pilot would use a small grassy area at West Fort Miley to stage tents, prepare food, utilize a portable fire pit, and stage picnic tables. All items that are used as part of the program would be removed at the end of every overnight.
PLI chose the West Fort Miley site because of its proximity to the ropes course and the minimal infrastructure requirements needed to support the proposed use.
"These overnight opportunities would create more meaningful outdoor experiences and add value to PLI's goal of changing lives through adventure," writes PLI in their proposal.
PLI's proposed pilot program does not open up Fort Miley for public camping, and overnight use would be restricted to participants in the Institute's program. The proposal stipulates that each overnight would include a maximum of 15-30 campers (2-4 tents) for 1-2 nights at a time, and require mandatory quiet hours from 9:30pm until 6:30am the following morning. PLI would be limited to 25 to 35 groups per year, and the pilot would not last more than 2 years.
The NPS is currently inviting the public to review the proposal (PLI Overnight Program_Proposal – Draft CE.pdf) and make comments on their website through April 21.
Sarah B.