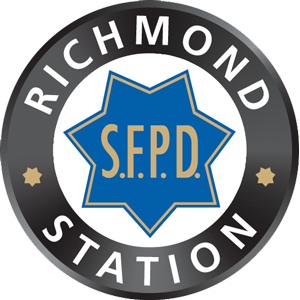 RICHMOND DISTRICT POLICE NEWSLETTER
April 6, 2017 | Volume 1, Issue 3
Download the complete newsletter (PDF)
A MESSAGE FROM CAPTAIN ALEXA O'BRIEN
Richmond District Members,
I hope all of you were able to enjoy some of the beautiful weather we had this past weekend. Our station facilities manager, Jonathan (civilian employee), was able to come to our station on his day off and help beautify our grounds. He spent most of Saturday pulling weeds and trying to make our Station look a little more inviting! The Broken Window Theory came to mind when I first saw our station a few weeks ago. The overgrown weeds and newspapers littering the grounds made it feel as if it was not welcoming. The Broken Window Theory argues that a broken window left unrepaired will make a building look uncared for or abandoned, and will soon attract vandals to break all the other windows, or, in our case, just add to the litter and seem as if the police don't care. Well, hopefully our work will pay off and the police station can be a stomping ground for kids to come in and say hi and visit their artwork they have been submitting. Maybe a local school would like to plant a tree or some flowers for us! Just a thought!
On a more serious note, I am sorry to say, but our auto boosts have been up in the last couple weeks. I have added more patrol officers (undercover and uniformed officers) to the hotspot territories. Nevertheless, it is incumbent on the public to not leave anything in your car visible because it does invite trouble. Another way the community can assist (and we made 4 burglary arrests the week before, due to citizen's calling 911) is to call the police when you see suspicious activity.
Suspicious activity in your neighborhood might be:
– A person who walks too closely to parked cars and peers inside as he/she walks along the street.
– A person who walks up and down the block two or three times, disappears and comes back (the suspects like to make sure the coast is clear before they commit their crime so as not to get interrupted).
– A car that has a group of people who double parks or travels slowly alongside the parked cars is a common technique for some auto burglars to use during the commission of their crime.
– Any person or behavior that just doesn't seem normal and the person seems suspicious – you can call the non-emergency line to have a cop just patrol by or talk to the person. If you are seeing them commit a property crime, you can call 9-1-1!
Please don't be afraid to call the police, even if it's just for your piece of mind and comfort. We are here to make you feel safe.
Your Captain,
Alexa O'Brien
NEXT COMMUNITY MEETING
WHEN: TUESDAY, APRIL 18TH, 2017 AT 6:00 PM.
WHERE: SF PUBLIC LIBRARY, RICHMOND BRANCH, LOCATED AT 351 9TH AVENUE.
WHY: TO MEET OUR NEW CAPTAIN, AND DISCUSS TOPICS CONCERNING CRIME IN THE RICHMOND DISTRICT.
INCIDENTS IN THE RICHMOND DISTRICT THIS WEEK
Auto Burglary and Methamphetamine Arrest
Lake St & 12th Ave
03/29/2017 11:55 AM
Just before noon on a sunny March day, Richmond Station heroes were dispatched to the Mountain Lake Park where a retired SFPD In-spector had bear witness to an individual who was ex-hibiting behavior consistent with that of an auto burglar. Due to over 30 years of training and experience from the retiree, he called 9-1-1, and gave an excellent suspect description, direction of travel, and followed at a safe distance. Two outstanding officers from Richmond Station arrived on scene swiftly, and searched the area for this blatant violator of the law. Leaving no stone unturned, these officers searched high and low for the suspect. Hearing what they believed was a spray can being ex-pelled from the restroom in-side of Mountain Lake Park, they swiftly converged and detained a man that matched the description of the auto burglary suspect given to them by the seasoned vet-eran. The retiree positively identified the subject as the same man who was breaking into the car. Officers found suspected methamphetamine and burglary tools in the suspects possession. After a thorough and complete investigation by the hard-working officers of Rich-mond Station, the suspect was booked at County Jail.
Parolee at Large Nabbed by Richmond Station Officers
Broderick & Clay St
03/29/2017 22:01 PM
Richmond Station midnight officers were sent to the area of Broderick and Clay regarding a suspicious person, peering into windows of cars and houses. The alert caller, who wished to remain anonymous, gave an excellent suspect description, location of the suspect, and a direction of travel. Soon, the officers located the man, who matched the suspect description, stopped and detained him without further incident. The officers per-formed a computer check, which revealed the subject they had detained was a parolee who had a warrant out for his arrest. The California Department of Corrections releases inmates from prison, and gives them pa-role, conditions to which they need to abide by. If they violate the conditions, a warrant is issued, and they are sent back to prison. The officers confirmed the war-rant, and booked the viola-tor into jail, where he will be transported back to prison.
Hot Prowl Burglary, Theft by False Pretenses
3/30/17 11:17 AM
On March 30, Richmond Station officers were sent to the area of 31st Ave and Geary, regarding a burglary incident. Upon interviewing the elderly victim, she told the officers something that is becoming a disturbing trend. The victim stated a suspect who falsely identified himself as a San Francisco Water Department worker gained access into her residence by telling her he needed to check the pipes in the bathrooms and the backyard. After a few minutes, the victim told the suspect her son was coming home soon. The suspect appeared to "radio" or call to his "associate", and quickly left the property. The victim went to her bedroom where she discovered all of her jewelry that she had been collecting over the decades was suddenly stolen!!
Remember not to let strangers in your house. Take pictures of your valuables, and appraise them. Install video cameras so we can ID and catch these bad guys!!
Theft from a Business
3/27/17 15:27
To work in our great city is one thing, but to own your own business is another. In the early afternoon of March 27, one of the pillars of our community was running his coffee shop, serving with a smile. Unfortunately, his kindness was mistaken for weakness. A suspect walked into the coffee shop, and decided to take his hard earned tip jar. This suspect snatched the jar from the counter, and fled onto Geary. Our victim, not being in the business of donating money to criminals, gave chase to the suspect, called the police, and gave a great suspect description, and direction of travel. Our swing watch officers sprung into action, and arrived on scene within moments of getting the call. They saw a man who matched the suspect description, stopped and detained him. Without provocation, the suspect immediately began apologizing for the theft. He handed the officers all of the victim's tip money. The victim positively identified the man as the tip jar thief. The suspect was cited and given a court date, while the money was returned to its rightful owner.
If you bear witness to a crime, the best thing to do is get a good description of the suspect (s), a direction of travel, any vehicle info including make model, color, license plate, or distinguishing stickers or marks. Remember to be safe!!
RICHMOND STATION'S OFFICER OF THE WEEK
OFFICER RAMESH SHANGARAN
Officer Shangaran attended Tennyson High School in Hayward, and at an early age, decided to give back by joining the US Navy. In the Navy, Officer Shangaran was an airman, as well as an aviation structural mechanic. The discipline, structure and team mentality caused Officer Shangaran to focus on becoming a police officer, here in San Francisco. Officer Shangaran has been a police officer since 2008.
The Richmond District has been blessed to have Officer Shangaran since 2010. He has selfless dedicated himself to the youth of the Richmond as one of the premier School Resource Officers in San Francisco. Here in the Richmond, Officer Shangaran has been on patrol, the school resource officer, and now has diversified his portfolio by specializing his patrolling in Golden Gate Park.