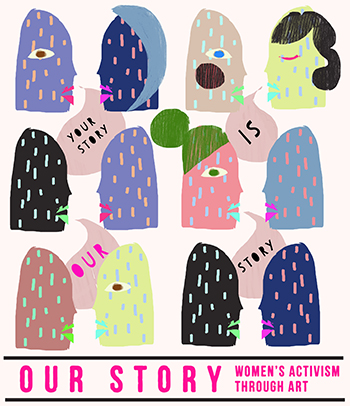 This Saturday, April 29, Clement Street from Arguello to 3rd Avenue will host a special event, Our Story: Women's Activism through Art, featuring a lineup of women musicians, poets, and comedians plus over 50 artists exhibiting and selling their work.
The free, family-friendly event was created by the Richmond District Neighborhood Center (RDNC) and the Clement Street Merchants Association to celebrate and showcase the art and stories of local women and girls.
"This event is inclusive for trans womxn and non-binary folks as well and is meant to raise up and celebrate the art of all womxn identifying folks!" organizers wrote on the event's Facebook page.
"We plan to fill the streets with artisans selling their goods, resources by women & girl serving organizations, art activities, live performances by women musicians and dancers, as well as indoor gallery spaces where art will be showcased and sold."
The festival runs from 2pm until 6pm and features a main stage for live entertainment. Here's the lineup:
2:15 – Allegra Bandy ("Hypnotic melodies, ancient rhythms, soulful funk, and a voice that will melt you out of your skin")
3:20 – HUMID (all female rock group)
4:20 – Femme Deadly Venoms (Musical duo, sweet gumbo of Hip Hop, Funk, Soul and Electronica)
5:00 – B-Side Brujas (Oakland based vinyl DJ that spins souley 45's)
Eats restaurant, at the corner of 2nd Avenue and Clement, will host a lineup of comedians, poets and musicians from 4pm until 7pm:
– Casey Gardener, Poet
– Eleanor Scott, Poet
– Hadas Goshen, Poet
– Amber DeLa Rosa, Acoustic Performance
– Grupo Tribulacion, 3 piece Peruvian Jazz Group
– Hayley Benham-Archdeacon, Comedian
– Dom Gelin, Comedian
– Dhaya Lakshminarayanan, Comedian
– Irene Tu, Comedian
Come out on Saturday to Clement Street for this new event, which could become an annual tradition. Parking is available at the Roosevelt Middle School lot, accessible on Palm Avenue.
Power to the she!
Sarah B.