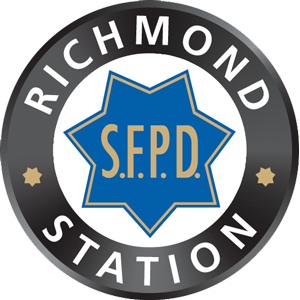 SFPD RICHMOND DISTRICT STATION NEWSLETTER
June 1, 2017 | Volume 1, Issue 11
Download the full newsletter (PDF)
CAPTAIN"S MESSAGE
Hello Richmond District Community Members. It has been another wonderful yet busy week here in the City. The little ones are beginning to enjoy the sweet taste of summer time, and the police officers are looking forward to engaging in fun activities with some of them. Some of these activities include: National Night Out, Golden Gate Band Festival, Sunday Streets, All Day I Dream, and of course, the Farmers Market every Sunday on Clement St. We will be having an influx of citizens and tourists alike coming through our district, and we are ready for it. I have increased patrols in the hot spots throughout the district, and I am working with the US Park Police as well as the San Francisco Park Rangers to sup-press criminal activity. Officers on all of the shifts have been diligently working hard, and have been making a difference in the community day in and day out.
I hope all of you have a happy and safe summer. If you see any of us officers out in the community, introduce yourselves, and say hi. Please report any suspicious behavior, and remain vigilant.
Your Captain,
Alexa O'Brien
NEXT COMMUNITY MEETING
The next Community Meeting will be held on TUESDAY, JUNE 20th 2017 AT 6:00 PM. It will be held at Richmond police station: 461 6TH AVENUE, SAN FRANCISCO CA 94118 in the community room.
INCIDENTS IN THE RICHMOND DISTRICT THIS WEEK
People Behaving Badly
In the early morning hours at 7th Ave and Geary, some intoxicated men thought it would be a great idea to use a hard working citizens vehicle hood as a trampoline. The owner of the car, understandably extremely upset and distraught, attempted to confront the suspects, but they ran away to a local eatery. The owner gave chase and again confronted the suspects, who began to surround him, and engaged in a verbal altercation, that soon turned physical. The victim was hit and kicked multiple times. Good citizens intervened, and began calling the police, and breaking up the fight. The suspects then again, fled the area. As if that were not enough, the violators decided that it would be a great idea to return to the car, and break the windows with a construction barricade. Soon thereafter, the violators made their way to 10th Ave and Clement, where their lawless attitude continued. The unsung heroes from Richmond Police Station swooped down, and apprehended all 3 suspects without any further incident. Multiple video surveillance cameras captured their nonsense as evidence.
All three criminals were then booked into county jail, rendering the Richmond safe from these people behaving badly!
Speed Racer!!
Our very own, and highly trained Sgt Leung, was monitoring vehicular traffic along Park Precidio Bypass at Fulton, when his radar gun started to sing!!! The great Sergeant clocked a speed racer going 62 miles per hour!! We all must remember that Park Precidio is a 35 MPH zone. Although Sears Point Raceway is a bit north of San Francisco, the starting line is NOT at Lincoln and Park Precidio. Sgt Leung pulled over the speed demon, and explained to him the rules of the road, including speed limits. As the Sergeant asked for the speedsters drivers license, it was revealed that his license was suspended!! The man was cited for speeding, and driving a vehicle under a suspended license, and given a new court date and released. The vehicle was released to another licensed and insured driver, who understood and adhered to the rules of the road.
We all have to remember that driving is a privilege, not a right. Driving within the speed limits, make it safe for everyone!!
Another Thief is Nabbed!!
In the super early morning hours of May 28, Richmond Station officers were sent to the Sea Cliff area regarding a possible burglary. Officers diligently responded to the area, but determined the incident to have no merit. They did observe an individual walking in the middle of the street, and looking into parked vehicles. As the night time heroes saturated the area, they saw several cars with the windows freshly smashed. Having the probable cause to stop and detain this pedestrian walking in the roadway, they stop and detain him. Having a guilty conscience, the criminal begins to yell and curse nasty and foul words at them. Not be-ing deterred, the officers at-tempt to identify this man. At the same time, a victim of an auto burglary just down the street notifies the officers on the scene. The victim positively identifies the property that is in the criminals possession as his own, and tells the officers he gave no one permission to break into his car and steal his property. The skilled officers perform a thorough search of this criminal, and find him in posses-sion of a window punch, and a usable amount of heroin in a syringe!!
The officers processed the scene, and transported the criminal back to Richmond Station for further investigation. He will have his day in court.
Wrong Place to Smoke
In the morning hours of May 27, our crime suppressing officers of day watch were in full uniform, in a marked patrol vehicle, keeping watch on our community. They rounded the corner of Spruce and Mayfair, when they observed a female smoking something from a multi colored glass pipe. Knowing that San Francisco is quite lenient on marijuana laws, they know that it is not legal to smoke it in public.
The officers begin to talk to the lady, who voluntarily gives up her name to them. They perform a computer check on the woman for a criminal record, and any out-standing warrants. The computer check revealed she had a $7,500.00 warrant out of San Mateo County for a narcotics violation as well as a theft related offense. The officers took the woman into custody, and searched her possessions, which revealed an illegal methamphetamine pipe, which appeared to be recently used as well.
She was booked into county jail here in San Francisco. The woman will be transferred to San Mateo County, where she will see a judge there for her warrant.
It just goes to show, smoking is not good for you.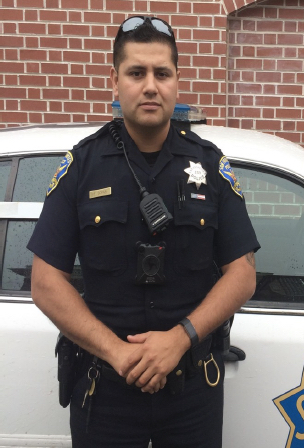 RICHMOND STATION'S OFFICERS OF THE WEEK: Officer Gopar
Officer Gopar is a permanent member here at Richmond Station. He currently works day watch from 6:00 am to 4:00 pm.
He has served our wonderful country for 4 years with the United States Marine Corps.
Officer Gopar has been a police officer with the San Francisco Police Department since 2015.
His motivation for becoming a police officer was honor and pride. From an early age, Officer Gopar has always held him-self to the highest standards, which has rolled into this cur-rent assignment.
Officer Gopar is a hard work-ing officer who not only cares about the citizens and visitors of San Francisco, he deeply cares about the Richmond Community that he has taken on as his own.
Officer Gopar's Safety Tip of the Week: "I have taken a vested interest in bicycles and cycling. I have seen the dangers of improper clothing and equipment. Please wear highly visible clothing and a properly fitted helmet."