On Monday night we got a sneak peek of the city's latest light installation which is right in our own backyard at the Conservatory of Flowers in Golden Gate Park.
Starting this Wednesday night, the Conservatory of Flowers will be lit up each night through October with "Summer of Love Illuminations" that transform the grand Victorian greenhouse with scenes inspired by the rare tropical flowers and plants inside, and the legacy of San Francisco's flower children.
The project was initiated by Ben Davis of Illuminate, the nonprofit arts group behind The Bay Lights, together with Obscura Digital, a world-renowned creative studio specializing in large scale light-based art.
The concept was first discussed in late 2016 and came together thanks to private donations and a public fundraising campaign that spread quickly thanks to promotion from former San Francisco Mayor Willie Brown.
The tech behind the light installation is considered old school. Gobo projectors ("graphical optical black out") mounted on top of the two small buildings in front of the Conservatory project the images onto the building. Gobo projectors were even used back in the 1960's to create lighting effects at concerts.
In addition to the imagery, each projected scene has changing colors and movement.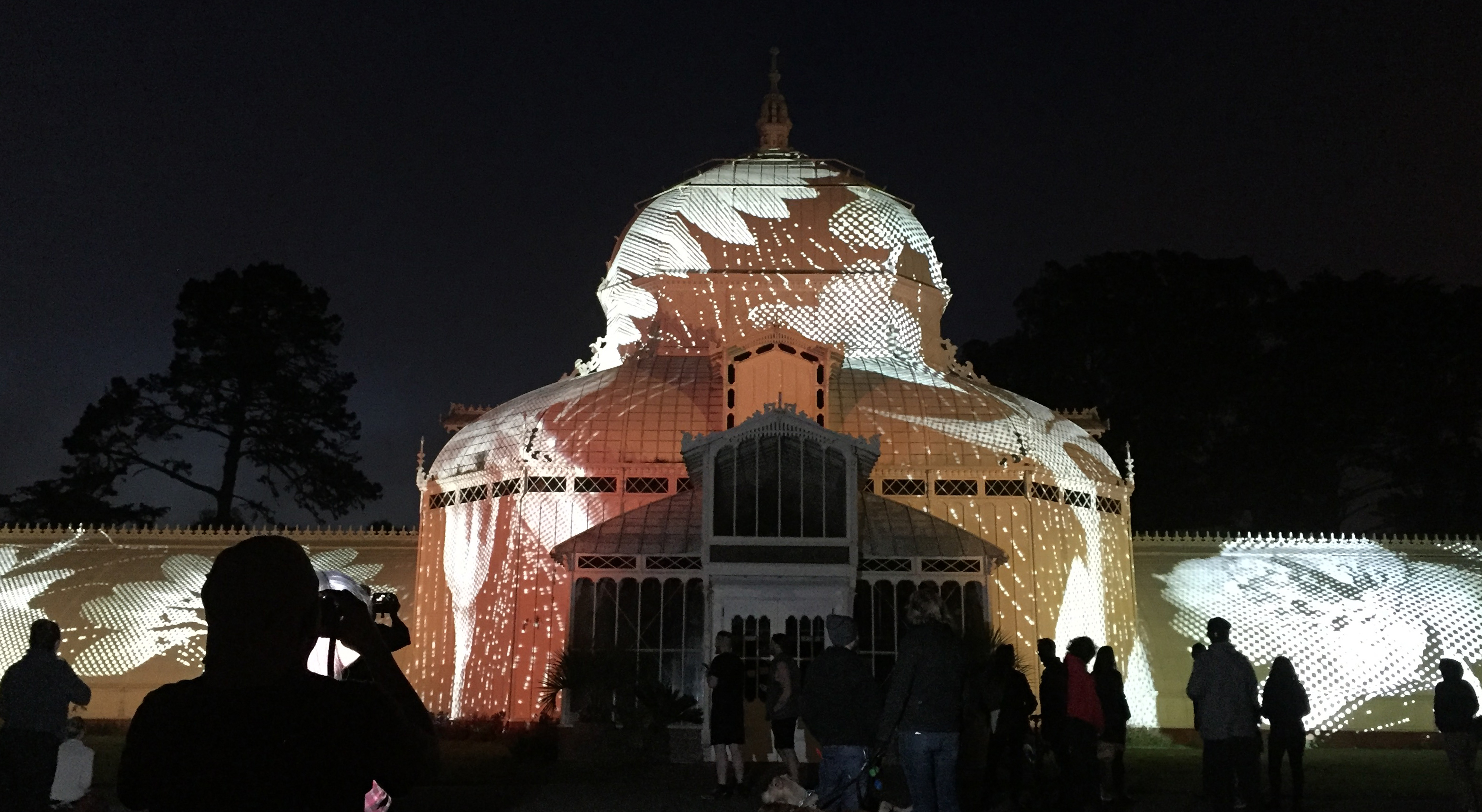 Official Premiere on Wednesday Night with Free Concert
The official premiere of the Summer of Love Illuminations will take place on Wednesday night (the summer solstice!) around 9:15pm. JFK Drive next to the Conservatory of Flowers will be closed off for the entire day to prepare for the lighting and the accompanying concert that night – the Surrealistic Summer Solstice jam – which starts at 6pm and features over forty legendary musicians revisiting the iconic songs of the late 1960s.
The four hour concert will includes appearances by members of ALO, Ratdog, The Jefferson Airplane, Motherhips, Quicksilver Messenger Service, Tarnation, Katdelic, Terrapin Family Band, New Monsoon, Moonalice, Lester and Dylan Chambers, and more. A variety of food trucks from Off the Grid will also be on site.
Wednesday night's festivities are free but space is limited, so Rec & Park is encouraging people to register for the event online in advance. And don't even think about driving – plan to bike, walk or take the bus over there.
We loved seeing the lights on Monday night and we know you will too. Get over there soon to check it out!
Sarah B.
Traffic Notice: Starting 5AM Wednesday, June 21st until 9AM Thursday, June 22nd the following streets will be closed to vehicles traffic:
– JFK Drive between Kezar Drive and 8th Ave
– Nancy Pelosi Drive between JFK Drive and Bowling Green Drive
– Arguello Street at Fulton Street (entrance into Golden Gate Park)