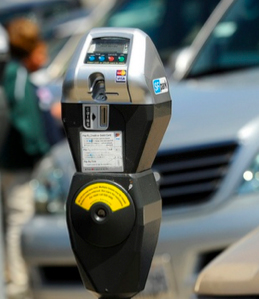 This week, the SFMTA reached out to Clement Street merchants to let them know that beginning July 1, 2017, SFpark, the city's demand-responsive pricing program, will take effect at meters along Clement Street.
Currently, meter parking is charged at a fixed rate along Clement Street ($2.25 per hour) during all hours of the day. With the move to demand-responsive pricing, the per hour price to park at a meter will fluctuate up or down by $.25 per hour depending on demand.
For example, if 80% of the meters are occupied, the rate per hour goes up $.25 to $2.50 per hour. When it's below 60% occupancy, the rates go down $.25 per hour to $2.00 per hour (at 60-80% occupancy there is no change).
The day is split into three time bands for pricing purposes: 9am-Noon, Noon-3pm, 3pm-6pm, and weekday prices can be different from Saturday prices. There is no charge at parking meters on Sunday's.
We asked SFMTA representative Hank Willson via email about the strategy behind this pricing model – "The theory is that the more expensive it is, the shorter people will park for, resulting in more availability?"
His response: "The idea is that rates on very crowded blocks and at very crowded times will go up, while rates at less crowded blocks and times will go down. That gives people options while helping to keep spaces open on every block: if you really need to park right near your destination, then you can, but you might pay more. If you are looking for cheaper rates, then you can park a block away or come at a lower-demand time."
In other words, go park at a meter one block over on Geary during a peak time like 12pm-3pm, and you'll pay less.
"During the pilot, we saw that rates could be dramatically different even one block away or around the corner. In the Marina, rates on Chestnut area as high as $6.25/hour in the middle of the day on the busiest block, while one block over on Lombard the rates are $1.75/hour. We see the same differences in Japantown on Post and Geary, or in the Mission on Valencia and Mission. So there's usually a cheap place to park right around the corner, even if a very popular block gets more expensive," Willson told us.
The trick is for drivers to be aware that there is variable pricing within an area, so they know that parking a bit further away is cheaper at times. There's no signage in parking areas to indicate this, so drivers have to just know that's part of the city's meter pricing policy in areas.
Alternatvely, drivers can also utilize the free SFPark mobile app which uses color coding on maps to show where prices are low or high in a given area.
The city has also partnered with PayByPhone to allow drivers to pay for their metered parking using a mobile app and credit card, even allowing one to extend their parking through the app without having to return to the meter.
Starting July 1, 2017, the minimum rate per hour for a parking meter along Clement will be $.50/hour, and the maximum rate will be $8 hour, though it's unlikely that rates would ever reach $8 per hour. Those tend to be reserved for meters in high traffic event areas like near AT&T Park on a game night.
For more information on SFPark, visit sfpark.org.
UPDATE 7/2/17: We received a correction to this article from SFMTA spokesman Paul Rose regarding the start date for this new pricing on Clement Street: "Dynamic responsive pricing does not start on July 1st as stated in the post. We have not finalized a date of implementation. In his email to you, Mr. Willson was referring to the change in rate ranges for meters that already have demand responsive pricing (that's about 25 percent of the current meters across the city). Clement does not yet have demand responsive pricing."
Sarah B.