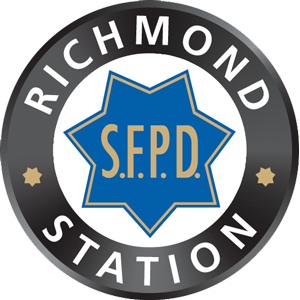 SFPD RICHMOND DISTRICT STATION NEWSLETTER
August 31st, 2017
Volume 1, Issue 22
Download the full newsletter (PDF)
CAPTAIN'S MESSAGE
Hello Richmond District,
The summer is coming to a close, yet the heat is just getting here, make sure to stay hydrated and safe. Get out and enjoy the amazing weather before fall comes, as I will be doing this weekend.
San Francisco has several large parks and they are waiting for you to enjoy them on this holiday weekend. With the holiday and heat be careful on the roads and as always do not drink alcohol and drive. Drive like the people walking on the sidewalk or crossing the street are your friends or family. Obey all the rules of the road in order to help the SFPD accomplish Vision Zero (zero traffic fatalities).
If you own or ride a bicycle, then this weekend is meant for you. Be sure to read bicycle tips on safebikes.org.
On another note, our thoughts at Richmond Station and the SFPD go out to the families affected by Hurricane Harvey.
Your Captain,
Alexa O'Brien
NEXT COMMUNITY MEETING
The next Community Meeting will be held on TUESDAY, SEPTEMBER 19th 2017 at 6:00 PM. The meeting will be held in the Community Room located at Richmond Station– 461 6th Avenue.
INCIDENTS IN THE RICHMOND DISTRICT THIS WEEK
Stop Sign Violator, Reveals Stolen Vehicle- Arrest
Presidio Ave & Geary Blvd
8/27/17 9:44 AM
On August 27th at 9:44 AM, Richmond Station Patrol Officers were performing traffic enforcement at the intersection of Presidio Avenue and Geary Boulevard. Officers observed a black Mercedes traveling east on Geary Boulevard fail to stop at the posted "Stop" sign at the intersection. Officers pulled their vehicle behind the Mer-cedes and conducted a records check on the license plate. Officers were notified that the Mercedes was stolen.
The Patrol Officers asked for additional officers to respond in order to conduct a high risk stop on the stolen vehicle. While the Officers were following the vehicle it went through a red light at the intersection of Divisadero Street and Bush Street and continued to drive the wrong way on Bush Street and pulled over on the 2600 block of Bush Street.
Once the stolen vehicle stopped the officers ordered the driver and passenger out of the vehicle, who and were taken into police custody with no further issues.
The driver was arrested for possession of a stolen vehicle, driving with a suspended license, and several infractions.
*All suspects are innocent until proven guilty in a court of law.
Misappropriation of Found Property, False ID to a Po-lice Officer, and Muni Fare Evasion- Arrest
Geary Blvd & 17th Ave
08/27/2017 10:54pm
Richmond Station Patrol Officers were called to assist a Muni bus driver with an unruly passenger. Officers arrived and were able to escort the subject off the bus and determined he had not paid the bus fare.
The subject had several items with different names on them in his possession. While on scene Officers determined the subject gave a false name to the police.
The subject was identified at the station and booked on MUNI fare violation, misappropriation of found property, and giving false identification to a police officer.
*All suspects are innocent until proven guilty in a court of law.
Unprovoked Dog Bite – Citation
Arguello Blvd & Jackson St
8/25/17 1:19 PM
On August 25th at 1:19 PM, Richmond Station Patrol Officers were notified about a dog bite or attack in the area of Arguello Blvd & Jackson Street. Upon arrival Officers met with a person who stated that she was walking on Arguello Blvd. The Person attempted to walk past a "dog walker", while walking past one of the leashed dogs jumped on the leg of the passerby and bit her on the upper leg. The bite did not break the skin.
The Dog Walker was issued a citation for an unprovoked dog bite. The dog was ordered to be quarantined for ten days.
*All suspects are innocent until proven guilty in a court of law.
RICHMOND STATION'S OFFICER OF THE WEEK
Officer Keyon Watson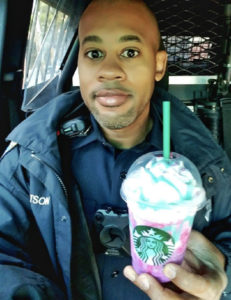 Officer Watson works the day shift at Richmond Station. Officer Watson has been with the San Francisco Police Department for two years.
Officer Watson is originally from Boston, Massachusetts where he attended school and received a degree in electrical engineering and worked as an electrician.
His childhood dream was to be-come a police officer. Officer Watson enjoys helping people as a police officer and likes the dynamic nature of the work.
While not at work Officer Watson likes to spend time with his family, travel, hike, and enjoys drinking coffee. He also is a photographer focusing in landscape portrait photography.