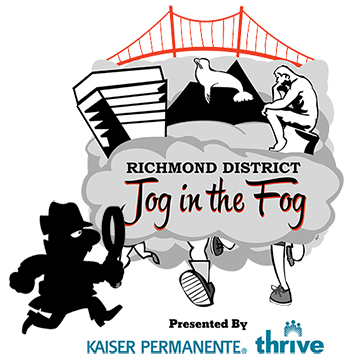 The Richmond District Jog in the Fog 5k presented by Kaiser Permanente is just days away on Sunday, September 10 in Mt Lake Park! It's a great neighborhood run or walk for the whole family, and proceeds benefit the Richmond District YMCA.
In honor of it being the fifth year for the race, we've hidden 5 free entries for the race around the neighborhood at landmarks, local businesses and race sponsors.
Read the clues below and if you can decipher it, head over to the location and search for your free entry hidden in a white envelope! Don't leave the answers in the comments, but let us know if you find a clue so we can mark it as "CASE SOLVED!".
And remember you can always visit joginthefog.com to register anytime (kids 12 & under are free!).
Good luck!
Sarah B.
CLUE #1: – CASE SOLVED!
Roam my aisles but look out for the big-hearted moose whose spirit lives there. Mr. Toad will have your clue ready and waiting.
CLUE #2: – CASE SOLVED!
Will you be the tortoise or the hare on Sept 10? This aptly named business can help you recover after the big day, or keep you running tip top all year. Stop in during business hours and ask for the clue at reception.
CLUE #3: – CASE SOLVED!
I head to this sunny, corner spot for sandwiches and soft-serve all the time. I like to nestle among the Italian souvenirs near the back.
CLUE #4: – CASE SOLVED!
I'm hanging out at the Point that is named after our national bird. Check under my 3 supportive friends nearby to find me.
CLUE #5: – CASE SOLVED!
You don't have to par le vous français to go to this "school", but you might head here to find health advice. Look for me under a courtyard seat.