Green Apple Books
, is turning 50 this week. Yes, that's right, FIFTY years in business! That's nothing to sneeze at in these days of internet superstores and digital books.
Green Apple was opened by 25 year old Richard Savoy in 1967, whose initial stock of used books, comics, and National Geographic magazines filled the small, 750 sq ft. storefront on 6th Avenue near California. In 1996, Green Apple acquired its neighbor, Revolver Records, and added new and used music to the store.
In 1999, Savoy began the process of passing the store onto new owners Kevin Hunsanger, Kevin Ryan, and Pete Mulvihill who have helped Green Apple thrive in challenging times. Today, the store is about 10x the size of the original, and sells new and used books, gifts, music, DVD's, art and more. According to their website, 85% of the store's sales are books.
Green Apple opened their second location in the inner Sunset in 2014.
The Clement Street store is celebrating their golden anniversary this weekend with free coffee from Toy Boat in the morning, free beer from Barrel Head Brewhouse (coming soon to Clement!) after 12noon, 10% off everything in the store, a prize wheel to spin with each purchase with goodies from other Clement merchants, and a chance to buy a $50 gift card for $30 (for future use).
Stop by for some great deals and to congratulate our neighborhood gem, and the city's best bookstore. Don't forget to give Mergatroid, the store's mascot, a little pat on the head too.
Sarah B.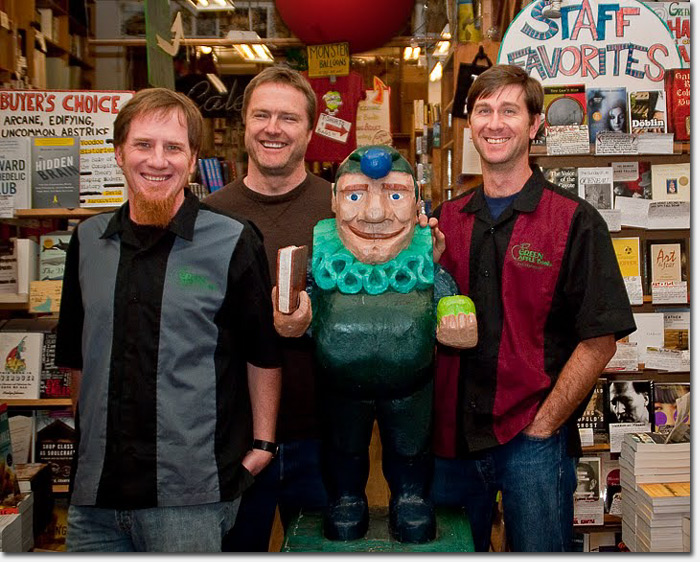 Green Apple owners (L to R) Kevin Hunsanger, Kevin Ryan and Pete Mulvihill in 2014 with store mascot Mergatroid.
Photo by SFGate

Everyone's favorite bookstore,