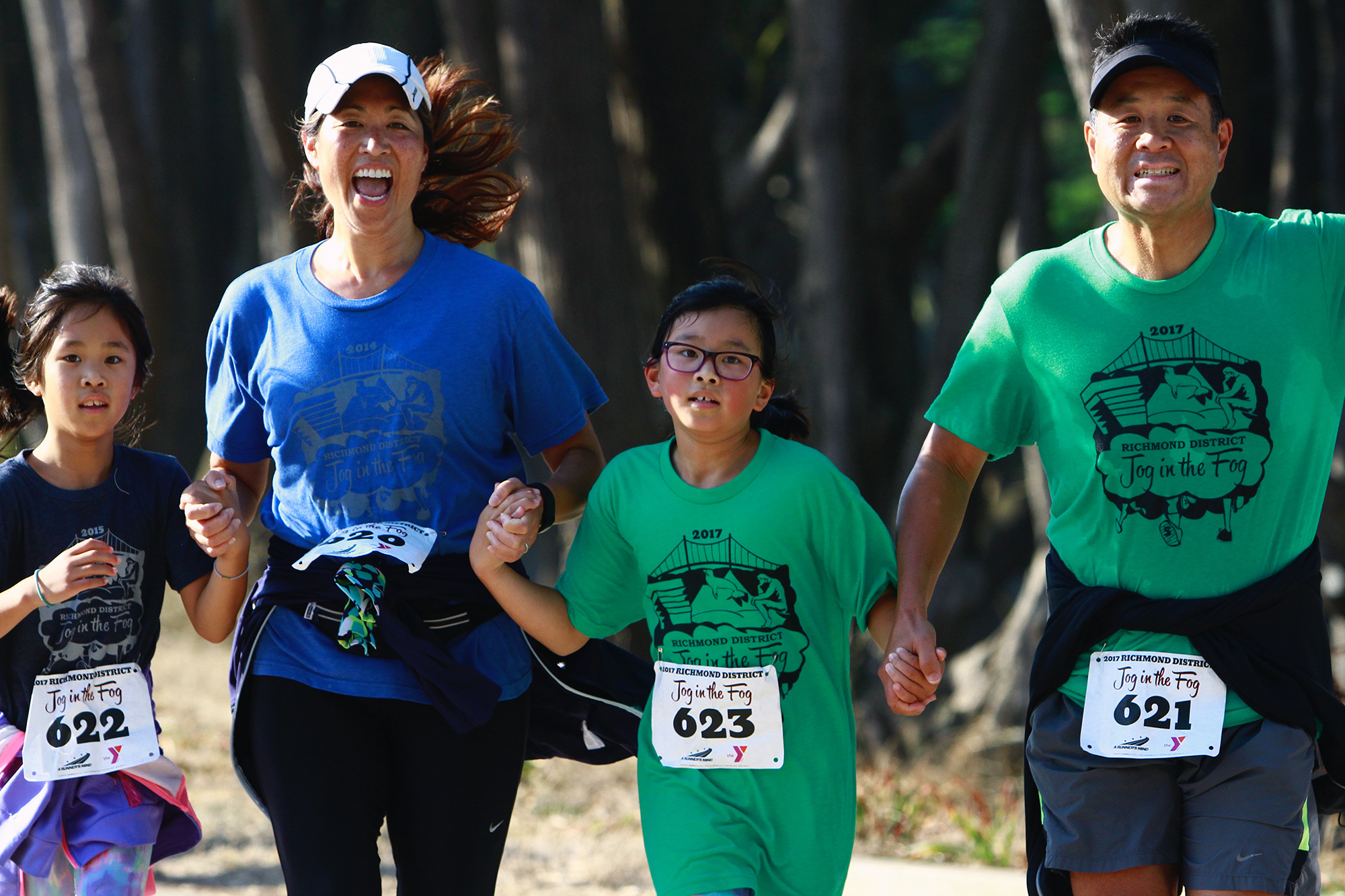 The 5th annual Richmond District Jog in the Fog 5k presented by Kaiser Permanente took place on Sunday morning. Nearly 600 runners registered to run the course that begins in Mountain Lake Park and ends in the USS SF Memorial Parking Lot at Lands End.
True to its name, the start in Mt Lake Park was enshrouded in thick fog at 8am, when the official starting fog horn sounded. By the time finishers reached Lands End, the sun was peeking through the fog, offering gorgeous views of the bay and Golden Gate Bridge.
The top finishers were a mix of Jog in the Fog veterans and new title holders. The top female finisher was Jessica Blelloch, age 16, with a finishing time of 28:19. Blelloch bested her winning time in 2016 by over a minute.
The top male finisher was Nathaniel Horne, age 16, with a time of 25:42. Despite arriving first in the finish area, Horne missed the turn to the finish due to poor marking of the course. But despite the directional challenges, he was declared the winner with an honorable mention to Gray Harrelson who was the technical winner with a recorded time of 24:23. Last year's course record of 20:34, set by Peter Lunny, still stands.
Top girl (12 & under) finisher was Page Sparks, age 12, who sprinted to the finish for a tie of 29:27. Top boy finisher was Zachary Bernard, age 11, who finished in 27:51.
In addition to completing the 3.4 mile course, Hi-5 Sports also sponsored the Mile Rock Challenge again this year. Runners who ran down the Mile Rock Beach stairs (and back up!) next to the coastal trail were given a Murphy Coin which they could then redeem for a prize at the Hi-5 booth in the finish area.
As in years past, participants ranged from serious runners to families who brought out their small children to experience their first 5k. Finishers pumped their fists as they crossed the finish line and enjoyed water and snacks from sponsors like Smart N' Final, Angelina's Cafe, and barkTHINS in the finish area.
Proceeds from the race benefit the Richmond District YMCA, which totaled just over $16,000 this year thanks to race registrations and sponsorships from many local businesses: Kaiser Permanente, BuildGroup, Hi-5 Sports, Green Apple Books, Turtle Rabbit Physical Therapy, Sequoia Real Estate, San Francisco Federal Credit Union, A Runner's Mind, Thidwick Books, Angelina's Cafe & Deli, Gordon-Creed, Kelley, Holl & Sugerman, and in-kind sponsors Smart N' Final and Grocery Outlet.
Thanks to all the runners, sponsors, and volunteers who helped make this year's race a great success. We'll see you all next year!
Sarah B.