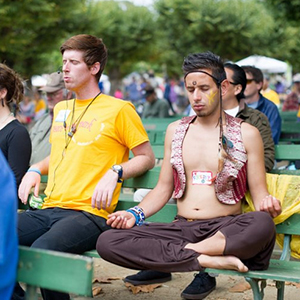 Saturday is your chance to unwind and unplug, AND celebrate the Summer of Love at the annual Peace in the Park Festival in Golden Gate Park.
From 11am until 6pm, you can check out world music, dances, tai-chi, hatha yoga, life-enchancing seminars, kids activities, peace exhibits, and meditation experiences in the Golden Gate Park Bandshell.
The festival is free for all ages, and its aim is to "empower youth and the Bay Area community with tools, tips and scientifically proven techniques to cultivate emotional resilience, manage stress, prioritize self-care, cultivate compassion and live joyfully."
Programs take place in different areas inside the concourse area including the Children's Zone, the Yoga Tent, the Talks Tent and the main stage of the Bandshell. Visit the Peace in the Park website for the full line-up of programs.
Peace in the Park was first hosted in 2013 as one-time event by the Brahma Kumaris and their friends from over 30 years including the Institute of Noetic Sciences, United Religions Institute, Pachamama Alliance, Interfaith Center at the Presidio, World Arts West, Stanford CCARE and Creative Canopy.
The festival has grown since its inception and this year, they expect to welcome over 10,000 people to the event.
Keep calm and head to the Peace Festival. 🙂
Sarah B.