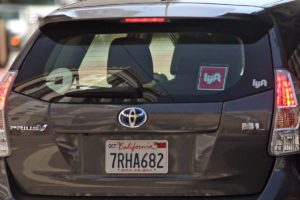 The city is considering removing parking spaces in several neighborhoods to make way for Uber and Lyft loading zones, with the hopes of alleviating double parking and other hazards that the ride company drivers present to every day traffic.
On of the zones includes Clement Street between 5th and 7th Avenues. Other neighborhoods where loading zones are being considered are Hayes Valley, Inner Sunset, the Marina, Noe Valley, Bay Street near Fisherman's Wharf, and SOMA.
This latest accommodation for the ride companies seems to be part of a bargain to extract their oft-requested ride data. According to the Examiner, "In exchange for use of space, the ride-hail giants would hand over driver trip data to help The City ease traffic congestion that drivers have said is exacerbated by Uber and Lyft vehicles double-parking."
The data the city is seeking from the ride companies includes the number of pickups and drop-offs at various intervals in the provided city curb spaces, data on the number and location of instances when ride-hail drivers slam their brakes while driving, raw GPS data of vehicle locations, vehicle collision data and wheelchair accessible trip data.
Part of the plan also proposes that some streets be "geofenced," which would electronically limit where ride company drivers could pick up passengers.
The city plans to pilot the loading zone concept in one location before rolling it out to the other neighborhoods. Board of Supervisors President London Breed told the Examiner she would welcome the pilot in Hayes Valley within her district.
When asked about the plan, Richmond District Supervisor Sandra Fewer told the Examiner she believes "a "community process" is necessary before considering the pilot".
The impact of Uber, Lyft and other ride companies on San Francisco traffic is a topic of constant debate. In June 2017, the SFMTA released a report that claimed Uber and Lyft account for 15 percent of all vehicle trips inside San Francisco. In 2016, the San Francisco Treasury Office provided data that showed there were 45,000 active Uber and Lyft drivers who drive in the city.
Sarah B.