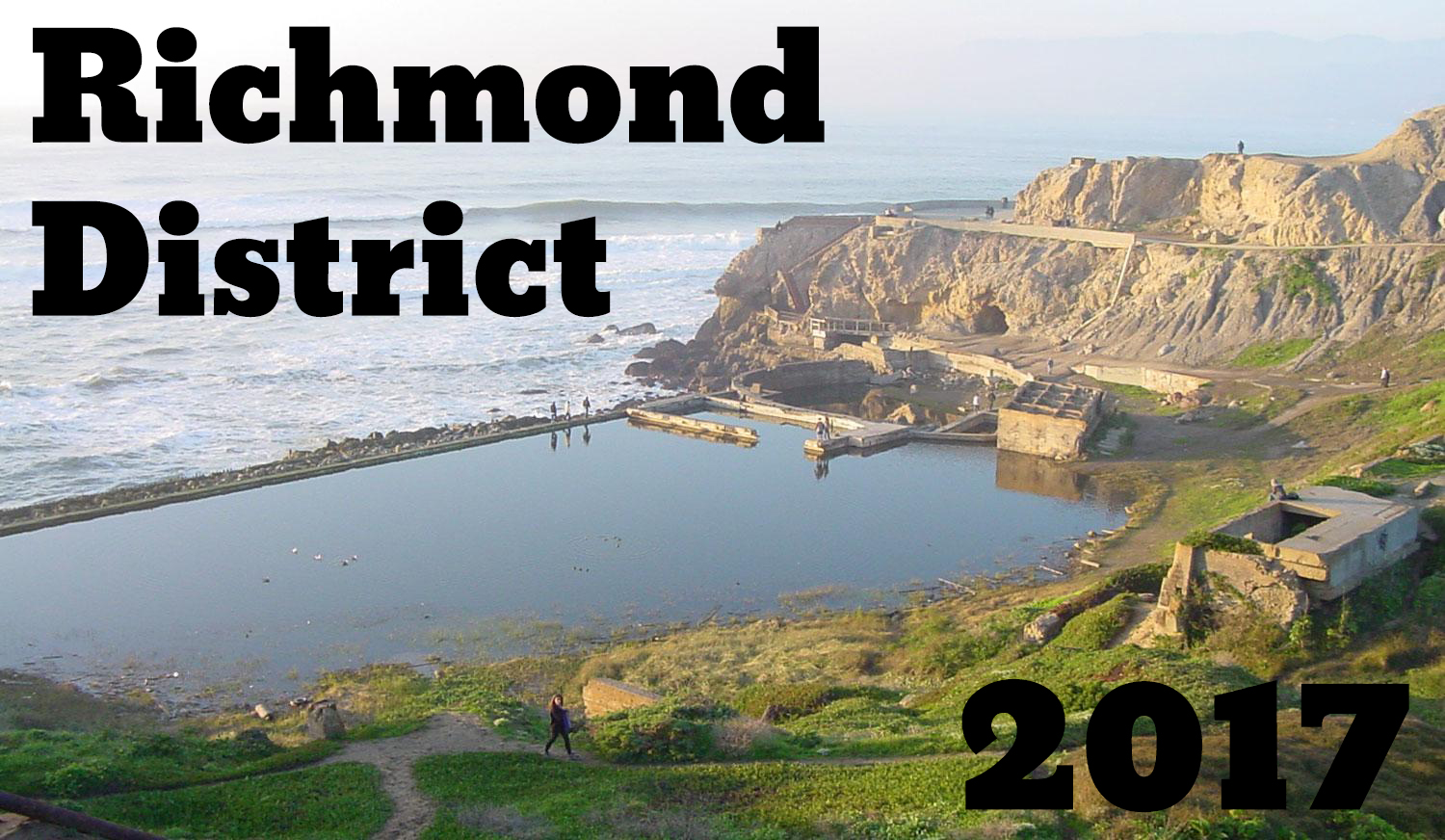 I don't know about all of you, gentle readers, but we are ready for 2017 to be over! It's been a crazy year for our country, so we thought we'd take your mind off things with something hyper-local: the top 10 stories from the Richmond District this year.
We've got salacious crime, a Darwin Award nominee, engrossing history, and even some high tech.
Special thanks to all of our readers who as always, were a great source of interesting stories, photos and videos.
Enjoy the countdown and here's to a great 2018! Happy New Year,
Sarah B.
10. Photos: Large tree on outer Clement calls it quits, crushes two cars
Another tree said goodbye in September and went out in spectacular fashion, crushing two cars but thankfully no people. Read the full story
9. The latest (old) photos of the Richmond District from opensfhistory.org
The Western Neighborhoods Project continues their digitization of a massive collection of old San Francisco photos that were bequeathed to them by an anonymous donor. So far they've posted 25,000 images to opensfhistory.org, many of them from the west side. Visiting the site is like going to Green Apple Books – prepare to get sucked in! Read the full story
8. Video: Attempted break-in via brick at Sea Cliff Optometry on Sunday
We got to watch our very own Darwin Award finalist square off against a storefront with a brick, which didn't go as he had planned. He aborted the break-in at Sea Cliff Optometry which, let's face it, seems like a really dumb place to target for a robbery. Word on the street is that an arrest was made, which isn't surprising since the video captured him VERY clearly. Read the full story
7. Video: The robots are invading!!! Well, just to deliver your food.
In a move that gets us even closer to the peak of laziness, food delivery robots made some test runs in the neighborhood this year. The robot, made by a company called Marble, says it uses "advanced sensors and high-resolution 3D city maps to efficiently and politely navigate busy urban environments." This robot mania prompted the Board of Supervisors to ban autonomous robots from the sidewalks, requiring that a human chaperone always accompany them. Read the full story
6. New 4-story, mixed use building to replace parking lot on Clement near 23rd
Development is always top of mind in this crowded city. So it's no surprise that former parking lots are being snatched up for multi-story residential buildings. The lot near the 4-Star Theater on Clement may be the next one to be converted. The new proposed development is a 4-story building with 12, 3-bedroom residential units, a ground floor retail space (approximately 1,215 square feet), and 16 parking spaces – accomplished via "parking stackers". Read the full story
5. Presidio Middle School's benefactor – Salesforce CEO Marc Benioff – to fund construction of new student-inspired playground
The students at Presidio Middle School have their very own Mrs. Havisham in the form of Marc Benioff, Salesforce CEO and well known philanthropist. Benioff is donating the funds to completely reimagine and renovate the playground at the school, which has included a ton of input from the kids themselves. No word yet on when it will be built out, but the plans look pretty awesome. Read the full story
4. SFMTA proposes limiting vehicle access on 8th Avenue to make it a more "pleasant place to walk or bike"
In their continuing effort to make biking and walking safer in the city, the SFMTA announced their latest brainstorm for the Richmond District which involves changing car access along 8th Avenue and into Golden Gate Park. Not everyone is a fan of the plan, with one neighbor calling it a "ridiculous game of traffic Whac-A-Mole". Others who live on the street say the car traffic is just too much to bear and needs to be funneled off to neighboring streets. Another public meeting never materialized in December, so expect more heated discussion in 2018 around this project. Read the full story
3. Shots fired on two Geary restaurants at dinnertime Sunday night
In a time of heightened xenophobia around the country, it was unsettling to hear about shots fired at an Indian restaurant and an Eritrean restaurant along Geary on a quiet Sunday night in February. Thankfully no one was injured and as far as we know, no arrests were made. Read the full story
2. Safeway signs lease for former Fresh N' Easy space on 32nd Avenue
We hold out hope once again that a thriving market can come to the outer Richmond! After Fresh N' Easy tried but failed, we're headed back to the original occupant of that space – Safeway. The company signed a lease in 2017 but there has not yet been an announcement on when they'll move in and cozy up to CVS next door. Read the full story
1. Enough is enough: City files suit against Balboa's Paradise Health Center for operating covert brothel
The Paradise "Health Center" appeared twice in our top stories of 2017. First when neighbors near the shady business pressured the city in March to revoke the massage parlor's operating permit. It took awhile but in October, after an undercover officer was solicited for sex while in the establishment, the city filed suit against the Paradise for allegedly running a brothel and engaging in illegal activity. The suit is still pending. Read the full story