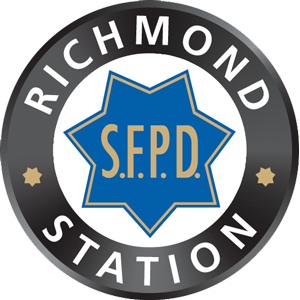 SFPD RICHMOND DISTRICT STATION NEWSLETTER
JANUARY 4, 2018
Download the full newsletter (PDF)
CAPTAIN'S MESSAGE
I hope everyone had a safe and happy New Year's celebration. San Francisco schools will be back in session next week, beginning January 8th. Remember to be keep aware of parents and their children crossing the street and always slow down while driving near schools. We have an event coming up in the Richmond District, The Hot Chocolate Run. The run will occur on January 7, so expect traffic delays and road closures along the route. All road closures should be open by 11:30AM. For details of The Chocolate Run, including a schedule of road closures, please refer to the attached information.
Captain Alexa O'Brien
Commanding Officer
Richmond Station
NEXT COMMUNITY MEETING
January 16, 2018 at 6pm
Richmond Station, 461 6th Ave
INCIDENTS IN THE RICHMOND DISTRICT THIS WEEK
Burglary, Vehicle (Arrest)
12/27/2017 0546 hours
2nd Ave. & Lake St.
Officers were dispatched to 2nd & Lake St., regarding a suspect breaking into a vehicle. Officers quickly located the male and took him into custody without incident. The suspect explained to Officers he believed his girlfriend was stuck in the car and he was trying to save her.
Per several witnesses on scene they observed the suspect break a window on the victim vehicle, enter the vehicle and rummage through the property inside. An arrest search of the suspect reveled a bag of suspected methamphetamine in his pants pocket. The suspect was booked into County Jail on several charges.
Driving, Reckless, with Injury; Driving, No License Issued
12/30/2017 1101 hours
Arguello & Fulton St.
Officers observed a silver Mercedes, with dark tinted windows, driving at a high rate of speed in the area of Fulton & 4th Ave.
The suspect vehicle saw the patrol vehicle and took off at a high rate of speed. The suspect vehicle exited the E/B lane of Fulton St at a high rate of speed, entered the W/B lane of Fulton St. still traveling E/B, and ran the light at Arguello and Fulton St.
The suspect vehicle hit the victim vehicle, in the inter-section of Arguello and Fulton St., causing it to roll over. A family of four were inside the victim vehicle, including two children.
All occupants were transported to the hospital for treatment. One suspect was cited at the scene and the driver of the vehicle was booked on several felony charges.
RICHMOND STATION FOOT BEAT OFFICERS
Richmond Station has several Police Officers assigned to walking patrols, or "Foot Beats." These Officers are dedicated to specific areas of the Richmond District, and you may see these Foot Beat Officers as they patrol along Geary St., Clement St., Laurel Village, The Cliff House and inside Golden Gate Park.
Foot Beat Officers are on patrol to prevent to various crimes, including auto break-ins (what we in the SFPD refer to as "auto-boosts"). There has been an increase in auto boosts across The City and we have put more Officers on foot patrol to serve as both a visual deterrent to thieves, and to be in a position where they can apprehend offenders.
Remember, we are YOUR police department, so if you see an Officer in your area, don't hesitate to ask questions, raise concerns you may have with your neighborhood, or just say "Hi!"