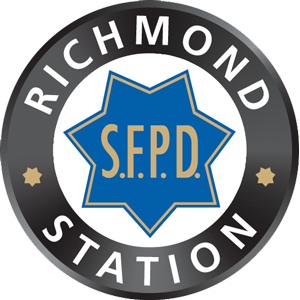 SFPD RICHMOND DISTRICT STATION NEWSLETTER
JANUARY 4, 2018
Download the full newsletter (PDF)
CAPTAIN'S MESSAGE
With the New Year comes new goals to accomplish. I have drafted a 5 year strategic plan for Richmond Station, and made 3 Main Priorities to be our focus at Richmond Station:
Priority 1: Health and Wellness of our Police Officers
Priority 2: Harm Reduction or Crime Reduction
Priority 3: Community Engagement
These priorities each have a unique set of goals within them, and I will share our accomplishments as we achieve these goals throughout the year.
The earthquake this past week should serve as a reminder to us in the Richmond District to be prepared! Richmond Station suggests that you get connected with your neighbors and form a disaster preparedness support group, get supplies (water, candles, batteries and canned foods), and make a plan for your family on how to respond when phones are not working and communications are limited. This preparation is necessary in order to be calm during times of stress. For further information on disaster preparedness the Community Youth Center SF is offering classes. The Community Youth Center is also hoping to attend one of our future community meetings to go over the Seismic Safety Outreach Program. Keep a look out in future Newsletters for information regarding more information.
Want to receive the SFPD Richmond Station Newsletter by email every week? Click here to sign up.
NEXT COMMUNITY MEETING
January 16, 2018 at 6PM
Richmond Station, 461 6th Ave
CAR SEAT SAFETY EVENT WITH THE CHP
Saturday, January 20th, 2018 | 10AM – 3PM
Richmond/Senator Milton Marks Library, 351 9th Avenue
INCIDENTS IN THE RICHMOND DISTRICT THIS WEEK
Firearm Arrest
01/02/2018 1836 hours
Geary Blvd & 2nd Ave.
Officers observed a vehicle fail to yield to pedestrians at the intersection of Geary Blvd & 2nd Ave. The Officers conducted a traffic stop on that vehicle. The driver presented a license that was expired. A computer check showed that the car was involved in a strong-arm robbery out of Burlingame.
Burlingame PD responded to the scene and all occupants of the car were identified. Burlingame PD took the driver into custody and while doing so the passenger ran from the car. A foot pursuit ensued and after several blocks he was taken into custody.
Inside the car was a fully loaded Smith and Wesson handgun, in close proximity to a child. The driver was released with a citation by SFPD Officers and taken into custody by Burlingame PD. The male suspect was booked at County Jail on several felony charges, which included child endangerment.
Bank Robbery W/ Gun
01/04/2018 1658 hours
3701 Balboa St.
At 1656 hours an unknown male suspect entered the Bank of America located at 3701 Balboa St. While hold-ing a gun in their hand, the suspect approached the teller, demanding money from the top and bottom drawers.
In fear for his life, the teller handed the suspect several thousand dollars in US currency.
The suspect was described as wearing a mask, dark colored jacket, dark gloves, dark pants, dark shoes and carrying a backpack.
The suspect fled on foot, eastbound on Balboa St. The suspect in this case is still outstanding and the investigation is on-going.
Warrant/Methamphetamine Arrest
01/06/2018 0107 hours
34th & Clement St.
Officers were on routine patrol in the area of 34th Ave. & Clement St, when they observed a male suspect quickly duck behind a car. Officers attempted to talk with the suspect, at which time he rolled under a car in an attempt to avoid detection. The suspect eventually came out and attempted to flee from the Officers on foot. The Officers were able to detain the suspect without incident.
A computer check of the suspect revealed an outstanding felony no bail warrant for his arrest.
An arrest search of the suspect revealed a methamphetamine pipe as well as suspected methamphetamine. The suspect was booked into County Jail on several felony charges.