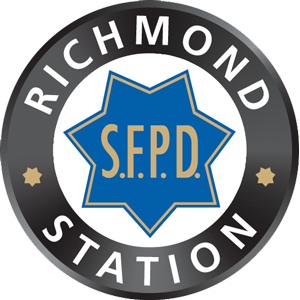 SFPD RICHMOND DISTRICT STATION NEWSLETTER
FEBRUARY 9, 2018
Download the full newsletter (PDF)
CAPTAIN'S MESSAGE
Gung Hay Fat Choy! Chinese New Year is right around the corner, with this year's celebration
happening Friday February 19th. As the Year of the Dog approaches, "Chinese Blessing" scams have been on the rise. The San Francisco Police Department warns members of the Chinese Community to be aware of suspicious or strange individuals who claim to offer relief from a curse or illness in which cash and valuables must be offered. For more information on the Chinese New Year's parade being held on Saturday, February 24th, and information on blessing scams, please click here.
Captain Alexa O'Brien
Commanding Officer
Richmond Station
NEXT COMMUNITY MEETING
February 20, 2018 at 6PM
Richmond Station, 461 6th Ave
INCIDENTS IN THE RICHMOND DISTRICT THIS WEEK
Aggravated Assault
02/02/2018 1830 hrs.
6th Ave. & Lake St.
On 02/02/2018 at 6:30 PM, two male victims were standing on Lake St. near 6th Ave. when they were approached by five male suspects they did not know. One of the suspects pointed a black handgun at the first victim's chest and uttered something the victim could not understand. The victim stated the male suspects began to hit him in the face and chest with their fists, and then abruptly fled into Mountain Lake Park. The victim told Officers he would not be able to
identify the suspects if he saw them again.
The second victim confirmed the first victim's story, and stated one of the suspects had also pointed the handgun at his chest. There was no loss in this incident and the first victim
suffered a broken nose and bruised ribs. All five suspects are still outstanding.
The suspects were described as the following: Three black males 22-23 years old and two Asian
males 22-23 years old.
Burglary, Residence, Unlawful Entry
02/05/2018 1210 hrs.
California St. & 12th Ave
On 02/05/2018 at 1210 PM, Richmond Station Officers responded to the 5000 block of California St. regarding a possible burglary. A neighbor called 911 stating two men she did not recognize
were inside her neighbor's apartment. When Officers arrived on scene they located both suspects.
It was discovered one of the suspects was on active felony probation for burglary. The two suspects had used the victim's keys to access his apartment. The keys had been stolen the day before, but the victim believed he had only misplaced them. Both suspects were in possession
of the victim's personal property and were arrested on multiple felony charges, including burglary.