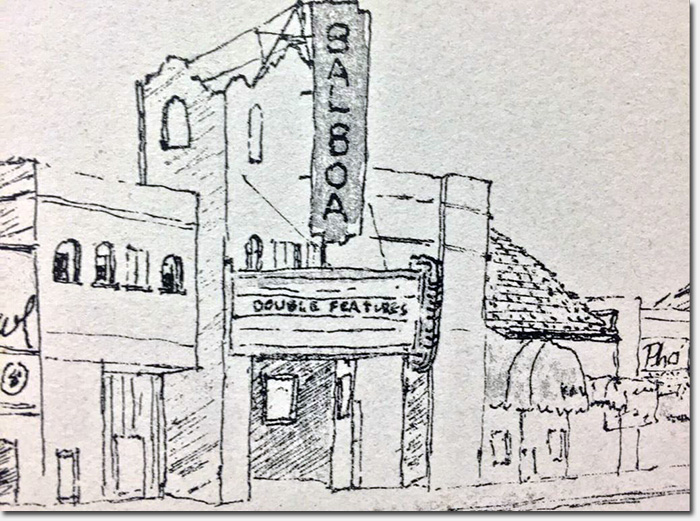 Photo from @BalboaTheatreSF
It's already the second week of 2015, and we hope everyone is settling back in nicely. Here are some local links to start you off…
We're not sure who sketched the above picture of the Balboa Theater, but we just liked it.
Ever wondered which San Francisco neighborhoods are the most welcoming to renters with pets? HotPads decided to map it out and the Richmond District finished near the bottom with only an average of 29.5% of rental listings allowing for pets. Landlords in the Sunset were slightly worse at 24.6%, and SOMA and Mission had the highest percentages.
Burma Superstar continues its expansion with a new location in the Mission at 211 Valencia near Duboce. The menu will have the usual BS favorites like samusa soup, tea-leaf salad, coconut chicken noodle soup, yellow bean curry, and more, plus a full liquor license. Hours are 5pm – 10pm daily; lunch service to come later.
In a sad twist of fate, To Hyang lost their lease at 3815 Geary last May. The space has been empty since then and after losing their lease in the Tenderloin, Burmese Kitchen will take over the Geary space this year. To Hyang is still looking for a new home. [EaterSF]
Clement Street art gallery and boutique Park Life will set up shop at this weekend's FOG Art/Design Fair at Fort Mason Jan. 14 – 18. "We will be featuring a selection of Editions, Objects, Books, and Art by artists Tauba Auerbach, David Shrigley, foglogoPaul Wackers, Tucker Nichols, Robert Lazzarini, Jonas Wood, Todd Hido, and many others," Park Life said on their website. If you're at the show, be sure to pop by and say hi!
A Richmond District resident named Henry Leggett started a custom furniture design business called Design Trifecta. So far Henry has designed a standing desk for Regular Exercise, a pool cue storage rack for 540 Club, and some tables for Sidebar. Check out more of his work here.
Neighborhood artist Richard Rothman has a show at Supervisor Eric Mar's office (City Hall, Room 244), exhibiting photographs of public murals from around the Richmond District and San Francisco. Stop by during business hours through March 2015 to view the exhibit.
Checked out the free events happening at the Richmond District Library lately? Photography, gardening & meditation classes, plus all kinds of programs for kids.
12:18 pm | Posted under
Art
,
Business
,
Food
|
4 comments