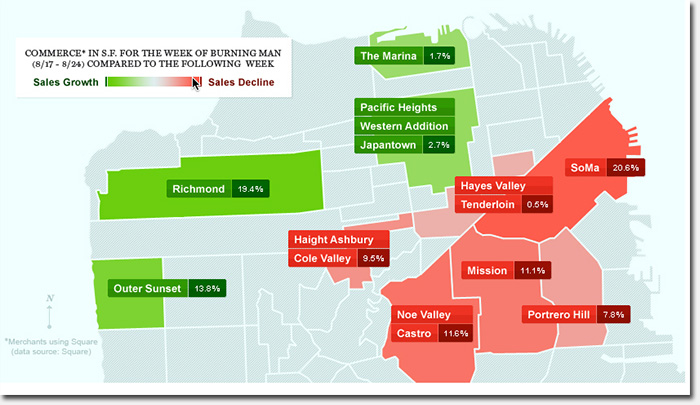 So you probably noticed the city felt emptier during Burning Man (August 25 – September 1), but is there any data to prove that? Well yes, there is…
Fortune magazine got some data from Square, a transaction processor, showing the growth or decline in commerce in San Francisco neighborhoods during the period that Burning Man was taking place. While the festival funnels a lot of money into the local economy where "the playa" is located near Reno, NV ($55 million last year), it can have the opposite effect in areas where attendees come from.
As you can see from the map, commerce declined in the southern portions of the city.
"Data from Square, the mobile credit card processing company, suggests merchants in the South of Market neighborhood saw as much as a 20% drop in business the week of Burning Man compared to a typical week."
That's where a lot of tech workers typically spend, and a lot of them make a mass exodus to Burning Man. When they leave town, so does their $$.
But look at the Richmond District! Our overall commerce was up nearly 20% which means a lot of us were not at Burning Man. As the article points out, "commerce was up sharply in the Richmond, a neighborhood popular with families, perhaps due to increased shopping during a the Labor Day weekend."
Thanks to Anthony for the tip.
Sarah B.
11:54 am | Posted under
Business
|
11 comments