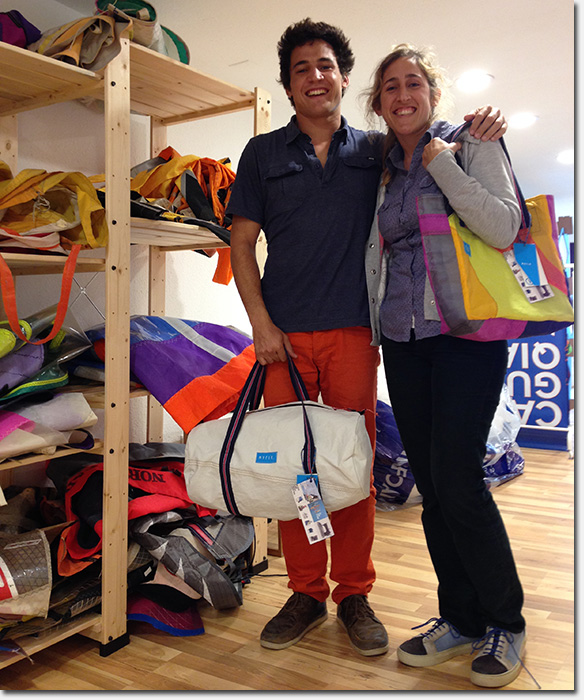 Marcos and Paz Mafia, siblings and owners of Mafia Bags
While the Richmond District is known best for its abundance of restaurants, it's also home to a handful of manufacturing businesses like Paul's Hat Works, Anzfer Farms (furniture), and our latest addition, MAFIA Bags.
MAFIA Bags was started by brother and sister team Marcos and Paz Mafia, who hail all the way from Buenos Aires, Argentina. Both grew up with a passion for water sports. Marcos became a professional kitesurfer and earned the title of Argentine Kitesurf Champion at age 22, while Paz, a few years older, pursued a corporate career.
In 2012, the two joined forces to start MAFIA Bags in their home country. The company's products puts old sails from kiteboards, windsurfing boards and boats back into use by re-purposing them as bags and other accessories. Old sails are donated or purchased at a discount, broken and cut into pieces, and then made into handcrafted backpacks, wallets, duffel bags and more.
After getting the business off the ground in Argentina by selling wholesale and online, the duo decided it was time to expand to the US market. After looking for a place to base their US operation and raising $26,000 through a Kickstarter campaign, Marcos and Paz settled on San Francisco, locating their workroom on Clement Street near 20th Avenue.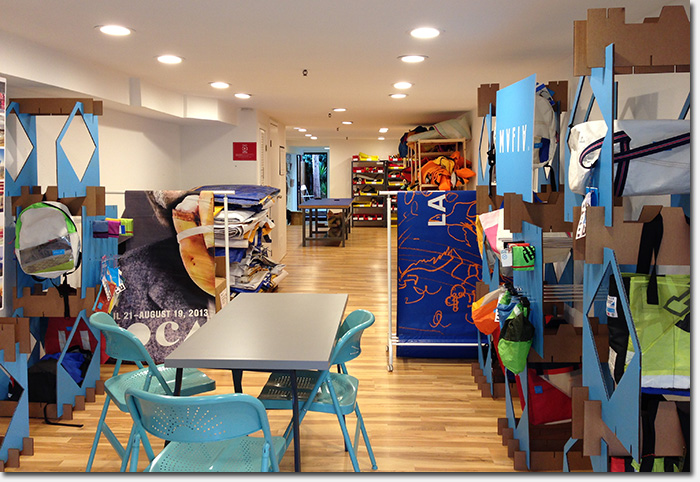 Clement Street is ground zero for manufacturing the US MAFIA product line. Shapes are hand-cut out of old sails, cataloged, and sent off to assemblers in Los Angeles and Santa Clara for final production.
The MAFIA workroom is a burst of bright color. The old sails piled on shelves come from a variety of sources including water sportsmen, marine surplus stores and even professional water sport events.
Sails get tossed aside for a variety of reasons; they may be beyond repair or simply outdated. Whenever someone donates a sail to MAFIA, they get back a free MAFIA product of their choice made from their own sail. (If you are interested in donating a sail, contact sailsforchange@mafiabags.com)
In one corner of the shop sits a five foot tall pile of old event banners from the 2014 US Open Surfing Championship that took place a few weeks ago. Event sponsor VANS enlisted MAFIA Bags to re-purpose the banners into bags for a follow-up campaign.
Posted on the wall is the weekly "to do" spreadsheet, showing how many of each product part needs to be cut and prepared in the Clement Street workroom by the MAFIA team of four. Another wall board shows the color combinations for each product.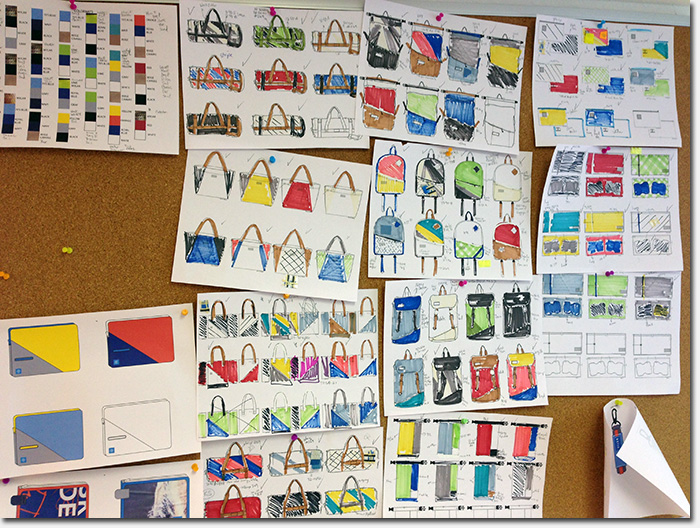 Marcos is the CEO and design lead for the company while Paz holds the title of CFOO, handling finances and operations. Both of them have infectious, passionate personalities.
"The ocean and outdoors have brought me good fortune and such happiness throughout my entire life," said Marcos who continues to compete as a professional kitesurfer. "The purity of our special environment inspires me, and the entire MAFIA family, every single day. MAFIA Bags is our way of returning nature the favor."
At the front of the Clement Street space are some corrugated displays showing off the MAFIA product line. Wallets straddle small pegs, colorful rucksacks hang off the sides, and bright backpacks are perched on top. Every MAFIA item is handcrafted, incorporating different sail pieces into a single item, all water-resistant. Even the smallest parts of the sails are used, like the keychains that are re-purposed from small pieces of neoprene.
Back in Argentina, the bestseller is MAFIA's Discover Pack which is a useful, all-purpose backpack that is both sturdy and lightweight. The company is also working on some new products that they think will appeal to US customers, like a laptop bag.
So far Marcos and Paz are loving their new life in San Francisco. While Paz admits the foggy weather was "a bit difficult at first", they can't imagine being anywhere else. She first visited the city when she was 15, and Marcos for the first time in 2013.
"We love Golden Gate Park, the beach, everything is so close to our house," Paz said.
Marcos and Paz both regularly kite surf at Ocean Beach and bike around the city. They list Pizzetta and Bazaar Cafe as some of their favorite places in the neighborhood. When friends come to visit, they take them to the Cliff House for a drink overlooking the ocean.
They've also made friends with nearby businesses like the Clement Nursery across the street. "We love those guys!" Marcos hopes to have a street fair of sorts where businesses in the outer Clement area can all open their doors and welcome in neighbors.
MAFIA is currently manufacturing inventory for their first three months of sales, which includes the rewards for their Kickstarter funders and sail donors. They're focused on finding resale partners like design stores, surf shops and museums to carry MAFIA products, and getting their online store ready to open in October. MAFIA products will range in price from $30 up to $190, and include a lifetime guarantee.
We'll keep you posted on the online debut of MAFIA Bags in the US. And if you run into Marcos or Paz, be sure to welcome them to the neighborhood!
Sarah B.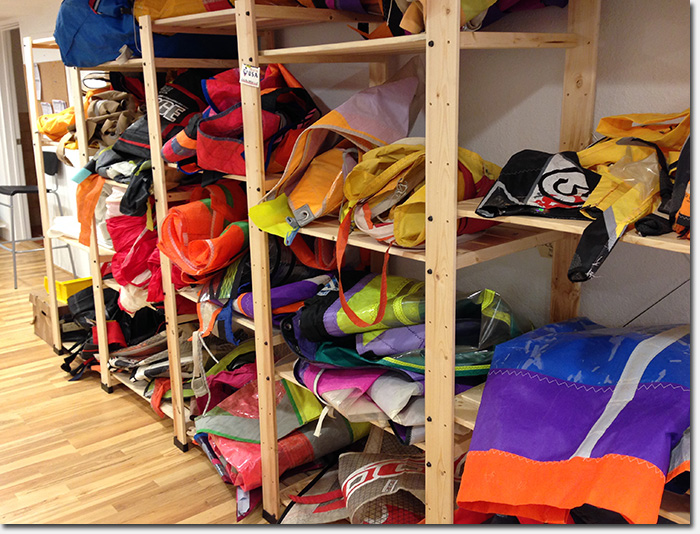 Shelves of old sails from kitesurfing, windsurfing and sailing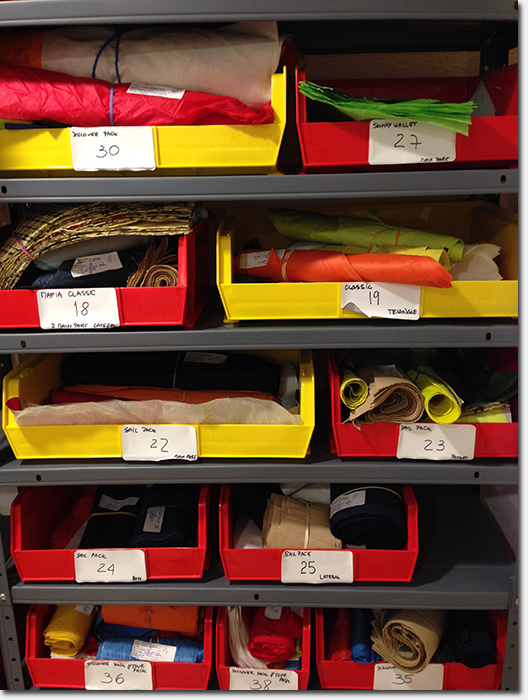 The small bins where the hand-cut sail pieces are stored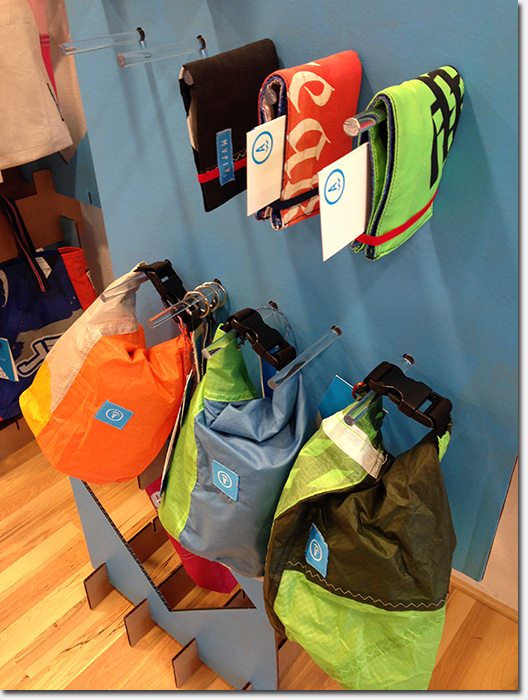 Wallets and small sacks made by MAFIA Bags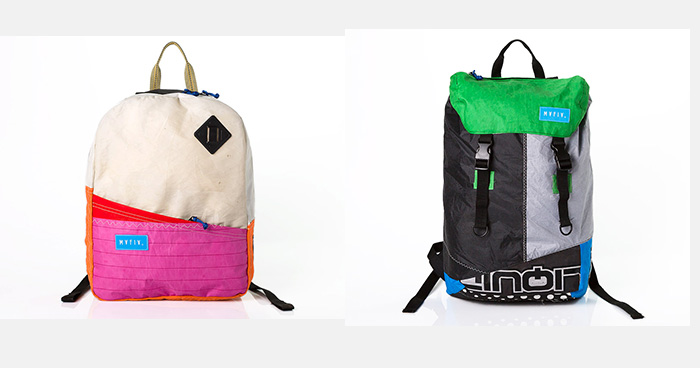 A backpack and the popular Discover Pack made by MAFIA Bags
5:02 am | Posted under
Business
|
6 comments