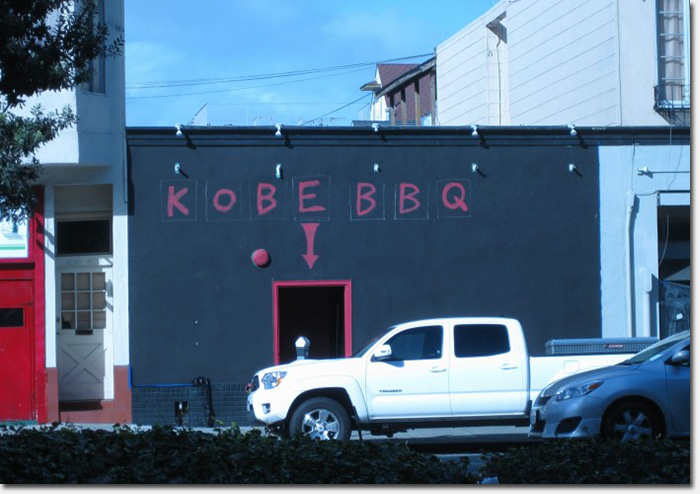 The "You Are Here" style signage on the new Kobe BBQ. Photo by Derek
Last week, BoldItalic published a photo of what was once Quan Bac, a popular Vietnamese restaurant located at 4116 Geary between 5th and 6th Avenues. The photo showed what one might call a "poor man's restaurant sign" which looked like a spastic graffiti artist had come through (photo below) – and even spelled one of the restaurant names wrong.
It appears the restaurant space is being divided into two eateries – Kobe Korean BBQ and Infiniti Sushi.
Thankfully, the graffiti was quickly painted over within a day or so with dark paint. But today, we received new photos of the facades which are, well, still pretty bad.
The Kobe BBQ storefront on the left side has spray-painted letters with an arrow pointing down at the front door (just in case you don't know where to go in). It's a little reminiscent of the "You Are Here" notations on venue maps.
Next door, they seem undecided on how they want to sign the place. "Infiniti Sushi" is lettered on a small wood board that runs across the front, but "Infin" is still spray-painted haphazardly above the windows (and S-U-S-H-I remains spray-painted on the window coverings).
We don't know anything about these restaurants or when they plan to open their doors. We'll hope these signs are works in progress because if they're permanent, we can only assume the quality of the food will be top-notch.

Oh and Brothers Korean BBQ is right next door so let the games begin.
Sarah B.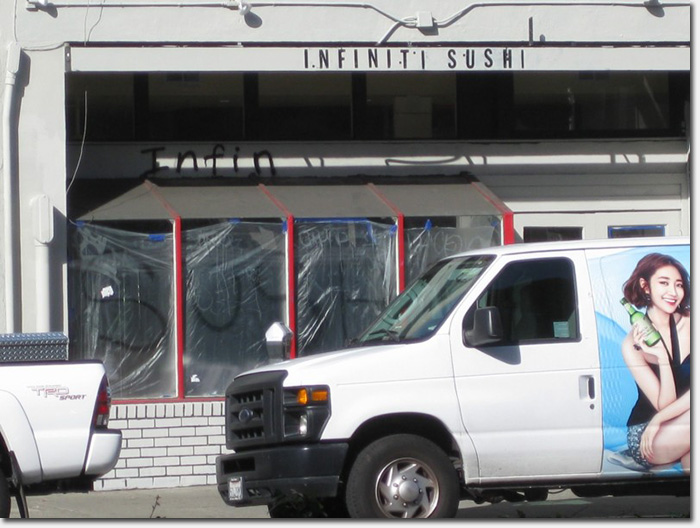 The current signage for Infiniti Sushi, opening next door. Photo by Derek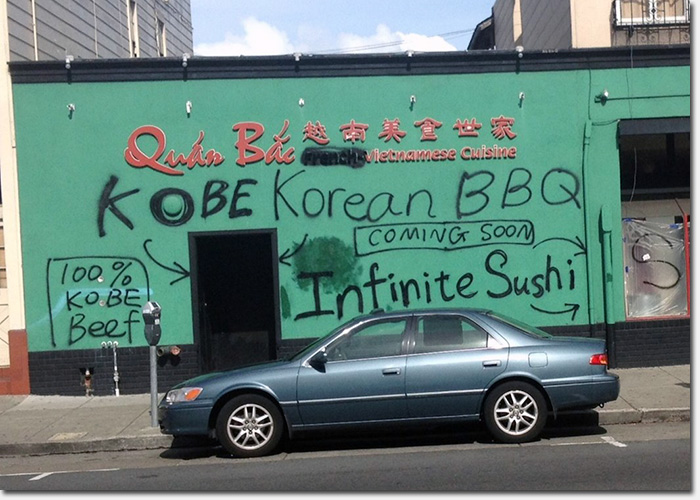 How the graffiti'd facade looked last week. Photo by Bolditalic
2:06 pm | Posted under
Business
|
8 comments