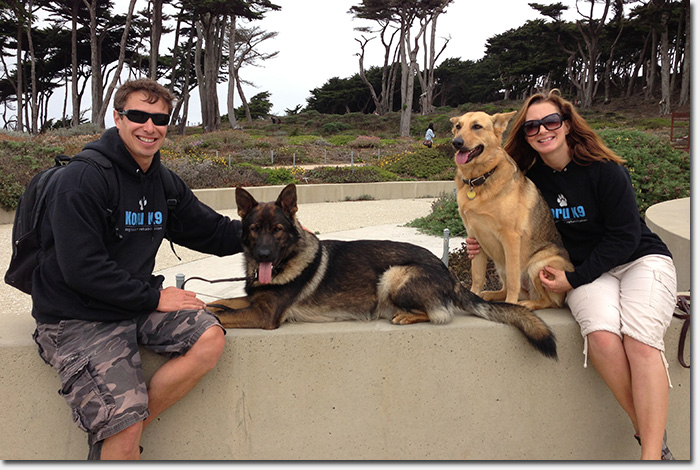 Koru K9 owners Ray and Bridget Murphy, with their dogs Nero (L) and Luna.
Desiree used to dread walking Emma, her anxiety-filled Chihuahua. It was a stressful time for Emma, who lived in fear of other dogs, especially large ones. Desiree would try to walk Emma during off-times, when they were less likely to see other dogs. Emma had a particular fear of anything on wheels – elderly woman with wheeled walkers, wheelchairs, and the worst of all – a small dog she once ran into that had its back legs in a wheel harness.
The anxiety was crippling for the Chihuahua-Dachsund mix that Desiree had rescued from a friend. The sight of a large dog rendered her prone on the sidewalk where she would shake and not move at all, sometimes peeing from the stress.
Over time, Desiree, and her boyfriend Mike who also walked Emma, would anticipate the anxiety and begin reassuring Emma as a dog came closer, which only made it worse. Suddenly, Emma's irrational behavior was being condoned by her owners. She barked loudly and acted aggressively, but her tail was always tucked far between her legs.
Desiree decided it was time to get professional help, so she turned to Koru K9, a new dog training business here in the neighborhood that was started by husband and wife team, Ray and Bridget Murphy.
Ray and Bridget own two German Shepherds of their own, Luna and Nero, and are passionate dog lovers. After adopting Luna from a puppy rescue, they realized she had serious behavioral problems. After a lot of time and a myriad of approaches, they were able to bring Luna under control and reform her as a well-behaved, socialized dog that was part of a healthy family unit, rather than a divisive piece of it.
To address Emma's problems, Ray first began with an in-home evaluation to assess Emma's behaviors even before she left the house. And more importantly – how Emma's owners interacted with her and managed those behaviors.
"Dogs crave structure and leadership, and when they don't have it there's anxiety," Ray told us when we observed a recent training session with Desiree, Mike and Emma. It was Emma's third session with Koru K9 and as an outside observer, I found it hard to reconcile the once skittish Emma with the one I was seeing on our walk around Sutro Park.
Koru K9 changed a few things about Emma's daily routine that helped establish some needed boundaries and roles in the family unit. Emma's harness, which she was known to squirm out of during stressful moments so she could bolt – was replaced with a leash and a prong collar that when tugged during training, reminds Emma to pay attention to her owner, taking the focus off whatever is causing her anxiety.
They also changed where Emma was allowed to walk. Rather than cowering behind her owners or pulling out in front, they designated a box to the left of the walker where Emma should stay positioned. The area was safe for Emma and reinforced that her attention should be on her owner, not the potential stressors around her.
Developing a well-behaved dog is also about creating a better dog owner, and Koru K9 incorporates that into their training. During the training session we observed, Emma was rewarded verbally and with treats by her owners for good behavior, and their handling of Emma was just as critiqued as the dog's performance. After training sessions, owners are given homework to do with their dog to keep reinforcing the behaviors.
During one exercise we observed, Luna and Nero, who Emma would typically be terrified of, lay down about 15 feet from each other. Emma was required to "figure-8″ around them like they were cones, gradually getting closer and closer to them with each pass. Like aversion therapy for Emma, it reinforced to her that if she stayed focus on her owner and not on the stressors around her, she could keep her anxiety down.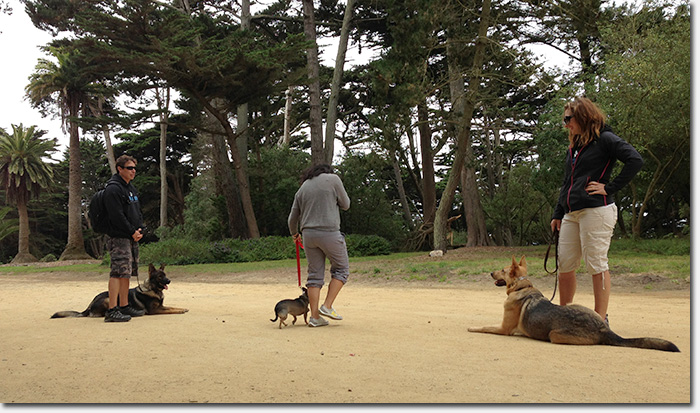 The "figure-8″ training that gets Emma comfortable with being close to other dogs
In another exercise, Emma was put on a 30 foot, loose leash and was called back and forth between Mike and Desiree, with treats awaiting her for a successful come and sit behavior when she reached them. Known as recall training, this helps teach a dog how to stay under control just by their owner's voice commands.
On our last loop around Sutro Park with Emma, Ray tackled one of her biggest anxieties – when a large dog follows behind her. In the past, not being able to see and keep an eye on another dog sent Emma into a tailspin.
But during the exercise, Desiree kept Emma's focus on her, and both Luna and Nero walked behind Emma, passed her on the path, turned around – all without Emma displaying any anxiety. We even saw the tell-tale sign of a happy dog – Emma's tail in the air rather than tucked between her legs.
Mental breaks are important even for dogs when they're learning, so after about 8 minutes of exercise, Emma would have a chance to relax, get some pets and de-stress with her owners before moving on to the next exercise.
Desiree and Mike are thrilled with Emma's progress, and said they don't think twice now about taking her for a walk or taking her to a park, even if there are other dogs.
Desiree said Emma even passed "the Angelina's test" when she took her by the cafe on California and 22nd Avenue recently, known to be a favorite of dog owners who often leave them tied up outside while they order.
"Emma and I just sat outside and watched the other dogs. She did great, no anxiety at all," Desiree said.
Ray and Bridget's mission for Koru K9 is "to help turn your dog into an amazingly balanced and well-behaved dog," which they definitely achieved with Emma. She went from being completely debilitated when faced with another dog, to actually enjoying the walking experience and having no stress when training around two large, German Shepherds.
The "Koru" in their business name means "new beginnings" in the Maori language, and that is what Ray and Bridget hope to bring to their clients – both the dogs and their owners.
You can find out more about Koru K9 on their website. They are also offering $25 off an initial consultation to readers of the Richmond Blog. Just mention the blog when you call or email to take advantage of the discount (valid through 12/31/13).
Sarah B.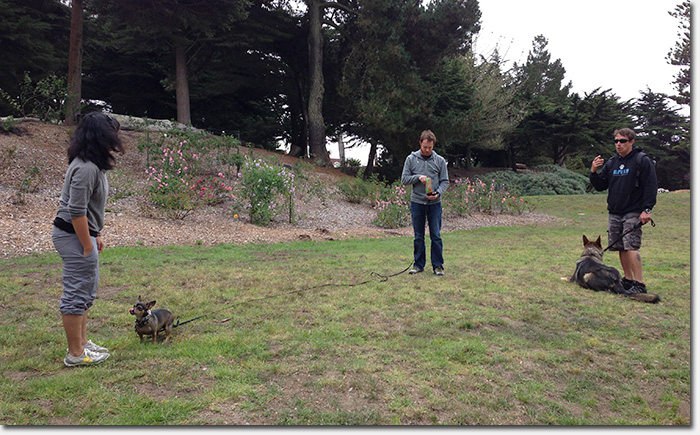 A recall training exercise that reinforces voice commands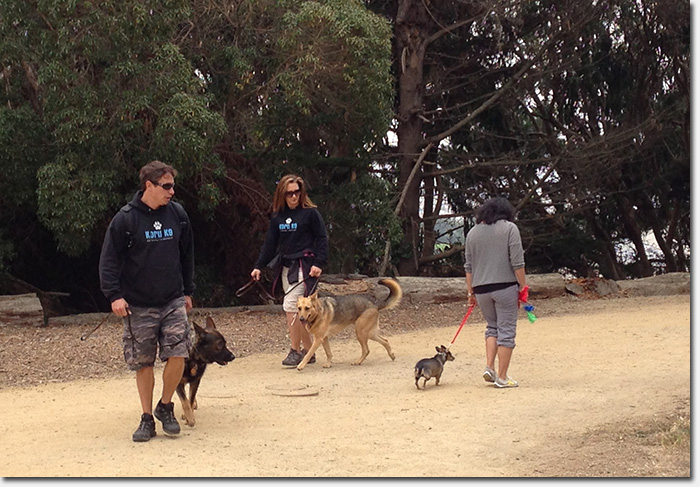 Luna and Nero walk behind and in front of Emma as owner Desiree keeps her calm and focused
5:10 am | Posted under
Business
,
Pets
|
7 comments