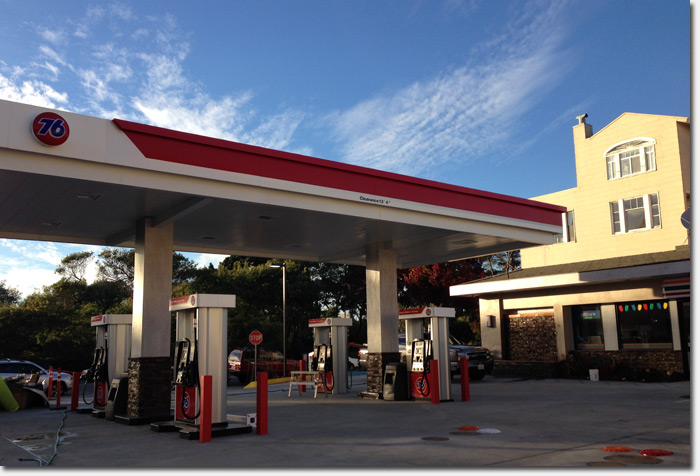 It's been 16 months since the 76 station on Geary and Funston closed for a remodel. It will finally re-open this Wednesday, completely remodeled and housing a new 7-11 convenience store.
The remodeled service station has raised the bar for gas station style, sporting slate stones in its facade, a wall fountain, fresh landscaping, and environmentally friendly LED lighting inside and out.
The owners also footed the bill to paint the side of the adjoining building on Geary, which was peeling and cracking.
The station features the latest in gas pump technology, with lighter weight nozzles and ADA compliant controls. The owners also added diesel fuel to the menu.
When we stopped by on Monday afternoon, they were putting the finishing touches on the 7-11 store that is on the property. The franchise's inclusion is what slowed down the timeline for the station to re-open. 7-11 came to the project late, and then had to go through city channels to get permits and approval to open.
The 7-11 will offer all the usual accoutrements of the franchise, including slurpees and hot dogs. The location just a couple blocks down on 15th & Geary will remain open.
The construction and design at the 76 station were handled by a husband and wife team from Southern California. Luis Herrera of Channel Development has experience with many service station remodels, and his wife, designer Erika Winters, put the final design touches on the corner station.
She also designed the marble tiled his and her restrooms inside the 7-11, and added accents where she could within the 7-11 franchise guidelines.
Herrera and Winters stayed in the Marina District during the remodel, and Herrera says he loved being in the city by the bay. He sounded reluctant to leave it to return to this SoCal homebase. He decided to leave his motorcycle behind with the Piston & Chain motorcycle club that he joined while living here.
"It gives me a good reason to come back for a visit," Herrera said.
The 76 station officially reopens on Wednesday morning, December 16.
Sarah B.
UPDATE: This article had previously mentioned a promotion for free fill-ups to the first 100 customers, which was confirmed in person to us on Monday by Luis Herrera. This morning we were contacted by John Quintanilla who informed us that was false information. "There must have been a miss understanding. No free gas upon re opening." Sorry to everyone for the confusion. – Sarah B.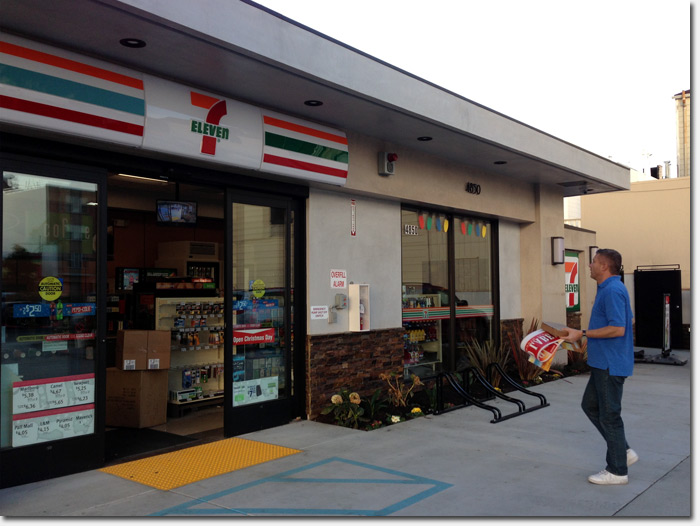 The convenience store on the gas station lot is a 7-11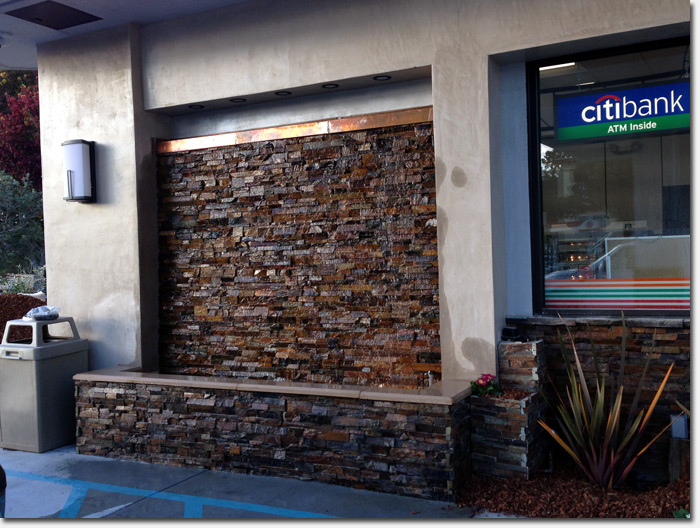 The wall fountain on the front of the 7-11
5:06 am | Posted under
Business
|
5 comments