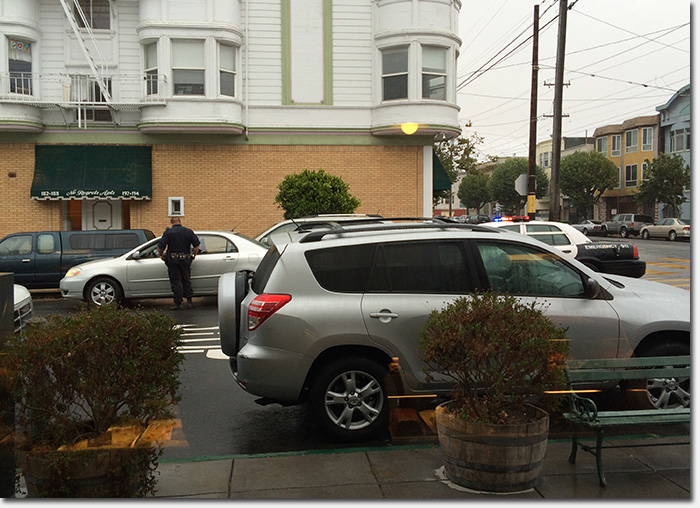 Officer UnFriendly pulls over a car on 22nd Avenue on Friday morning
The intersection of 22nd and California has always been a busy one. It's a four way stop with businesses on three corners, two of which – Angelina's Cafe and the Appel & Dietrich Market – get a lot of traffic. Alamo Elementary School is just down the block on 22nd Avenue, and there are bus stops on the east and west corners of the intersection. Crossing pedestrians are a frequent occurrence.
So it's hardly a surprise to see an officer posted on the southeast side of the intersection, waiting for drivers to make their "California stops", e.g. rolling stops, at the intersection.
But so far, a single officer has been at it for a week now, nabbing drivers left and right, resulting in a veritable frenzy of ticket-writing.
We were at Angelina's Cafe this morning at 7:05am and Officer UnFriendly had already pulled someone over near 21st Avenue and California, lights flashing. By the time we purchased our coffee, he had already pulled over another driver on 22nd Avenue. This was in the span of approximately 8 minutes.
We emailed Richmond District station Captain Simon Silverman a few days ago to ask if there is an initiative underway to make that particular intersection the safest in San Francisco. But we got a vacation reply so we'll have to wait until he's back to get an explanation. [Update 7/28/14: We received a reply from Capt. Silverman which is reprinted below.]
One reader saw Officer UnFriendly nabbing drivers at 22nd and Lake as well. After someone rolled through the stop, he sped down the center line of Lake Street, no lights flashing, to pull them over.
"The officer's driving seemed unsafe to me," the reader wrote to us. "And really over the top."
Whatever the cause, it seems like overkill for a single officer to spend multiple hours per shift at a single intersection for a week. Yes, we should all be making full stops and being reminded of it is not a bad thing. But given all of the problem traffic points we have in the neighborhood like the Fulton freeway and the Geary interstate, shouldn't some of this enforcement be spread around?
Or maybe Officer UnFriendly is going for cop of the month? Time will tell but in the meantime, mind your stops, especially at 22nd and California.
Sarah B.
=========================
We received this reply to our inquiry from Captain Simon Silverman on July 28, 2014:
We base our decisions on where to focus traffic enforcement on a number of factors including collisions, requests by the public, and our own observations of traffic conditions in the district.
In the case of 22nd & California, I was contacted separately by a couple of residents alarmed at the number of cars running stop signs and nearly hitting pedestrians. One woman told me that her young daughter was almost hit in the crosswalk. When people tell me about a dangerous area, I have my officers take a look at the traffic situation and write citations if warranted. More than one officer has been writing citations at 22nd & California although your blog post focused on a particular officer.
By writing citations, we are hoping to reduce violations and thereby reduce collisions. Most people drive more carefully if they get a ticket or if they see someone else getting a ticket. I hope that by writing a number of citations in the same place, we are making it safer by changing the behavior of the people who regularly drive through the area.
The intersection of 22nd & California is not the only place where Richmond Station's officers are writing citations. In fact, the 4 block radius around that intersection accounted for only a small fraction of our traffic enforcement stops in the past month. We have also focused enforcement on Fulton, on Geary and on Park Presidio as well as many other places in the Richmond.
As you might imagine, writing people citations can be unpleasant because many people get upset and take it out on the officer. The officer whose picture you posted is undeterred by that unpleasantness, because he is doing an important job. It doesn't make sense to call him "Officer Unfriendly" when even the few blog comments critical of his actions are not critical of his demeanor.
Officer have no quotas or incentives for citations, so it's gratuitous to speculate that the officer whose picture you posted is "going for cop of the month" by writing tickets. This same officer has been on scene at a number of collisions where people have been seriously injured or killed, including one at 43rd & Fulton where a toddler was hit by a truck. The officer kept in touch with the family and visited the little boy in the ICU bringing him a toy. In my mind, that's what makes him "cop of the month" – but he'll tell you he was just doing his job.
Captain Simon Silverman
Commanding Officer
Richmond District Police Station
=========================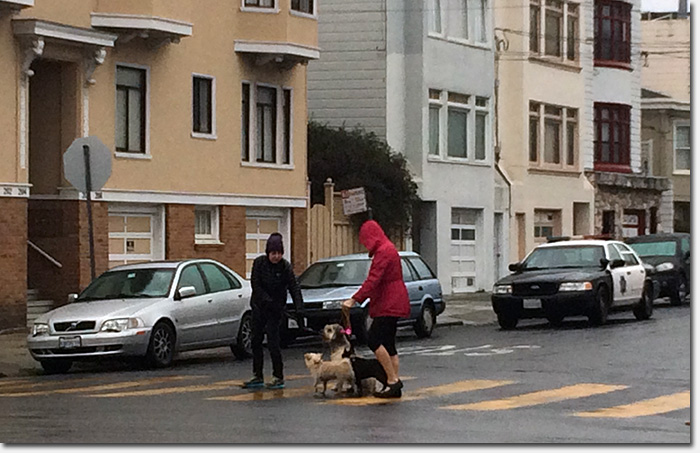 Waiting on the southeast side of the 22nd & California intersection to tickets
drivers that are making rolling stops.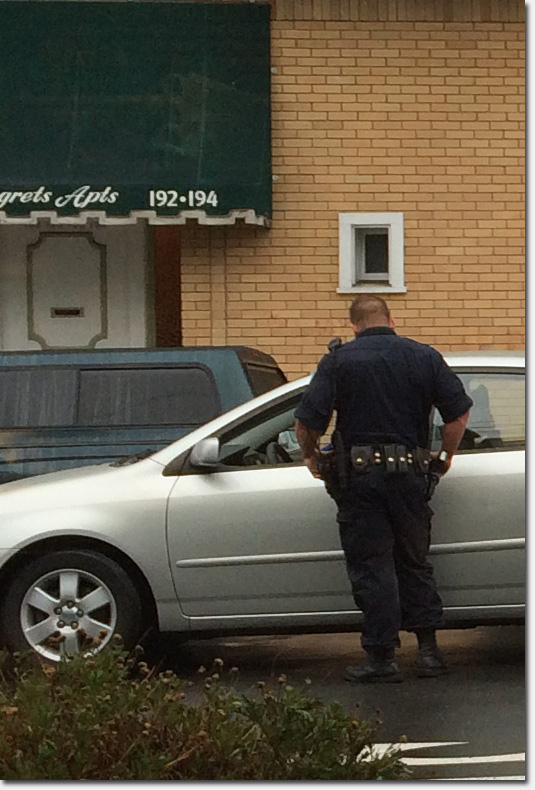 9:24 am | Posted under
Crime
|
79 comments