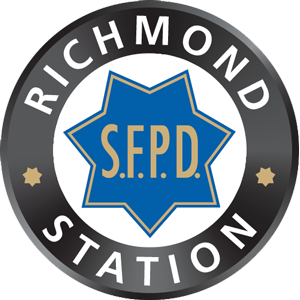 SFPD Richmond District Police Station
Weekly Update 03-20-2015
From Captain Simon Silverman
The Rock 'n' Roll Half Marathon runs through the north western part of the Richmond Police District on Sunday, March 29, 2015. Their website has a course map, road closure information, and alternative access routes: http://runrocknroll.competitor.com/san-francisco/road-closures
Here are some of the 761 incidents handled by officers in the Richmond Police District this past week:
ARREST: MISDEMEANOR WARRANT
Great Highway & JFK
03-13-2015 4:23 PM
Officers responded to a call of a suspicious person trespassing in a business. They detained the suspect who had a warrant for vandalism. The manager declined to press charges for trespassing.
Captain's Note: Generally, the owner or person in charge of private property must "press charges" to have a suspect arrested for trespassing. This is done by making a private person's arrest (AKA a citizen's arrest). This doesn't mean that the complainant has to physically arrest the suspect (we'll do that). However, he must be willing to sign an arrest form, give a statement and testify in court.
BATTERY: DOMESTIC VIOLENCE
Balboa & 38th Ave
03-13-2015 8:45 PM
The female victim was walking on the street with her current boyfriend when her ex-boyfriend attacked the couple resulting in minor injuries.
ARREST: DRIVING UNDER THE INFLUENCE
Masonic & Anza
03-14-2015 12:29 AM
Officers saw a driver run a stop sign and detained him for the violation. He appeared to be under the influence of alcohol and performed poorly on field sobriety tests. Although he claimed to have had just "one beer" his blood alcohol was measured at .122%, well over the legal limit of .08%.
Captain's Note: Almost every drunk driver claims to have had "one beer." Read on for several more examples this week.
ARREST: FELONY WARRANT
Geary & Park Presidio
03-14-2015 1:40 PM
Officers responded to a report of a shoplifter who fled from a store without paying. They found the suspect and recovered the stolen items, but the store management declined to press charges (see the note above about private person's arrest). The officers arrested the suspect on an existing warrant for felony theft charges.
FIREARM TURNED IN BY PUBLIC
Geary & 4th Ave
03-14-2105 5:22 PM
A resident called the SFPD to turn in a revolver that had belonged to her recently deceased husband. She did not want the gun in the home because she has young grandchildren. Officers took the gun for later destruction.
Captain's Note: If you have a firearm that you no longer want or that you cannot keep safely please turn it in. An improperly stored firearm can lead to a tragic death and may result in criminal charges for the negligent owner. The gun could also be stolen and used in a crime. On Saturday 03-21-2015 Northern Station will hold a gun buy back from 9:00 AM to 1:00 PM at 1050 McAllister. You can turn in a gun with no questions asked and get $100 for a handgun and $200 for an assault rifle.
ARREST: DRIVING UNDER THE INFLUENCE
Steiner & Vallejo
03-14-2015 11:51 PM
Officers saw a driver run a stop sign and detained him for the violation. They noted that he appeared to be under the influence of alcohol and field sobriety tests supported their observations. His blood alcohol was measured at .138%.
ARREST: DRIVING UNDER THE INFLUENCE / TRAFFIC COLLISION
Fulton & 36th Ave
03-15-2015 5:24 PM
Officers responded to a vehicle collision where a driver told them that she was stopped at a red light when another driver rear ended her car and then hit a tree. After the collision, the other driver got out of his car, gathered up his empty beer cans and hid them in his trunk. As in the case above, the suspect told the officers that he had consumed only "one beer." This is unlikely, since his blood alcohol was measured at .172% and there were several empty beer cans in his car. Fortunately, the innocent driver was not injured.
ARREST: DRIVING UNDER THE INFLUENCE
Geary & 3rd Ave
03-15-2015 2:12 AM
Officers stopped a driver who was swerving and speeding. He appeared to be under the influence of alcohol and performed poorly on field sobriety tests. He initially told the officers that he only had "one glass of wine" (the oenophile's variation on the "one beer" claim). He subsequently revised his estimate to "one bottle of wine" which is more consistent with his blood alcohol of .186%.
ARREST: THEFT FROM A VEHICLE
Masonic & Euclid
03-15-2015 5:28 PM
A resident called 911 after he saw the suspect break into a parked car and steal items from inside. When officers arrived on scene, the suspect ran from them and tried to climb over a fence. His sweatshirt became snagged on the fence and he was stuck until officers rescued and arrested him.
Captain's Note: This suspect definitely needs an attorney who specializes in de-fence cases.
TRAFFIC COLLISION WITH INJURY
Anza & Blake
03-16-2015 7:07 AM
A car was driving west on Anza from Blake when the driver slowed and signaled for a left turn. A motorcycle following the car tried to pass the car on the left and struck the turning car. The motorcyclist sustained minor injuries.
Captain's Note: This illustrates the importance of both giving and observing turn signals. It is also wise to check your turn signals periodically to make sure that all of the bulbs are working.
ARREST: PASSING A STOLEN CHECK
Geary & Arguello
03-16-2015 10:17 AM
The suspect went into a bank and tried to cash a stolen check but the alert teller was suspicious and called the SFPD. The check had been stolen from a car the previous day.
BURGLARY OF A RESIDENCE
California & 12th Ave
03-17-2015 2:55 AM
A resident of a multi unit building awoke to the sound of the front gate clanging. He looked out of his window to see the suspect trying to push a neighbor's bicycle out of the gate. He shouted at the suspect who fled without the bicycle. Officers searched the area but did not find the suspect. They seized a shopping cart containing property that the suspect left behind at the scene (resulting in a net loss for her burglary enterprise).
Suspect: White female, 5'6" 140lbs, blonde shoulder length hair, grey shirt, black backpack
MENTAL HEALTH CALL
Clement & 26th Ave
03-17-2015 1:30 PM
A woman called 911 to report that her husband was behaving erratically. Responding officers spoke to the man who told them that he had psychiatric problems and was worried about his mental state. He was transported to the hospital.
ARREST: DOMESTIC VIOLENCE / FIREARMS VIOLATION
Geary & 29th Ave
03-17-2015 8:30 PM
A husband was arrested for battering his wife. At the scene, officers seized a loaded Glock semiautomatic pistol and five high capacity magazines.
Captain's Note: Section 619 of the San Francisco Municipal Police Code prohibits the possession of firearm magazines that can hold more than 10 rounds. This suspect had one magazine capable of holding 30 rounds.
BATTERY / VEHICLE THEFT / HIT & RUN COLLISION
Geary & 10th Ave
03-18-2015 12:46 AM
An Uber driver got out of his car to stretch his legs when he was approached by 3 suspects who began to harass him. He was punched in the face by one suspect. As the suspects ran away, an opportunistic unrelated suspect jumped into the victim's car and drove off. The suspect who punched the victim was caught by officers as he waited nearby for another Uber driver to pick him up. This suspect's girlfriend came to the station looking for him, and officers found the other 2 suspects hiding in the girlfriend's car in front of the station. The victim's car was later found abandoned and crashed into a parked car at Anza & 10th Ave.
Suspect in the vehicle theft / hit & run: Asian male in his 20s
TRAFFIC COLLISION WITH INJURY
California & 19th Ave
03-18-2015 8:23 AM
A car was driving westbound on California at 19th Ave when it struck a pedestrian who was crossing in the crosswalk. The driver said that he did not see the pedestrian due to the sun. He was cited at the scene for failing to yield to the pedestrian (who suffered moderate injuries).
THEFT OF A VEHICLE IMMOBILIZING DEVICE (AKA "A BOOT")
Shore View & 36th Ave
03-18-2015 8:23 AM
A Department of Parking and Traffic Employee placed a vehicle immobilizing device (commonly known as a boot) on the wheel of a car with numerous unpaid parking citations. He returned to check on the boot a few days later only to find something suspicious afoot. Apparently, some heel had given the boot to the boot and legged it with the car and the immobilizer.
TRAFFIC COLLISION WITH INJURY
Park Presidio & Crossover
03-18-2015 3:49 PM
An SUV was stopped at a red light facing south on Park Presidio when it was rear ended by a motor scooter. The scooter rider sustained moderate injuries. He was cited for traveling at an unsafe speed.
Captain's Note: This intersection recorded the greatest number of injury collisions in the Richmond District in 2014 (five of them). Most of the collisions in the area are caused by excessive speed, which is why officers continue to do regular speed enforcement here.
PETTY THEFT
Geary & 15th Ave
03-18-2015 4:42 PM
A woman was just returning from taking her young grandson for a walk. She carried him up the front steps of the home and turned around to see a person running around in front of the house picking up cash that was blowing in the wind. Being a decent person, she helped gather some of the money and gave it to the man. He then ran to a waiting car which drove off quickly. At this point the woman realized that her check book and license were on the ground and the money blowing around had come from her wallet (left behind briefly as she was carrying her grandson). An honest neighbor who was walking nearby witnessed the suspect's getaway and helped by gathering and returning the remaining cash.
Suspect: Black male, 30-35 years old, 6', heavy set, brown hair in fuzzy locks
Vehicle: Dark blue 4 door car, possibly a Mitsubishi
ARREST: SHOPLIFTING / VIOLATION OF PROBATION / MISDEMEANOR WARRANT
Geary & 28th Ave
03-19-2015 2:19 PM
The store manager saw the suspect pick up $170 worth of items and walk out of the store without paying. The suspect was already on probation for theft and had a misdemeanor warrant for his arrest as well.
ARREST: VIOLATION OF A COURT STAY AWAY ORDER / MISDEMEANOR WARRANTS
MLK near Lincoln (Golden Gate Park)
03-19-2015 4:37 PM
Park Rangers knew that the suspect had a court order requiring him to stay away from the area. They called SFPD officers who arrested him for violating the order and for several misdemeanor warrants. This same suspect was arrested for violating this same order at the Botanical Garden in Golden Gate Park on 03-07-2015.
ARREST: THEFT FROM A VEHICLE / POSSESSION OF BURGLARY TOOLS / POSSESSION OF STOLEN PROPERTY
JFK & 47th (Golden Gate Park)
03-19-2015 5:49 PM
Undercover officers from Richmond Station caught a suspect who used a window punch tool to break the window of a parked car and steal property. Upon searching the suspect's car, the officers found more stolen property from other cases.
NEXT COMMUNITY MEETING:
Tuesday 04-21-2015 @ 7:00 PM
Richmond Station Community Room
461 6th Ave.
CONTACT US:
Call 911 for emergencies
Call 415-553-0123 for non-emergency police service
Richmond Station
461 6th Ave.
San Francisco, CA 94118
415-666-8000
SFPDRichmondStation@sfgov.org

Follow us on Twitter: @SFPDRichmond
10:06 am | Posted under
Crime
|
2 comments