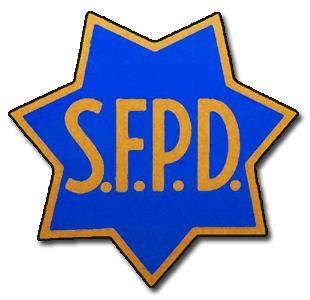 [Reprinted from The Richmond Police Station Newsletter of April 17, 2014. To be added to the station's mailing list, email sfpd.richmond.station@sfgov.org.]
CAPTAIN SIMON SILVERMAN'S MESSAGE
Pedestrian traffic safety is a priority for the SFPD, so I want to share some tips to help you keep safe. These tips are taken from the SF SAFE website:
- Make yourself visible to drivers. Consider a friendly wave to catch their attention.
- Keep your eyes on the traffic, not on your phone or electronic device.
- Don't step out from behind a parked vehicle suddenly. Make sure that drivers can see you in time to stop.
- Crossing at marked crosswalks and at places where there are stop lights and stop signs is safest.
- Do not cross an intersection diagonally.
- Look both ways at least TWICE before crossing, don't immediately walk as soon as the light turns green.
- Do not cross against a red signal.
- Do not step off the curb once the pedestrian red hand signal starts flashing. The numbers that you see counting down are an estimate of how many seconds until the signal light for cars crossing your path turns green. The countdown is telling you to go immediately to safety at a median or even the curb that you started from if you can't make it across.
- If you are crossing in front of a car that is signaling for a right turn, take care that the driver sees you.
- Many drivers will be looking left at oncoming traffic and not at the pedestrian in their path.
- Hold hands with small children and teach children how to cross safely.
- Wear bright and or reflective clothing and carry a light, especially at night or in bad weather.
Pedestrians generally have the right of way, but don't assume that drivers will yield to you. Anticipate that drivers may do unpredictable, unsafe and illegal things so take action to keep yourself safe.
Our next Community meeting will be held on Tuesday, May 20, 2014 at 6pm. It will be in the Community Room, here at Richmond Station, 461 6th Ave.
NOTEWORTHY ARRESTS
On 04/12/14 at 7:55pm, officers responded to a call of a male walking in and out of traffic, and hitting people on the street. One caller reported seeing the suspect hit one male walking out of a business on the 5300 block of Geary and then the suspect grabbed the caller as well. Officers located the male standing in front of the caller's vehicle screaming profanities. The suspect was detained and officers determined that the suspect had an outstanding warrant. He was also in possession of a meth pipe. The 45yr old male was charged on the warrant and pipe as well as battery.
On 04/14/14 at 12:30am, officers were called to the area of Lyon and Jackson Sts on a report of a male looking into vehicles with a flashlight. A description and direction were given and they located the male walking west on Jackson St. He originally gave the officers a false name; however they were able to establish his true identity and saw that he had two warrants for his arrest, one four burglary, the other narcotic violations. In his possession were credit cards with the different names on them. Each of the cards were reported stolen by their owners and were taken in auto burglaries. The 30 year old male was booked on the warrants and charged with possession of burglary tools, possession of stolen property and a probation violation.
On 04/17/14 at 12:45am, officers responded to 700 block of 7th Ave on a report of intoxicated persons stealing liquor from the store. When they arrived on scene an employee pointed to a group of four that were on the corner of 7th and Cabrillo. He told the officers that they had being stumbling around the store and were trying to steal bottles of vodka. As the officer went towards the group he could see one of the males was lying on the ground and a second male was trying to help him up. When the group saw the officers, one tried to hide behind a car and the others walked away. As the first officer approached the one behind the car he immediately became confrontational and yelled at the officer "What am I being charged with?" The officer explained the call and the male continued to yell and clench his fists. A second officer arrived and was dealing with the three that were trying to walk away and recovered a bottle of alcohol with the security seal still on top. The first male began to fight with the officer and as the second officer went to assist, one of the other three grabbed the bottle and fled. The first suspect continued to struggle and was finally detained by the officers. The first suspect, a 21yr old male who was intoxicated, was charged with resisting an officer and being drunk in public. A 21yr old female was also charged with being drunk in public.
NOTEWORTHY INCIDENTS
On 04/11/14 at 5:30pm, the victim got on a 38L Geary bus at 25th and Geary and took a seat. Two or three stops after the suspect got on and sat next to her. The suspect got off at O'Farrell and Market Sts and at that time another passenger alerted the victim that the suspect had removed her wallet from her purse. The suspect was a black male, 35yrs, 6', 250lbs, wearing an oversized cream colored sweatshirt.
On 04/13/14 at 11:30pm the victim was walking on the 2400 block of Pine St. The suspect jumped out from some bushes and punched her in the face. He then grabbed her buttocks and when the victim screamed he fled south on Steiner St. The suspect was described as black male, 35-40yrs, with a skinny build, wearing a black baseball cap and black hooded sweatshirt. The suspect also "smelled bad."
9:02 pm | Posted under
Crime
|
4 comments