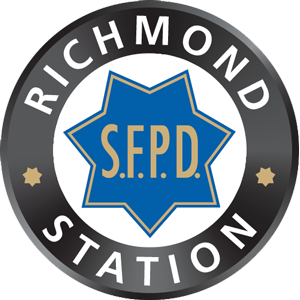 SFPD Richmond District Police Station
Weekly Update 04-17-2015
From Captain Simon Silverman
NEXT COMMUNITY MEETING:
Tuesday 04-21-2015 @ 7:00 PM
Richmond Station Community Room
461 6th Ave.
JOIN THE SFPD:
Don't just read about crime in our newsletter; get involved (not in crime – in fighting crime). We are recruiting action oriented people who want to serve their community as police officers. You can find out more at www.sfpdcareers.com.
PAL SANDLOT PROGRAM:
Each Wednesday from 3:00 PM to 5:00 PM officers from Richmond Station are at Rochambeau Playground (25th & Lake) for pick-up games with local kids (middle and elementary school age). It's an informal, drop in program, so bring the kids by and say hello! This week, we had a great game of kickball with some kids from the Kittredge School.
Here are some of the 776 incidents handled by Richmond Station this week:
THEFT / PROSTITUTION
Balboa & 48th Ave
04-05-2015 to 04-12-2015
The victim hired a prostitute to come to his home several times during the week. He became so fond of her that he gave her a key to his house. Soon, some of his valuables were missing along with his new found companion.
Captain's Note: In an era when most professionals no longer make house calls, it seems that some members of the oldest profession still do. Caveat emptor.
TRAFFIC COLLISION WITH INJURIES
MLK & Sunset
04-10-2015 2:59 PM
A Mercedes SUV was headed northbound on Sunset at about 45 MPH (posted 35 MPH) when the driver ran the stop sign at MLK and struck a Honda mini-van. This resulted in minor injuries to the Mercedes driver as well as to three people in the Honda, two of whom were children. The Mercedes driver was cited for speeding and running the stop sign.
Captain's Note: Both children were properly secured in child safety restraint seats which likely prevented more serious injuries.
ROBBERY WITH A KNIFE
LaPlaya & Fulton
04-12-2015 1:10 AM
The store manager saw the suspect conceal a bottle of liquor in his coat and try to leave without paying. When confronted, the suspect pulled a knife and threatened the manager before escaping with the stolen goods.
Captain's Note: Shoplifting the bottle would have been a misdemeanor. Threatening the manager with a knife turned the crime into a robbery which is a felony.
ARREST: PUBLIC INTOXICATION
Geary & 23rd Ave
04-12-2015 11:39 AM
The suspect was yelling at passersby and behaving aggressively. He repeatedly yelled, "F*** America" and was combative with officers. This is the same suspect from last week who was staggering down the street and shouting, "I'm an American! F*** You! I love you!"
THEFT OF A SURFBOARD
Middle Drive West & Metson Rd (inside Golden Gate Park)
04-12-2015 6:40 PM
The suspect stole a surfboard from the roof of the victim's car.
Suspect: White female, 30 to 36 years old
Vehicle: White Ford Explorer
ARREST: POSSESSION OF METHAMPHETAMINE FOR SALE / POSSESSION OF STOLEN PROPERTY / PROBATION VIOLATION
MLK near Kezar (inside Golden Gate Park)
04-13-2105 10:58 AM
Officers saw a suspect whom they knew to be on probation for burglary. As a condition of his probation he must submit to warrantless search by a police officer at any time. Officers searched him and found a significant quantity of methamphetamine packaged into individual doses for sale. They also found property that had been stolen in a recent incident.
ARREST: POSSESSION OF STOLEN PROPERTY / POSSESSION OF BURGLARY TOOLS / PROBATION VIOLATION
Points Lobos & 48th Ave
04-13-2105 4:30 PM
Officers saw another suspect whom they knew to be on probation for burglary. He has been arrested repeatedly for breaking into cars in the area. Just like the suspect above, a condition of his probation is that he must submit to warrantless search. When he saw the officers approaching him, he dropped a shoulder bag that he was carrying and ran. Upon realizing that he was not as fast as the officers, he stopped running and told them, "Y'all got me!" Inside the bag was a laptop, a digital camera, prescription glasses and a briefcase. The suspect was also in possession of a screwdriver and gardening shears (tools used to break into cars). With information provided by the suspect, officers located the owners of the stolen property who confirmed that their car had just been broken into nearby.
WELL BEING CHECK
Clay & Walnut
04-14-2015 3:10 PM
Officers responded to a report that an elderly woman was in need of assistance. They found that she was disoriented and had trouble maintaining her balance. She was transported to the hospital.
ARREST: VEHICLE THEFT /VIOLATION OF PROBATION / UNLICENSED DRIVER
Presidio & California
04-14-2015 11:53 PM
An officer on patrol spotted a stolen 1997 Honda Civic (1990s Hondas are among the most commonly stolen cars). Upon being detained, the suspect assured the officer that he was just borrowing the car from the owner. He said the owner was a man named "Tweety" with a Mohawk hair do. The actual owner is a woman who has never met the suspect (and does not have a Mohawk). The suspect has been arrested for auto theft 8 times since 2012 and is currently on probation for same. Despite his interest in cars, he does not have a driver's license.
Captain's Note: This is the third case this week where a suspect already on probation is arrested for violations similar to those that landed him on probation to begin with. This is by no means uncommon in the experience of most police officers.
ARREST: INDECENT EXPOSURE
Turk & Stanyan
04-15-2015 6:22 PM
The suspect exposed himself to three different women in the area within a few minutes. There were likely other victims who did not contact the police.
Captain's Note: The misdemeanor crime of indecent exposure refers to lewdly exposing one's private parts. Simply being naked is not a California Penal Code violation, but may be a San Francisco Municipal Code violation. I will spare my readers the details, but rest assured that this suspect did more than just walk about naked.
ARREST: DUI / SUSPENDED LICENSE
Masonic & Fulton
04-16-2015 12:19 AM
Officers on patrol saw a driver run a red light. When they stopped the driver, they discovered that he was under the influence of alcohol. As they tried to get him to perform the field sobriety tests, he kept putting his hands behind his back, saying that he had done wrong and telling the officers to just arrest him. The suspect had a blood alcohol level double the legal limit and was driving on a suspended license.
Captain's Note: The suspect's license was suspended for failure to pay child support.
VALUABLES LEFT IN CARS:
I always encourage people not to leave valuables in their cars. To illustrate why, here are some of the things that should not have been left in cars, but were nonetheless stolen in the Richmond this week: 6 laptop computers, 5 passports, 4 iPads, 4 wallets (including cash, ID, credit cards etc.), 2 Nintendo game systems, and 1 divorce decree.
CONTACT US:
Call 911 for emergencies
Call 415-553-0123 for non-emergency police service
Richmond Station
461 6th Ave.
San Francisco, CA 94118
415-666-8000
E-mail: SFPDRichmondStation@sfgov.org
7:08 pm | Posted under
Crime
|
1 comment