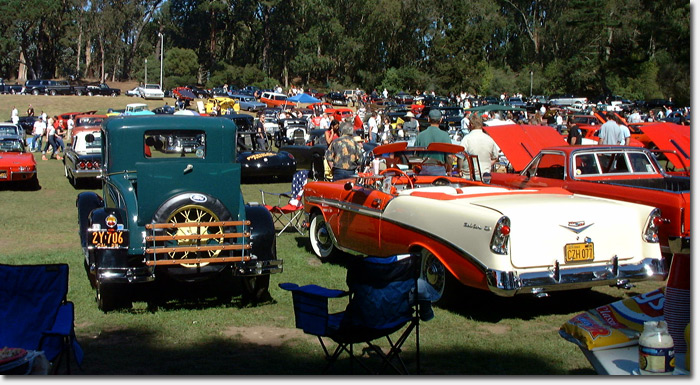 "When we first started, we were a couple of grease-balls, a car and a sandwich," Jimmy O'Keefe said when he described the first ever "Jimmy's Old Car Picnic" that he organized in Golden Gate Park in 1988. It was just him and a few friends, parked on the road next to Lindley Meadow.
Jimmy was a SF Rec & Park gardener at the time, and in his own words, said his "drug of choice was junk cars". So he and a few friends celebrated his 41st birthday by celebrating their vintage cars.
That was the beginning of an October tradition of Jimmy's Old Car Picnic in Golden Gate Park's Speedway Meadow. Every year, hundreds of vintage car owners would gather to show off their gleaming rides, share car stories, and make friends.
Datsuns would be next to Ford Model A's, and souped up, hot rods would park alongside '56 Chevy Bel-Airs. CEO's parked next to tradesmen. It was a melting pot of old cars, and people. And it was very San Francisco.
Since it's inception in 1988, the picnic raised tens of thousands of dollars from car owner's exhibit fees to benefit developmentally disabled children at city organizations like The Janet Pomeroy Center and The Potrero Hill Neighborhood House.
The picnic was such a cherished tradition that the Board of Supervisors presented Jimmy's Old Car Picnic with a Certificate of Honor in 2006 in celebration of their 18th year.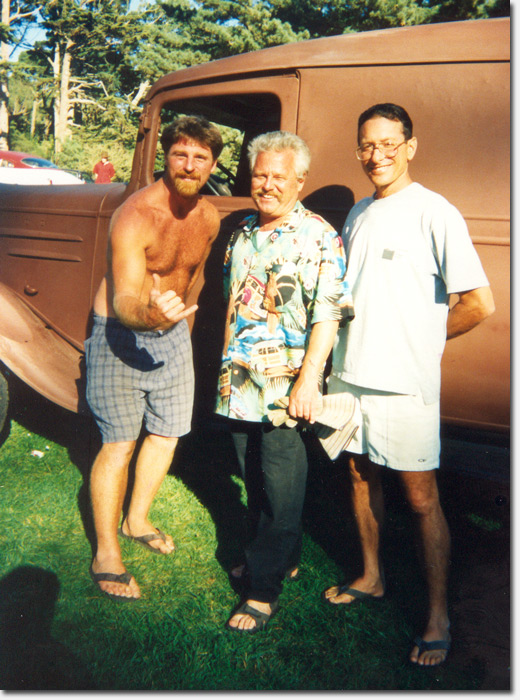 At center, picnic founder Jimmy O'Keefe
But just recently, O'Keefe announced on the event website that 2013 was the last year for the picnic. "We have decided to retire," the website says.
We were saddened to hear the news of this longstanding tradition closing down, but weren't surprised. The picnic's organizers – including Jimmy's daughter Jamie and a team of lawyers – have been fighting a 5 year battle with SF Rec & Park over skyrocketing permit fees that in the end, forced the event to shut down altogether.
When the picnic first started in 1988, Jimmy says permit fees to use Speedway Meadow for the day were reasonable; by 2008 it was at $1,650. The permit fee had increased slightly over the years but the event still managed to raise around $10,000 annually for developmentally disabled children, thanks in large part to a 20 year long sponsorship by Thrasher Magazine and one of its founders, Fausto Vitello.
But by 2009, the tides had shifted. New leadership was at the helm of SF Rec & Park and there was a renewed thirst for revenue to keep the department afloat and in the black. Contracts and vendors were re-evaluated, and events like Outside Lands were introduced to Golden Gate Park as a way to drive revenue, as much as $1 million per year.
Suddenly, an event like Jimmy's Old Car Picnic looked like an old relic that didn't fit in with the new SF Rec & Park mandate to drive revenue.
To make their point, Rec & Park raised the permit fee for Jimmy's Old Car Picnic to $8,300 in 2009, a 500% increase from the year before. Still, the picnic took place on Speedway Meadow even though the proceeds for charity were significantly reduced.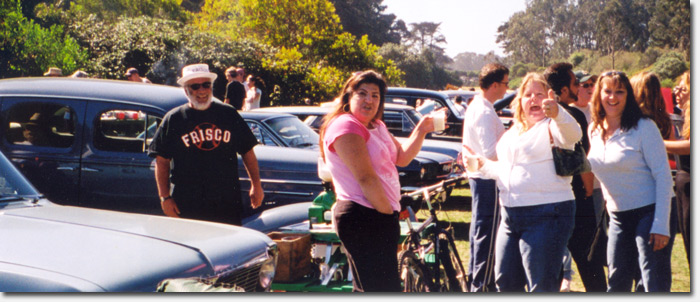 Despite Jimmy's Old Car Picnic complying with the new permit fees, the relationship between the picnic and Rec & Park continued to deteriorate.
In 2010, Rec & Park denied the picnic's event permit, citing concerns over damage that Speedway Meadow would sustain from the event's cars being parked on it for the day.
This was a puzzling new concern at the time, especially since Jimmy's Old Car Picnic had already been going on for 21 years.
Jimmy had also just retired in 2007 from his job as a Rec & Park gardener in Golden Gate Park. Supporters argued he was more than qualified to take precautions with the Speedway Meadow lawn at the event. And when compared to the abuse Speedway Meadow had taken since Outside Lands began in 2008, it was a little ironic that Jimmy's Old Car Picnic was being singled out for causing undue wear and tear on the park.
Jimmy, his family, and a team of pro-bono lawyers fought the permit denial in 2010. At the Rec & Park Commission hearing that February, nearly 50 supporters came to speak on behalf of the picnic, calling for its continuation.
"Jimmy's is a San Franciso institution like the cable cars. God bless Jimmy!" one supporter testified.
After some heel dragging, Rec & Park issued the 2010 permit and the picnic went on as planned. But their permit fee was raised once again – to $9,000. At that rate, the picnic was barely breaking even and the proceeds for charity were down to a few hundred dollars. What used to cost each car owner $10 to exhibit was now up to $40.
The bleeding didn't stop there. In 2011, the permit fees were jacked up 62% to $14,646. Then to $15,114 in 2012, and finally to just over $17,000 in 2013. Between 2008 and 2013, the total increase was just over 1000%.
"We got beat up," Jimmy said when asked about the negotiations with Rec & Park.
But what hurt Jimmy the most during the battle was the city's claim, stated in letters to the picnic and its organizers, that the picnic did not "provide cultural and recreational benefits to the city and its residents."
'We're losing the identity of San Francisco," Jimmy said when we talked to him about the picnic's demise. "It was one of the few blue collar, working class family events left in San Francisco."
Jimmy would know. He's a 4th generation San Franciscan whose lineage goes back to the 1870s. After attending Lincoln High School, he served in the Navy in Vietnam from 1966 to 1968. After returning home, he studied horticulture at City College and began his career as a city gardener.
Jimmy's three children all live and work in the city. Daughter Jamie, who took over organizing the picnic in recent years, is a museum professional and budding San Francisco historian. His other daughter Candace is a teacher and his son Kohl is a police officer.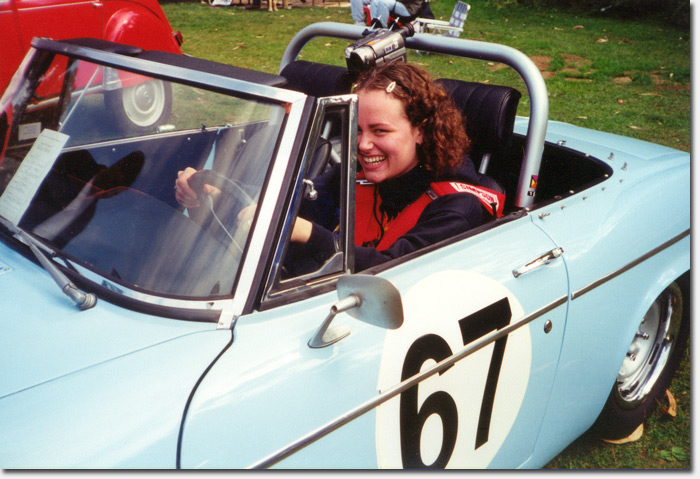 Jimmy's daughter, Jamie at a past picnic
"The picnic was never about me, it was about the kids in wheelchairs and a relaxed place where people could enjoy their cars and each other," Jimmy said. "It was their picnic."
Jimmy says others have encouraged him to find an alternate location to keep the tradition going, but he says it just wouldn't be as fun, and that without the lawn and park setting, it would lose that picnic feel.
"I am really sad about it ending," Jimmy said. "But I'm letting it go." When he turns 67 this October, it will be bittersweet to celebrate without the picnic.
"We want to thank everyone who has been a part of the Picnic over the years, those who have helped make it happen, who helped save it, our sponsors and donors, and those who attended. Thank you for years of incredible cars, excellent food, and fantastic times with friends and family," the website said.
We're sad to see this San Francisco tradition come to an end. Thanks to Jimmy, his family, and all of the organizers throughout the years who brought this fun, unique event to Golden Gate Park that was enjoyed by many San Franciscans from all walks of life. We will miss it.
Sarah B.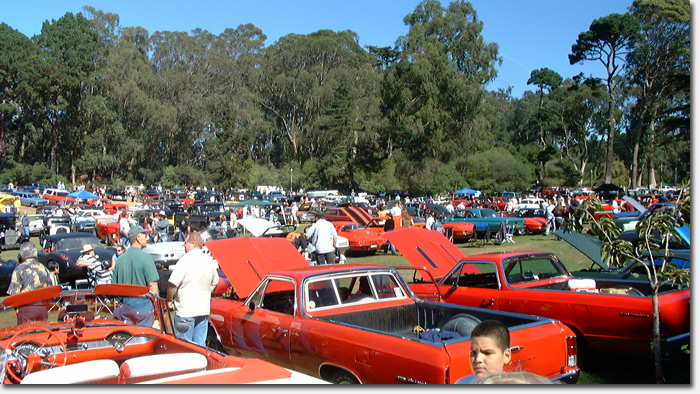 5:02 am | Posted under
Events
|
70 comments