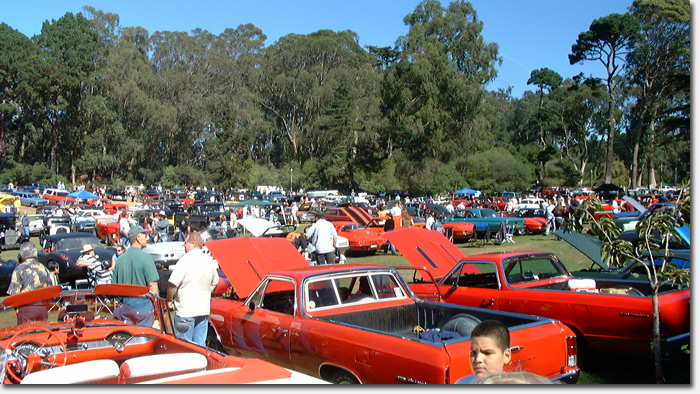 Back in April, we reported on the demise of Jimmy's Old Car Picnic, a 25+ year tradition in Golden Gate Park that decided to call it quits after escalating permit fees and frustrating dealings with SF Rec & Park.
Now, two fans of the car show have decided to revive the tradition. The event has been renamed "Old Car Picnic" and will feature the same attractions as past shows, namely a wide variety of vintage vehicles from pre-1987.
Old Car Picnic will be held at Hellman Hollow (formerly Speedway Meadow) on Saturday, October 18 from 7am until 4pm. Vintage car, truck and motorcycle owners can display their vehicle simply by driving into the venue in the morning and paying the entry fee (Cars & trucks $40, motorcycles $20). Note: no vehicles larger than 3/4 ton pickup.
And for the first time ever, the Old Car Picnic also invites vintage bicycle owners to display. The entry fee for bikes is $10.
Proceeds from the event go towards two organizations that benefit developmentally disabled children – Pomeroy Center and Potrero Hill House.
We spoke with one of the organizers, Eric Johnson, via email about his relationship to past picnics.
"Our group mainly consists of former picnic organizers and workers, some from recent years and some whose involvement goes back to the 90's. We do intend for the event to continue on an annual basis," Eric said.
Eric said the permit fees for this year's Old Car Picnic "are pretty much the same as last year", and that Rec & Park "made it clear that they didn't want a brand new event in the park, they would allow it only if it was a continuation of the existing event, so we aren't trying to re-invent the wheel here."
Jamie O'Keefe, daughter of the Jimmy O'Keefe who managed the original event, told us, "Though I'm not directly involved in organizing, I've been helping this new crew with their questions."
Jamie is fully supportive of the event and is happy to see the tradition being continued by its fans.
Admission to Old Car Picnic to view the cars, trucks and bikes on display is completely free, so bring your friends and family out to this great tradition in Golden Gate Park. And don't forget to pack a picnic!
Sarah B.
5:02 am | Posted under
Events
,
Golden Gate Park
|
7 comments