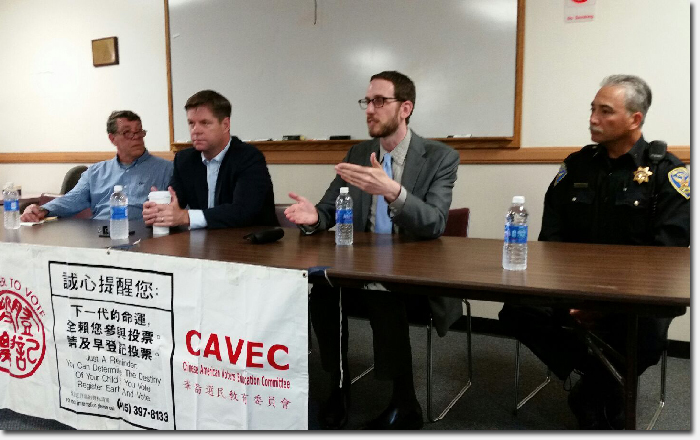 Panelists at the homeless forum: (L to R) Paul Kozakiewicz, Supervisor Mark Farrell, Supervisor Scott Weiner,
Lt. Walter Cuddy. Photo by David H.
A diverse group of over 50 neighbors packed the Richmond District SFPD community room on 6th Avenue for a forum on homelessness in the Richmond District on Wednesday night. The event was co-sponsored by The Richmond Review newspaper, New Bay Area Media, and the Chinese American Voter Education Committee (CAVEC).
In the last homeless count performed by the city of San Francisco in January 2015, there were 6,500 sleeping on the streets (data will be made available soon by neighborhood). $265 million is spent by the city to support homelessness, with 8 hearings alone last year across the city to discuss the issue.
The purpose of Wednesday night's forum was to exchange views, ideas and information about the homeless problem in the Richmond District.
The idea for the event came from Richmond Review editor Paul Kozakiewicz, who after a severe storm last year, began researching resources for homeless in the neighborhood. What he found was that there were none – no homeless shelters, no outreach organizations, no food programs.
In addition to Kozakiewicz, the panel at the forum was comprised of District 2 Supervisor Mark Farrell, District 8 Supervisor Scott Wiener, and Lt. Walter Cuddy from the Richmond District SFPD station.
The Richmond District's own Supervisor Eric Mar did not attend the event.
Focus of Wednesday night's discussion was on details around the city's efforts but the lack of connection to the Richmond District. Even the Richmond District's only police station only has two officers trained in homeless outreach.
The city recently imposed an overnight closure on Golden Gate Park where many homeless typically camp out. What has resulted from the enforcement is that many homeless have moved into neighborhood streets.
"Our homeless in the Richmond seem to be long term residents," said one woman in attendance.
One of the neighborhood's homeless residents named John also attended Wednesday night's meeting. He lives near Golden Gate Park and spoke of increasing hostility, needing a bathroom and his inability to take spot jobs due to city regulation.
Attendees also discussed the need for a distinction between those without a home, and those homeless that also struggle with mental illness. Mention was made of Laura's Law, the state measure that allows mentally ill people to be compelled into treatment by a court. It was approved by the Board of Supervisors in July 2014.
Supervisor Farrell was a supporter of Laura's Law and told the Chronicle after its passage that "it will give the city another tool for dealing with mentally ill residents and, it is hoped, help take some stress off the city's public safety and emergency management departments." Laura's Law goes into effect on September 30, 2015.
What are your thoughts on homelessness in the Richmond District and how to best address it? Leave a comment to let us know.
Special thanks to cub reporter David H. for reporting and photos.
Sarah B.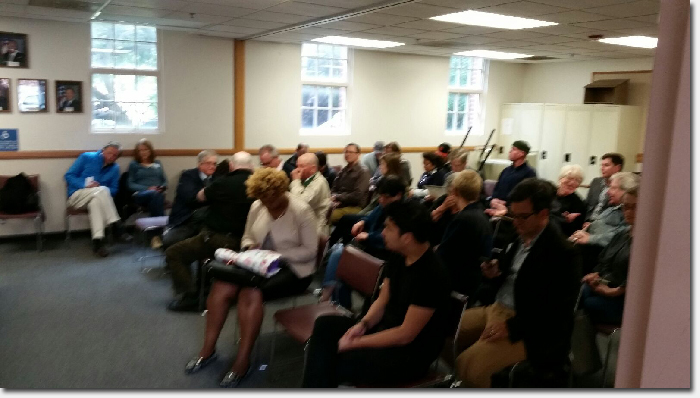 Attendees at the homeless forum. Photo by David H.
4:15 am | Posted under
Community
,
Crime
,
Events
,
Golden Gate Park
|
19 comments