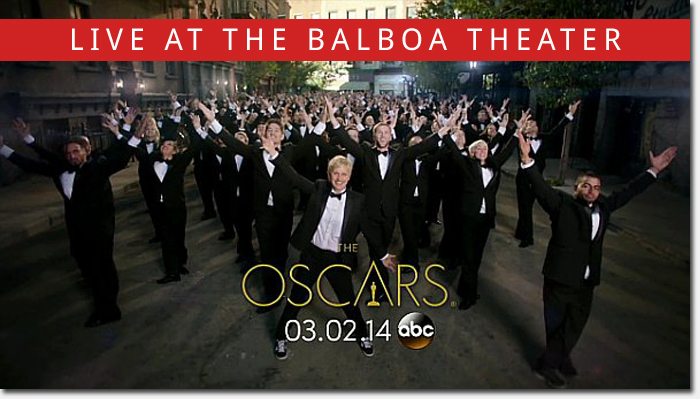 UPDATE 1:47pm 3/1/14: This event is sold out.
This Sunday, the Balboa Theater will host its annual Oscars party. Red Carpet coverage begins at 2:30pm, and the festivities continue on through the evening. The official ceremony starts at 4pm.
Once again, this year's event will be emceed by Reed Kirk Rahlmann (Howard the Duck, Nash Bridges), who has this to say about the year's lineup of movies:
Once again it is time for the Balboa Theater Oscar party! And once again I have the honor of hosting. I have opinions about the nominees (Gravity? Best Picture? Really?) and I'm sure you do too. And I want to hear them! I also want to hear about your Tenuous Oscar Connections. Do you work with someone who saw Judy Dench at Starbucks? Know someone who was Joaquin Phoenix's orthodontist? Tell the story—there's a prize in it for you. Do you have a favorite film that no one else has heard of? Share it with the audience. And costumes are always encouraged. So don't sit home and watch. Come share the experience of the movies as they should be experienced—at a theater filled with Oscar fans. Hope to see you there.
This event does sell out so be sure to get your tickets online in advance – $10 for adults, $7.50 for kids and seniors.
Before Sunday, check out this year's Oscar nominees and be sure to print out the 2014 Oscars ballot so you can play along.
And while you're here, vote for who you think should win Best Picture:
5:58 pm | Posted under
Events
,
Movies
|
Add comments