Tucked just inside the Presidio gate at 14th Avenue is Arion Press, a small printing company that employs about ten people as printers, bookbinders, editors, and in other publishing roles.
Part of the team are the highly skilled and long-experienced typesetters of Mackenzie & Harris, the oldest and largest surviving typefoundry in America. They supply lead-alloy type to printers and schools around the country and provide typographic services in computer-generated composition.
In the Chronicle's video series "The City Exposed", Arion Press typesetter Lewis Mitchell was profiled. He's been doing his job for over 60 years, and boasts that one of his best machines was used in the 1915 Panama Exposition:
In the basement of Arion Press, where they still print books the old-fashioned way, Lewis Mitchell slid open a box of parts used to change the font size on the Monotype casting machines he has maintained for 62 years.
"I thoroughly enjoy the sound of the machines turning, and seeing the type come out is a joy," Mitchell said. He can tell by the sound of the moving springs and levers if something is awry with his machines — a skill he said all good technicians should have.
Four different owners have run the business since Mitchell walked through the doors at age 18, and he has had several opportunities to leave, including a scholarship to the Massachusetts Institute of Technology that he declined. Now 80, Mitchell can't imagine retiring from the job he loves so much. When Mitchell started making this kind of type, it was really the only way to print things, and now he doesn't know how many books he's helped print over the decades…
Watch the video above to learn more about Mitchell and his legacy at Arion Press.
ARION PRESS HOLIDAY OPEN HOUSE – DECEMBER 7
Want to get to know Arion Press even better? Mark your calendar for Saturday, December 7 – that's when they're having their annual Holiday Open House. Stop by between 11am and 5pm to tour the facility and see their just released edition of Gershwin's "Porgy & Bess," illustrated by Kara walker (her prints will be on display), Julie Mehretu's newly handcolored prints for "Poetry of Sappho," and George Orwell's "Animal Farm," illustrated by Jonathan Hammer.
Sarah B.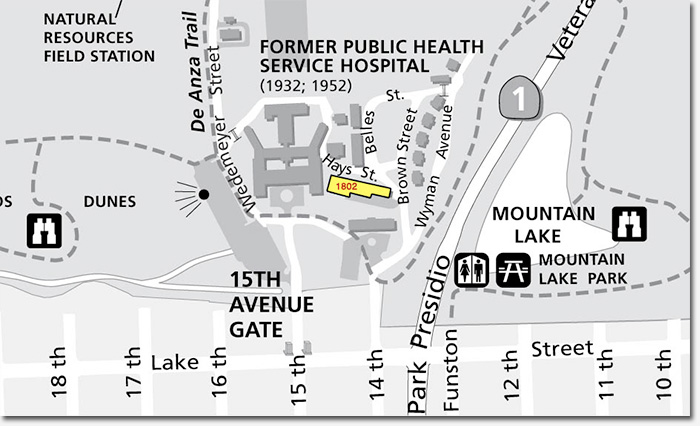 The Arion Press building (yellow) inside the Presidio near Lake & 14th Avenue.
5:05 am | Posted under
Art
,
Business
,
Events
|
Comments Off

on Chronicle video series profiles "Typecaster for Life" at Arion Press