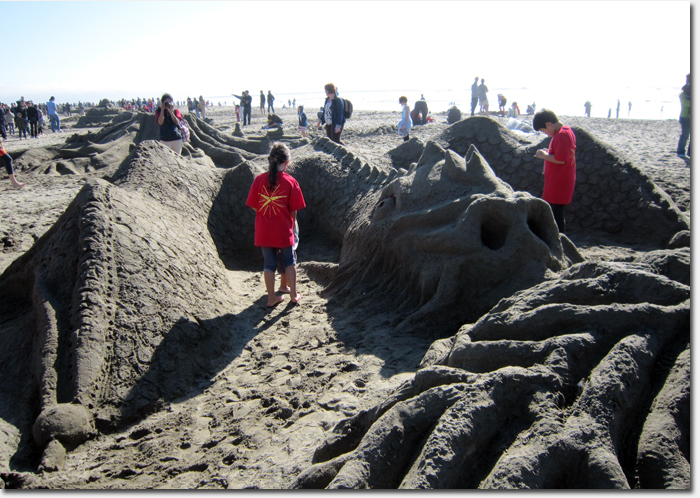 The "Awesome Fireblasting Dragon" that won Best of Show for Creative Arts Charter School in 2011
After being rescheduled due to the federal shutdown, this Saturday will finally see the LEAP 30th Annual Sandcastle Contest at Ocean Beach.
Each year, LEAP teams up architects, designers, contractors, corporations, engineers and local elementary school students for the contest.
Before the event, teams meet with students in the classroom to develop ideas based on a set theme. Plans are finalized, clay models are shaped, team structure and schedules are defined, and tasks are assigned, all in preparation for the big day.
On Saturday morning, the teams and students will arrive and await the whistle that signals the start of the contest at 10am. From there, four hours of intensive building begins and results in over two dozen creatures and structures all made from sand.
This year's theme is "Masterpieces in Sand", and teams are encouraged to select a work of art from any period in history or art form (from cave paintings to Greek Tragedies to break dancing) as inspiration for their sand sculpture.
Last year's event raised $250,000 for LEAP, which goes towards funding their programs that serve over 8,000 students in over 40 schools across the Bay Area with hands-on learning experiences in the arts.
The competition begins at 10:30am and finishes at 4:30pm. If you want to just see the finished product, we recommend arriving after 2pm.
Sarah B.
5:15 am | Posted under
Events
,
Ocean Beach
,
Schools
|
Comments Off