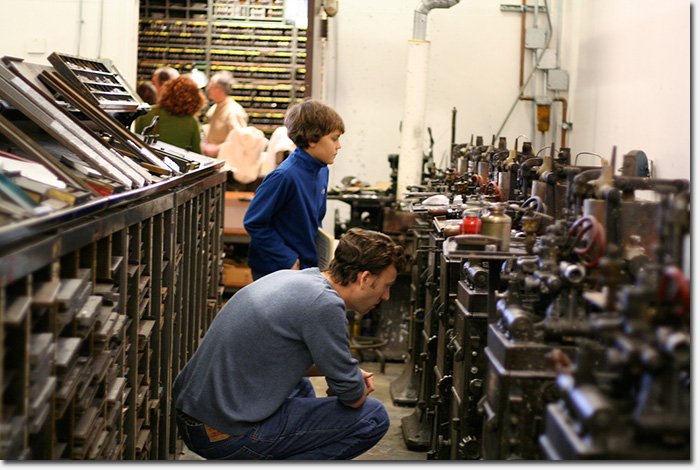 Touring Arion Press. Photo by inarges
Many of you may not know that a printing press sits just inside the 14th Avenue gate to the Presidio. It's called Arion Press and this Saturday, they're hosting an open house event.
Arion Press, which is named after the legendary Greek poet who was saved from the sea by a dolphin, first opened on Franklin Street in 1961. It moved three times across the city since then and has been located in the Presidio at 1802 Hays Street since 2001.
Arion Press is small, employing about ten people as printers, bookbinders, editors, and in other publishing roles. Part of the team are the highly skilled and long-experienced typesetters of Mackenzie & Harris, the oldest and largest surviving typefoundry in America. They supply lead-alloy type to printers and schools around the country and provide typographic services in computer-generated composition.
Saturday's Open House and sale runs from 11am until 5pm and includes a gallery display of Arion books, prints, broadsides, photographs and posters, including special sale items. RSVP on Facebook (optional)
Free tours of the typefoundry, press room, and bindery will be offered at 12noon and 3pm. Visitors on the tour can see how type is cast from hot metal in the foundry, watch pages being made up in the composition room and printed by letterpress, and learn how a book is bound by hand, from sewing to backing to casing in.
If you can't make it to Saturday's open house, Arion Press also offers tours on Thursday afternoons at 3:30pm that last approximately an hour and a half ($10 per person).
Sarah B.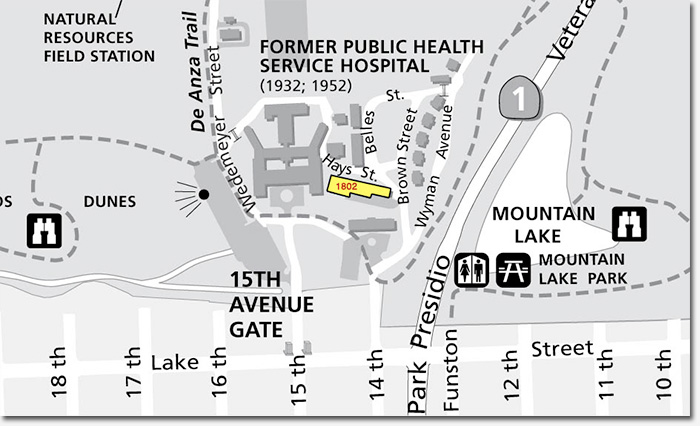 The Arion Press building (yellow) inside the Presidio near Lake & 14th Avenue.
12:05 pm | Posted under
Art
,
Events
|
3 comments