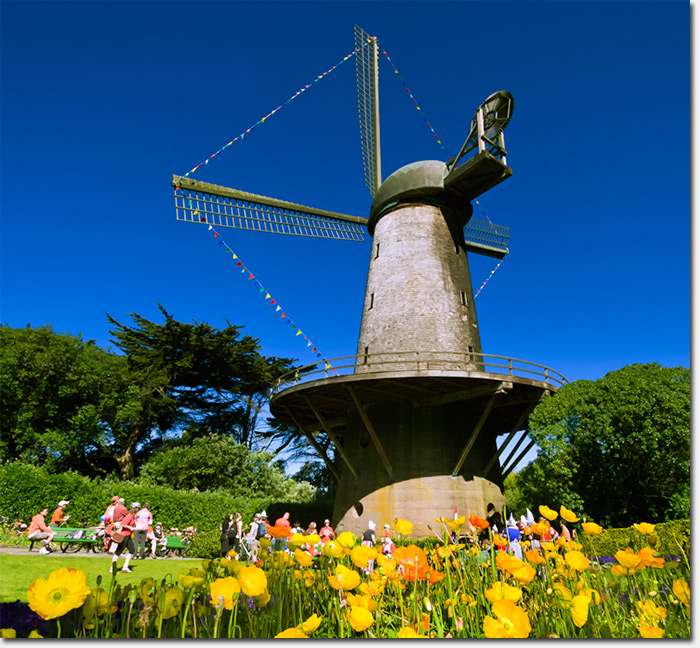 Photo by David Yu
This Saturday, the Dutch community in San Francisco is celebrating Queen's Day near the Murphy Windmill on the south end of Golden Gate Park.
The all day, free festival celebrates the restoration of Golden Gate Park's Windmills, and includes a bike parade, free Golden Gate Park tours from City Guides, live music at Park Chalet, gorgeous tulips, a flea market and all things dutch (including a food and beer garden).
Queen's Day is a national holiday in the Kingdom of the Netherlands, in honor of the Queen's birthday. The celebration, called "Koninginnedag", is known for its nationwide vrijmarkt ("free market"), at which many Dutch sell their secondhand items. It is also an opportunity for "orange madness" or oranjegekte, for the national colour, when the normally strait-laced Dutch let down their hair, often dyed orange for the occasion [Wikipedia]. So if you've got any, put on your Giants paraphernalia to get in the spirit.
Check out the full schedule of events for Saturday's festival here.
On Friday night, the De Young Museum will host Queen's Night from 5pm until 8:45pm, featuring Dutch DJs, orange costume-making, art-making, and more. Everyone is encouraged to come dressed in their best orange attire, and children can don their prince and princess outfits in celebration of Queen Beatrix's birthday.
Both Friday and Saturday's events are free to the public.
Did you know that this will be the last "Queen's Day" for awhile? That's because Queen Beatrix announced that she will abdicate the throne on April 30th after 33 years as head of state, clearing the way for her eldest son, Crown Prince Willem-Alexander, to become the nation's first king in more than a century. So next year's celebration will be "King's Day".
In honor of the celebratin, we dug out the video below of a man riding the Murphy Windmill. It's pretty awesome.

Sarah B.
9:47 am | Posted under
Events
,
Golden Gate Park
|
1 comment