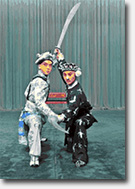 Next Monday night at 7pm, a high school theater group from China will perform a traditional Chinese Opera in the auditorium of George Washington High School (600 32nd Avenue).
Tickets are $5 for students and $10 for adults, and all attendees will be entered into a drawing for a special gift. Contact GWHS at 415-750-8400 to reserve a seat. view flyer (PDF)
Proceeds benefit George Washington High School, The Police Activities League and the Association for International Friendship.
Sarah B.
10:15 am | Posted under
Events
|
Comments Off