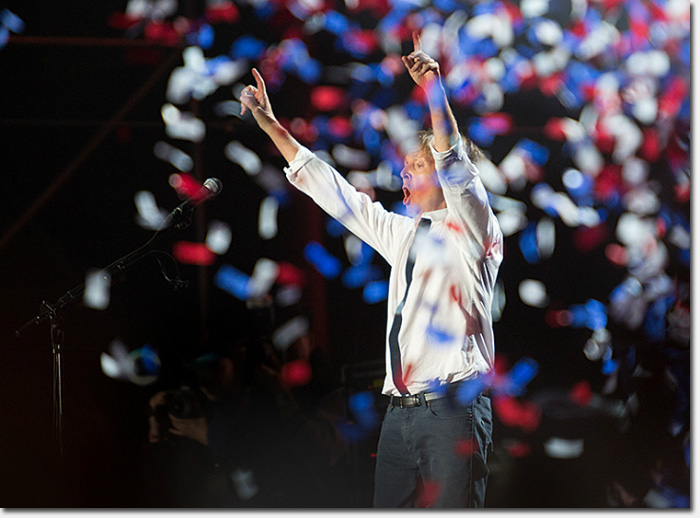 Paul McCartney performs at Outside Lands 2013. Photo by Josh Withers
Ready to rock and roll, Richmond District? Outside Lands 2014, the seventh year for the large music festival, kicks off this Friday in Golden Gate Park.
The lineup is eclectic as always, ranging from rock to electronic dance music to hip hop to country. Headliners include Kanye West, Tom Petty and the Heartbreakers, The Killers, Arctic Monkeys, The Flaming Lips, Tiesto, Death Cab for Cutie and Ray LaMontagne. View the lineup by day or view the daily schedule.
There is also an official iPhone app for Outside Lands 2014, and an unofficial one called FestFriend for Outside Lands 2014. iTunes Radio also has an Outside Lands 2014 station.
If you live near the park and will be welcoming people to the neighborhood each day, here are some tips to help you negotiate the crowds and traffic – and give the best advice to the 65,000 concertgoers that will be visiting the festival every day this weekend.
WHEN & WHERE
The festival runs for three days, beginning Friday, August 8 through Sunday, August 10. Venues in Golden Gate Park include the Polo Fields (main stage), Hellman Hollow, Marx Meadow and Lindley Meadow. On all three days, gates open at 11am, music begins at 12noon, and music ends at 10pm (9:40pm on Sunday). The festival is officially sold out for all three days.
The festival box office will be located in Marx Meadow, off of JFK Drive in between 25th and 30th Avenue. Concertgoers can drive into the park at Fulton St. and 30th Avenue and park along JFK until Thursday at 8pm to pick up your tickets. After that they must access the Box Office on foot.
Entrances into the festival are located at 30th Avenue and Fulton on the north side of the park, and near 36th Avenue and Lincoln Way on the south side of the park. Download the festival map (PDF)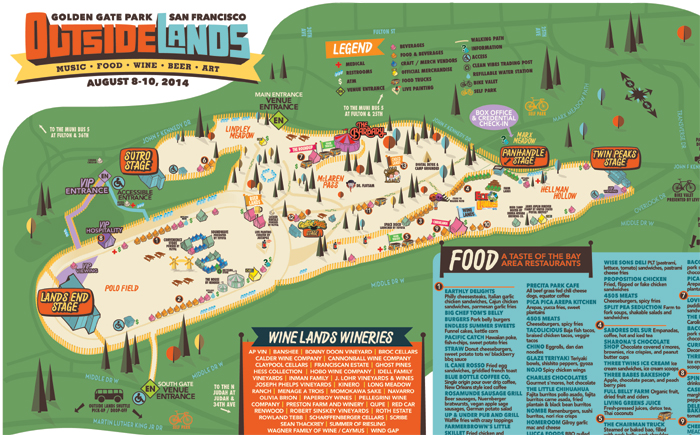 Download the festival map (PDF)
NO TICKET? NO PROBLEM.
Most Richmond District residents that live past 25th Avenue already have a "front row" seat to the amplification of the Outside Lands stages.

But if you want to get closer and really hear some of the performances, SF Funcheap has guides on where to position yourself outside the festival fences to catch the bands performing each day – Friday, Saturday and Sunday.
Last year, they streamed some of the performances on TuneIn and UStream, but we haven't been able to confirm if that is the case for 2014. If we find any information on that, we'll update it here.
UPDATE: According to the Outside Lands website, they will be streaming some performances on their iTunes Radio station: "Check back on August 9th and August 10th to catch shows from performers like Duck Sauce, Chvrches, Tycho, Phosphorescent, Deer Tick, Lucius, Dum Dum Girls and more being broadcast live from Golden Gate Park. Check back for the weekend schedule!"
TRAFFIC & VENUE CLOSURES
During the festival, the venues and roads around them are closed to the general public and all car traffic due to cyclone fencing which has already started going up. If you want to get through or around the park this weekend, plan on using Park Presidio / 19th Avenue, Stanyan, or the Great Highway (and don't expect it to be quick).
Here's a map of the entrances to the park that will be closed to car traffic during the festival:

Several areas of the park will be closed prior to the start of the festival and afterwards for festival setup and teardown:
Polo Field: Wednesday 7/30 6am – Thursday 8/14 8pm
Hellman Hollow: Sunday 8/3 6am – Wednesday 8/13 8pm
Lindley Meadow (East End): Monday 8/4 8am – Tuesday 8/12 8pm
Lindley Meadow (West End): Tuesday 8/5 8am – Tuesday 8/12 8pm
Marx Meadow: Monday 8/4 6am – Monday 8/11 8pm
PARKING & TRANSPORTATION
There is no official car parking for the Outside Lands Festival, so expect parking to be really tight in the outer Richmond this weekend. Concertgoers will also be arriving by festival shuttle, by foot, MUNI, taxi, or bike. The festival offers free valet bike parking beginning at 10am every day (if you drop off between 10am and 8pm, you get a free bike wash!).
Again this year, schools in the neighborhood will open up their lots and raise money by charging for parking. Below is the list of school lots that will be open; except where noted, this information is from 2013 so fees and hours may vary once you're at the lot:
1) Argonne Elementary – 680 18th Avenue @ Cabrillo Street
Hours: Friday – 4pm-11pm, Saturday & Sunday 10am-11pm
$30
2) Lafayette Elementary – 4545 Anza Street @ 36th Avenue
Hours: 10am-11pm, all 3 Days
$40
3) Presidio Middle School – 450 30th Avenue @ Geary Blvd.
Hours: 10:30am-10:30pm, all 3 Days
$25
4) Washington High School- Enter on 30th Ave between Geary & Anza
Hours: Friday through Sunday, 11am – 10:30pm
$30 [this info was confirmed for 2014]
5) Jefferson Elementary – 1725 Irving Street @ 19th Avenue (SUNSET DISTRICT)
Hours: Friday & Saturday – 10am-10:30pm, Sunday 10am-10:15pm
$30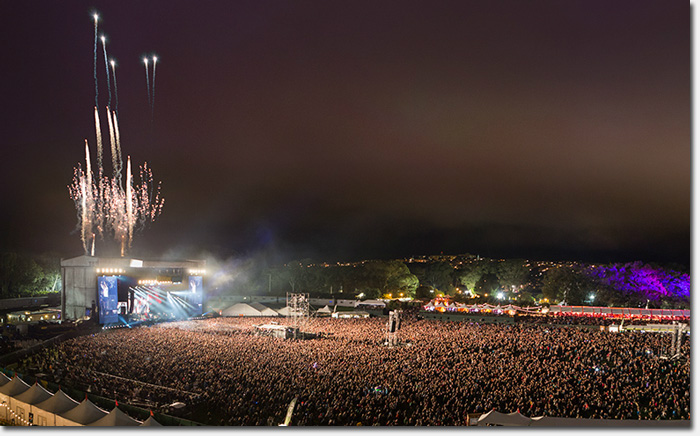 COMPLAINTS? QUESTIONS? BLOCKED DRIVEWAY?
The festival has set up a community hotline again this year to take calls from neighbors – "to respond to any issues that may affect you during the festival". The number is 415-390-2737. It is open from 10am until 11pm Friday through Sunday.
In addition to hotline staff, the city will add 2 dedicated tow trucks and 1 Parking Control Officer on each side of the Park to quickly respond to any blocked driveways or any other parking issues related to the Festival. You can also call SFMTA Parking Enforcement at 415-553-1237 or 415-553-1200 if you need to have a car towed.
Want to really get your point across about your driveway? Stop by The Richmond District SFPD station at 461 6th Avenue through Friday afternoon to pick up a SFMTA printed sign alerting concertgoers to not block your driveway.
HELPFUL PAGES ON THE OUTSIDE LANDS WEBSITE
Neighborhood 311
Information Guide (festival hours etc.)
View the daily schedule
Download the festival map (PDF)
Rock on Richmond District!
Sarah B.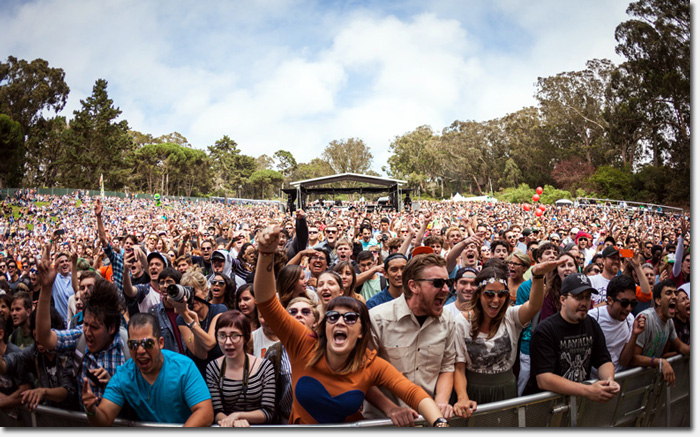 Photo by Josh Withers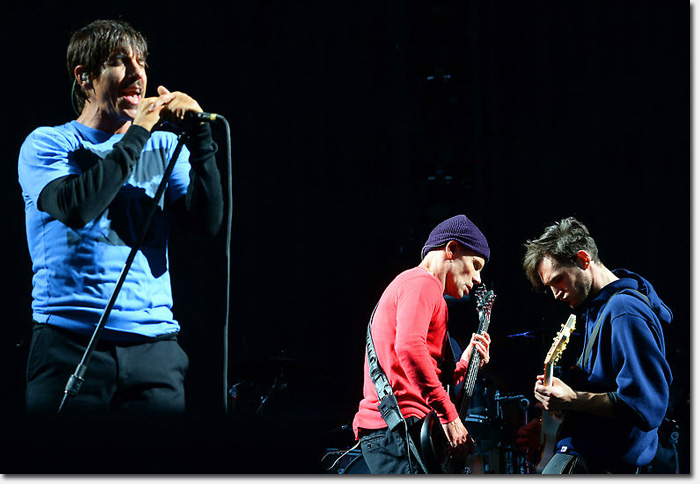 The Red Hot Chili Peppers perform at Outside Lands 2013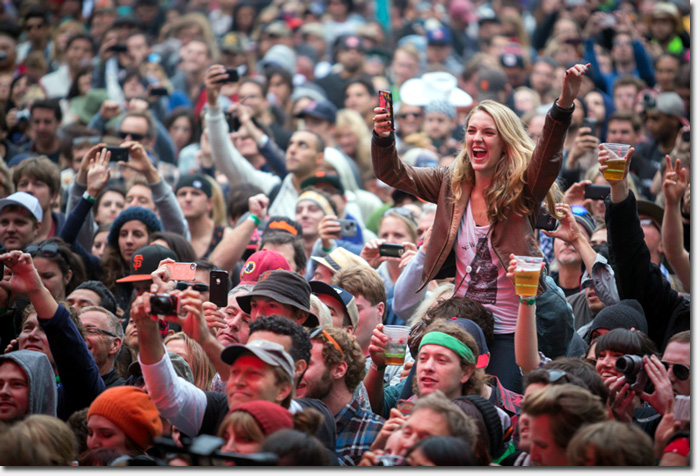 Photo by Josh Withers
4:30 am | Posted under
Events
,
Golden Gate Park
,
Live Music
|
87 comments