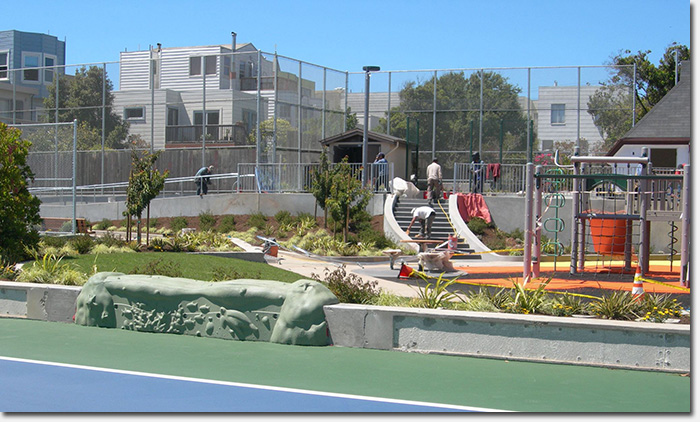 Photo by Friends of Cabrillo Playground
Cabrillo Playground has been closed since last September for remodeling, but this Saturday, it will re-open to the public with a grand celebration.
Stop by on Saturday from 12noon until 3pm to check out the renovated playground, located on 38th Avenue between Cabrillo and Fulton. The theme for the celebration is pirates, so dig out that shoulder parrot and wooden leg, and brush up on your pirate-speak.
The $4.5 million Cabrillo Playground project includes the renovation of the historic clubhouse – originally built in 1945 as a New Deal project – as well as a complete overhaul of the children's play area, creating separate play areas for pre-school and school age children.
All of the sports courts – 1 tennis court and 1 1/2 basketball courts – have also been resurfaced in colorful materials.
Work was also done to the picnic area, paths were repaved, new lighting has been added, accessibility improved and new landscaping installed.
The seating walls in the new playground also feature donor recognition tiles, which the Friends of Cabrillo Playground spearheaded as a way to raise additional funds for the renovations.
Some of the funds went to purchase a Henge concrete ping pong table. At Saturday's celebration, they'll be hosting a Berlin-style ping pong demonstration.
Rec & Park will also have a climbing wall on site for the celebration along with other planned activities for kids, plus there will be live music and food.
It's great to have another renovated playground in the neighborhood! Next up is Mountain Lake Park Playground, which is due for a $3.15 million renovation beginning in March 2015.
Sarah B.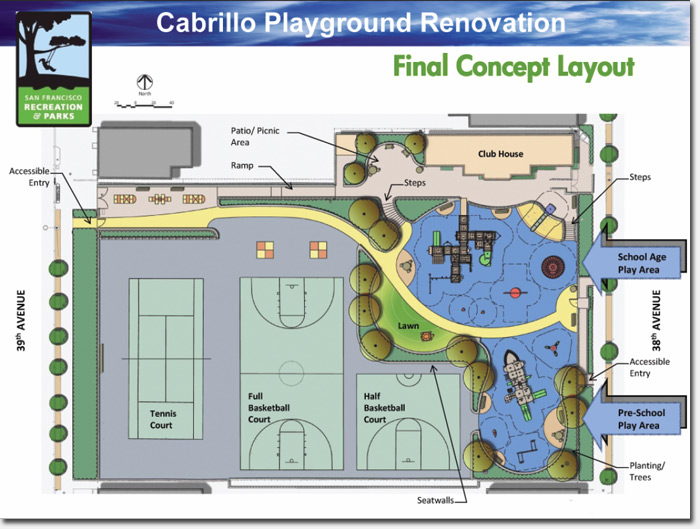 10:18 am | Posted under
Events
,
Kids
,
Recreation
|
3 comments