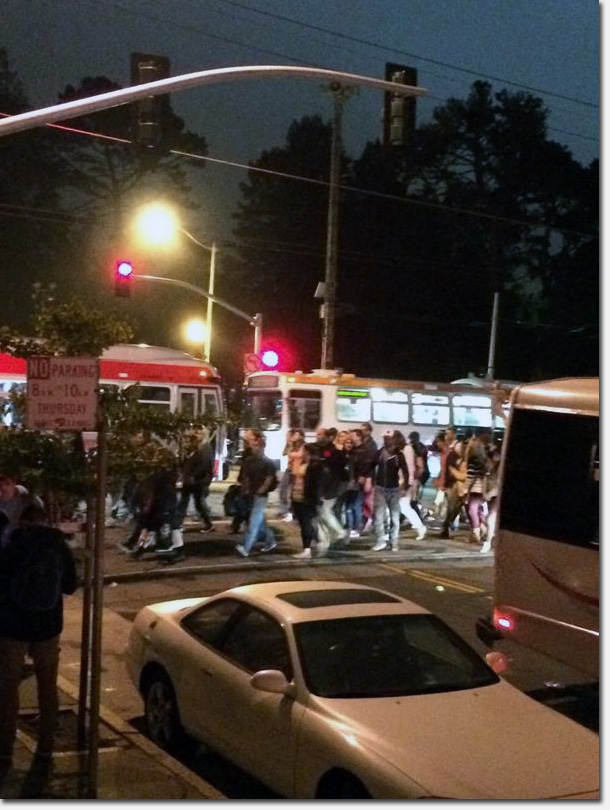 Crowds leaving Golden Gate Park around 10pm on Saturday. Photo by citznkane1
Outside Lands concluded its seventh year on Sunday night, with headliners The Killers and Tiesto closing out the music, food and arts festival on Golden Gate Park. The Chronicle has a nice slideshow and writeup of the weekend's activities.
On Friday night, controversial headliner Kanye West was heard all over the city, even in West Portal according to one of our commenters, thanks to the high volume and booming bass of his performance.
"Wow, Kanye has the bass turned way up. People in Ingleside, West Portal and Lake Merced are upset." Another commenter wasn't impressed with his use of the f*bomb.
Can hear the rap (Kanye?) AND feel it – 1200 30th Ave. Thought it was thunder at first @sfoutsidelands @SupervisorTang @richmondsfblog

— Suzie Hansen (@SuzieInDaSunset) August 8, 2014
Things seemed to improve on Saturday and Sunday. Commenters made note of the lower volume levels compared to past years and even compared to Friday's performances:
"I must say I'm quite pleasantly surprised today (Saturday). After last night's barrage of unpleasant sound, I expected to be blasted all the way to the Underworld today here in West Portal. But we haven't heard anything at all and it's already 5:30 PM. There was an article in the Chronicle this morning about turning down the noise, especially the bass, and maybe the Festival organizers read it and actually heeded the suggestion! Anyway we're fine out here and hope this courteous lack of noise continues through the night."
Another commenter that lives alongside the park said this was the best year to date. "We live at the entrance/exit @ 30th and Fulton and this has been the most improved year, thus far."
It seems the organizers were more mindful this year of noise complaints that came in through their hotline. ABC7 News reported that "Organizers have set up a noise complaint hotline for neighbors and claim every complaint is investigated with mobile sound monitoring equipment, then relayed back to concert sound technicians who can adjust volume." Watch the story below:
In spite of the concert noise being more manageable, some neighbors still found it tough to weather the crowds that streamed in and out of the park, leaving garbage and sometimes urinating on their lawns and front steps.
We had this comment passed along to us from Friday night from a resident that lives across the street from Golden Gate Park:
"I saw the complete sh*t show from about 10:30 to 1AM and the aftermath. Fights, fisticuffs, opening card doors into people, people jumping off moving Muni busses, gaggles of girls running full drunken throttle into oncoming traffic on Fulton, almost dying, bro-grammar dudes in total verbal altercation with their Uber driver, some amateur youth pukers and some urinaters outside of Safeway which was completely overrun with drunkards and animals of the night."
Yup, sounds like a music festival.
Another commenter asked that the festival conclude a bit earlier on Sunday night. "Please end the festival on Sunday by 7PM. Some of us have to get up at 4:45am Monday morning. Ending at 9:45 + another 2 hours of noise is unacceptable on a work night."
So it sounds like there were some improvements this year with regards to noise, but status quo with regards to the crowds and revelry.
What was your experience with Outside Lands this year? Leave a comment to let us know.
Sarah B.
10:13 am | Posted under
Events
,
Golden Gate Park
|
54 comments