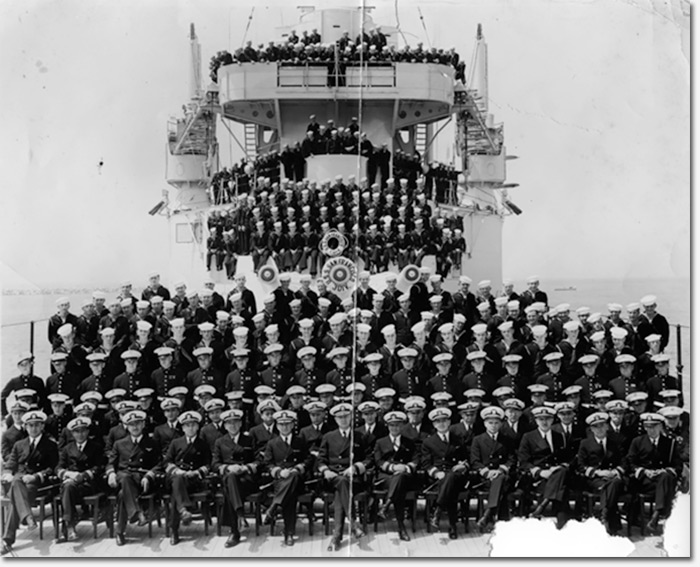 A 1937 photo of the crew aboard the USS San Francisco. Courtesy of USS SF Memorial Foundation
This Sunday from 12noon until 1:30pm, the USS San Francisco Memorial Foundation will host a special ceremony in honor of Memorial Day.
The USS San Francisco Memorial Park is located at Lands End, in the parking lot below Fort Miley (map).
The monument is located in the parking lot and is "dedicated to the 100 Sailors and 7 Marines killed in action during the Naval Battle of Guadalcanal 12/13 November 1942, and to all the men who served, fought and perished during the 17 major battles in which this heavy cruiser participated during World War II, from 7 December 1941 at Pearl Harbor, to the last battle at Okinawa, and the surrender of Japan on 2 September 1945."
In 1942, the USS San Francisco was the first Navy warship to receive the Presidential Unit Citation from Franklin D. Roosevelt.
The ceremony will last about and hour and 20 minutes. Band music, provided by the U.S. Naval Sea Cadets "Band of the West", commences at 11:30am. Complimentary Peet's Coffee and home made cookies and cakes will be available at 11am, provided by the Presidio Chapter of the Daughters of the American Revolution.
Sarah B.
Footage from the ceremonies in 2011 and 2010:
7:29 pm | Posted under
Events
|
2 comments