For the past year, the Richmond District Neighborhood Center (RDNC) and the Richmond Senior Center have been working together on a new program for seniors in the neighborhood.
It's called The Richmond District Food Security Network, and its goal is to connect isolated seniors with fresh groceries and community support.
"Nationally, 40% of seniors over 80 live alone, and that number is even higher in the Richmond District," said Sarah Huck, program manager at the RDNC.
"Our goal is to alleviate food security issues, loneliness, depression and other anxieties related to being home-bound by matching isolated seniors with volunteer neighbors to deliver fresh groceries, share in friendly conversation and serve as an additional ally and eye in the community looking out for our home-bound residents."
After a small pilot this summer with 5 seniors and 5 volunteers, "to get the kinks out", Huck said, the program is now almost ready for its full launch. The program will get help from many neighborhood constituents including Lincoln Park Presbyterian Church, families and neighbors from Katherine Delmar Burke School, the YMCA, Grocery Outlet, St. John's Presbyterian Church and Starbucks who will serve as "hub sites" to identify volunteers and make sure deliveries are being made.
"Ideally we will be running 6 hub sites in our district within a year serving at least 120 isolated residents and engaging up to 200 volunteers on a weekly basis," Huck said.
With the help of Supervisor Eric Mar, The Richmond District Food Security Network has already received $60,000 in funding from the San Francisco Food Security Task Force, which will be used to coordinate the program's participants and volunteers, train neighbors as senior advocates, and provide assistance and referrals to participants as needed.
On Thursday, August 28 from 5:30pm to 9pm, the RDNC is hosting an additional fundraiser called Wine on the Westside, "an evening of wine, a taste of the Richmond's most delectable foods, and live music" at La Promenade Cafe at 3643 Balboa.
The event will include food from local eateries The Cliff House, Tommy's Mexican Restaurant, and Golden Chariot Bakery & Restaurant, plus raffle prizes from Marla Bakery, Pacific Cafe, and the San Francisco Zoo. Ron Scott will be playing live music.
Huck says their goal is raise $5,000 to help cover the projected costs of program planning, the pilot site and volunteer administration fees.
Tickets to Wine on the Westside are $35 – $50 and are available online; the $50 ticket includes unlimited pours.
Sarah B.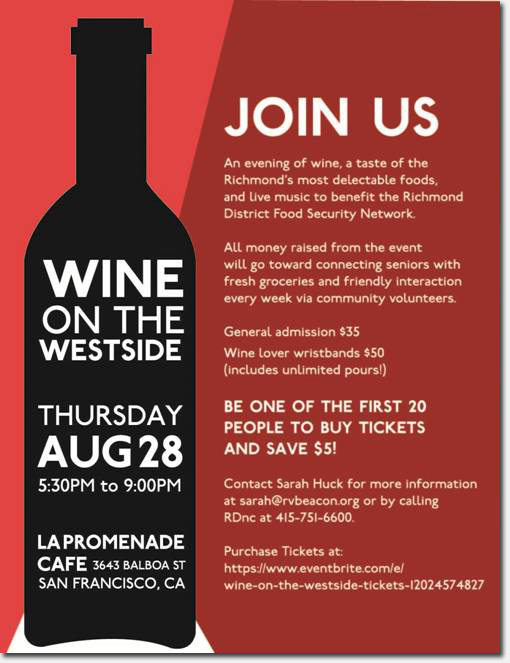 5:12 am | Posted under
Community
,
Events
|
Comments Off