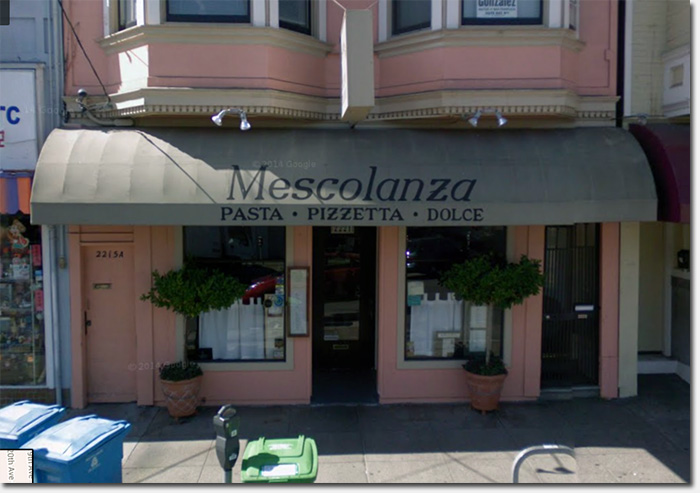 DE PLACE IS UNDER DE CHANGE OF OWNERSHIP
"De place! De place!" Reader @cassfung tells us that something is happening at the former Big Heart Video Cafe / De Place space at 5700 Geary. As you may remember, it was under construction for over a year, then finally opened as De Place, only to close a few weeks later. According to a sign on the door, "De Place" is going to become "Dragon Beaux". We couldn't find any info online about Dragon Beaux other than that their beer and wine liquor license is pending. "Hope the food is better than its name," @cassfung said.
MESCOLANZA CLOSING ITS DOORS AFTER 26 YEARS
Cozy Italian restaurant Mescolanza, located on Clement near 23rd Avenue, is closing its doors after 26 years in business. On their website, restaurant owner Ruben Macedo says that the business has to relocate, and that its last day of business will be December 31. Let's hope they find another home soon in the neighborhood.
MORE DETAILS ON NEW WINE BAR PIVOT
More details have emerged about Pivot, the new wine bar opening at 443 Clement Street between 5th and 6th Avenues. According to EaterSF, the venture is spearheaded by veteran sommeliers Michael Ireland (Restaurant at Meadowood, Quince) and John Vuong (Ame, Gary Danko). Expect an "elected group of 30 wines by the glass, from $6 a glass from the keg to rare and pricey finds from the proprietors' personal collections." The 47 seat space will also feature a menu focused on "super high-quality snacks and light meals that pair with their wines". They anticipate opening in Spring 2015.
Sarah B.
2:27 pm | Posted under
Business
,
Food
|
18 comments