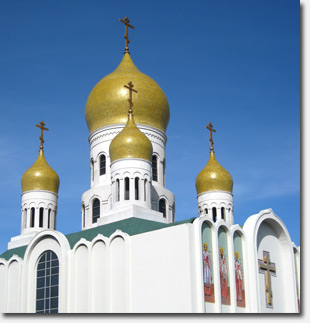 SFGate had a nice "Street Date" feature last week, focused on Russian treats along Geary Boulevard here in the Richmond District. The date starts in the outer Richmond with shopping at Troika Gifts and ends with a spot of tea Katia's.
Here's your Russian street date itinerary:
1. Troika Gifts, 6300 Geary Boulevard
Eggs adorned with hand-painted hummingbirds share a shelf with Russian nesting dolls in this gift shop.
2. Holy Virgin Russian Orthodox Cathedral, 6210 Geary Boulevard
Built in the early 1960s, its magnificent interior houses exquisite murals frescoed by Archimandrite Kiprian. Website
3. Holy Virgin Cathedral Bookstore, 6200 Geary Boulevard
In this bookstore next to the cathedral, you'll find religious books, icons, incense, crosses and books for children. Open 10:30am – 2pm, 3-6pm Tuesday through Friday, 10:30am – 3pm on Saturdays.
4. Yana Deli, 4605 Geary Boulevard
If you don't speak Russian, get in line and once at the counter, point at piroshki, sausages, cheese and other tasty Russian fare.
5. Cinderella Russian Bakery & Cafe, 436 Balboa Street @ 5th Avenue
Start out with a crunchy, mushroom-filled piroshki, warm from the oven, or try the potato, cheese or cherry vareniki. Website
6. Katia's, 600 Fifth Avenue near Balboa
This cozy Russian tearoom serves an afternoon tea that includes Russian-style tea and a medley of savory and dessert choices. Website
Read the full article at SFGate.com
Thanks to RichmondSFBlog reader Paul for sending this in. Any other Russian stops you'd add to this street date itinerary?
Sarah B.
10:20 am | Posted under
Community
,
Food
,
Shopping
|
Comments Off