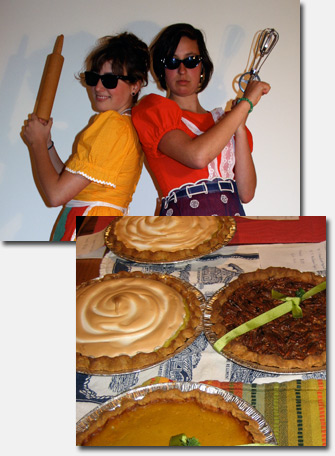 Jessica Sennett and Lizzy Myers, two "pie masterminds" as they like to call themselves, have started up a new business here in the neighborhood called Golden Crust, offering scrumptious homemade pies for any occasion.
With the holidays upon us, here's your chance to take one task off your to-do list. The ladies are offering pies of all kinds for the holidays, including traditional flavors with a bit of a twist. Their holiday menu:
Pecan and Mandarin – $20
Meyer Lemon Meringue – $20
Cafe au Chocolat with Caramelized Hazelnuts – $20
Upside Down Caramelized Pear and Quince Tart – $18
Sweet Potato Bourbon – $15
Pumpkin Bourbon – $15
Apple Medley with Lattice Crust- $20
Prices vary due to the expense of ingredients and labor, and if needed, they can bake a vegan option for you too.
Golden Crust is now taking Christmas orders. Just email them at thegoldencrust@gmail.com with your name, address, phone number and what pie(s) you would like. You can pick up your order the evening of December 23rd or on the afternoon of the 24th at both Inner Richmond and Bernal Heights locations.
Thanks to the Green Apple Blog for the golden tip.
Sarah B.
6:12 am | Posted under
Business
,
Food
|
2 comments