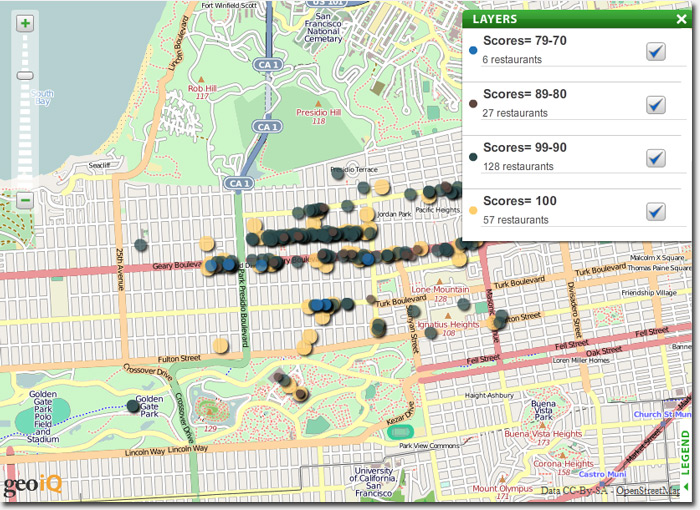 Thanks to RichmondSFBlog reader Jim, I was alerted to a nifty new map created by Mission Local that displays scores for inspections completed in the last 12 months by the Health department of places that serve food, be it restaurants, schools or other public facilities.
You won't find every eatery on the map that's in the neighborhood, only those that were inspected within the last year. A food establishment can be routinely inspected, inspected due to a complaint, or due to change in ownership.
Of course I dove right into check out the eateries in 94118 and 94121. Here's what I found out:
94118
The good news is that 85% of the 218 food service establishments inspected earned a grade of 90 to 100; 26% earned perfect scores of 100. Another 12% rated in the 80-89 range, and the final 3% – only six restaurants – earned the lowest grade of 70-79 points:
Hui Lau Shan, 5217 Geary
Dragon River Restaurant, 5045 Geary
Panda Country Kitchen, 4737 Geary
Emperor Palace, 530 Balboa
Melisa's Chinese, 450 Balboa
Star India Restaurant, 3721 Geary
Check out more restaurant inspections for 94118
94121
Results were pretty similar further out in the avenues with 80% of inspected locations earning a grade of 90 to 100; 28% had perfect scores of 100. 16% rated in the 80-89 range, with 7 restaurants, or 4%, getting the lowest scores of 70 to 79 points:
Hunan Cafe #2, 4450 Cabrillo
Golden Chariot Bakery & Restaurant, 3308 Balboa
Mayflower Restaurant, 6253 Geary
Kirin, 6135 Geary
Golden River Restaurant, 5827 Geary
Gastronom Deli, 5801 Geary
New World Market, 5641 Geary
Check out more inspections results for 94121
More good news – no Richmond restaurants rate in the 10 worst in the city. The bottom honor goes to Louie's Dim Sum of North Beach which earned a dismal 35. Ick – how bad does it have to be to earn THAT?
Our closest low scorers – Liverpool Lil's at Lyon and Lombard earned a score of 55. And Oriental Seafood Restaurant in the Outer Sunset earned only a 50.
Check out the article and map at Mission Local to see more data.
Sarah B.
7:25 am | Posted under
Food
|
5 comments