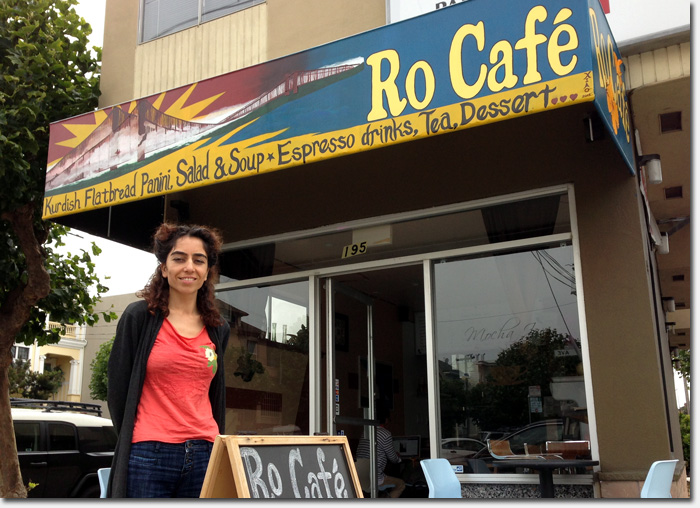 Owner Havin Gavgasi stands outside Ro Cafe on 5th & California
Tucked on the southwest corner of 5th and California is the new Ro Cafe, a Kurdish cafe that has been open for just over a month.
Owner Havin Gavgasi, who came to the U.S. four years ago from Kurdistan, took over the lease from the previous cafe. She worked in cafes previously in her career and said she's always wanted to open her own place.
Ro Cafe serves Graffeo Coffee from North Beach, and offers a Turkish version for those who like a good punch in their cup. The menu features many traditional Kurdish dishes including Kurdish Baklava and Kurdish flatbread, which Gavgasi says is a favorite.
She prepares the flatbread fresh when you order, rolling out the dough and preparing it on a hot flat grill, similar to a crepe cooker. But the final result is a thicker bread, like a thin pizza crust.
The Kurdish Flatbread Panini ($7.25) on the menu is a mix of feta cheese, chopped Italian parsley, and cooked onion placed between two thin layers of fresh dough and baked on the hot grill. It's served with a side of sliced tomatoes and homemade sauce. You can add chicken to it for an additional $2.
The Kurdish style couscous is another item that Gavgasi says usually surprises people because it's a little different than other couscous they've had before. Her recipe combines couscous with mixed tomato paste, parsley, green onion with Kurdish spices, served with fresh tomatoes and lemon on the side. She says several customers have been happily surprised with her version, and have come back into the cafe to order it again.
The menu also includes a few other sandwiches including a Veggie Sandwich ($5.25), a Chicken Breast Wrap served on Middle Eastern Pita Pita Bread ($6.95), and a Feta Beef Roll, which is oven baked.
If you're stopping by in the morning, order a Corek (pronounced Chorek), a traditional Kurdish breakfast pastry. One variety has pesto and cheese inside. The cafe also offers a Kurdish Veggie Omelet with a side of ciabatta bread toast.
We tried the baklava while we were there and it was delicious – light, very flaky and sweet. You get two small slices (egg roll size) for $3.25. The other dessert on the menu is Kurdish pudding, served cold.
Gavgasi called her new business Ro Cafe because Ro means "river" in her language, and her native Kurdistan is criss-crossed with them. Cafes in her home country make tea and coffee with water from the rivers, and believe its clean properties make the beverages taste better.
"And Ro is easy to say," Gavgasi said, laughing. "I also really like the neighbors – they are friendly and come shop here to support my business."
While we were there, local resident Patricia was enjoying the free Wifi, and eagerly awaiting her flatbread. She lives on Geary and 2nd, and said she escapes to Ro Cafe for good food, as well as some peace and quiet.
Ro Cafe is located at 195 5th Avenue on the corner of California, and is open from 7am until 7pm every day. Stop in to try some Kurdish delights and welcome them to the neighborhood!
Sarah B.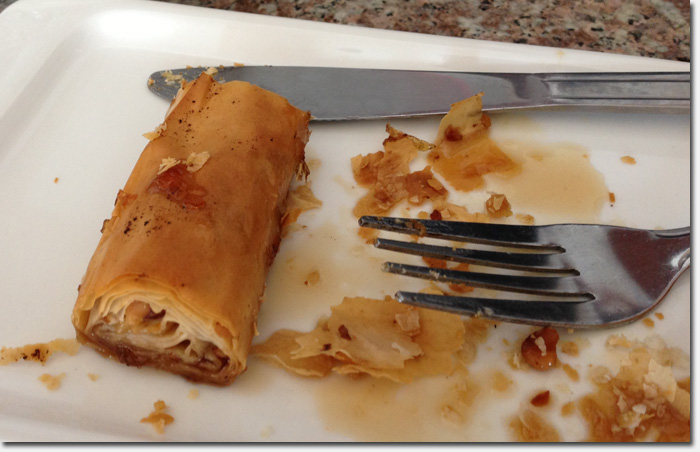 The baklava pastry was very tasty!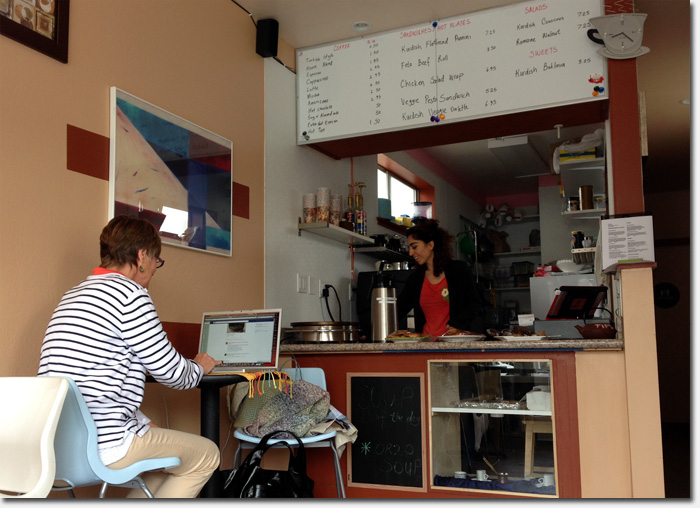 5:25 am | Posted under
Business
,
Food
|
5 comments