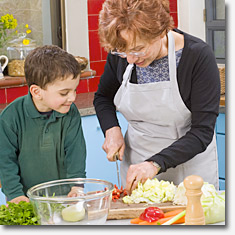 On Tuesday, June 4, the Golden Gate Park Senior Center is hosting their "Cooking with Kids & Grandparents" event from 9:30am until 12noon.
The event is a great chance for grandparents and their grandchildren to enjoy a day together of cooking, culinary exploration and eating. The event is hosted by the students of the Nutrition Assistant Program of City College SF, under the supervision of registered dietician Lisa Yamashiro.
The workshop takes place at the Senior Center, located at 6101 Fulton Street. Cost is $5 per participant, and children must be accompanied by an adult.
Please reserve your spot in advance by emailing lisa.yamashiro@mail.ccsf.edu.
Sarah B.
10:15 am | Posted under
Classes
,
Food
,
Golden Gate Park
,
Kids
|
1 comment