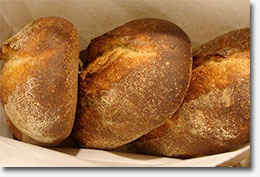 We are a city known for our sourdough bread, but most of us buy it at the market, or even better, fresh from the ovens at the Boudin Bakery on 10th Avenue.
But if you're more of a DIY'er when it comes to breads, you might want to check out the Sourdough Starter Workshop at the Anza Branch Library on Wednesday June 19 at 6pm.
Cat Shimizu, the "breaducator" from Sour Flour, will talk about the art and science of making bread using a sourdough starter.
This includes how to feed and take care of your own starter, and how different factors such as time, temperature, and starter hydration affect the fermentation process. They will also provide samples and suggested reading that will help get you started on a new adventure in sourdough bread baking.
The workshop is free, and takes place at the Anza Branch Libary located at 550 37th Avenue, between Anza and Geary.
Sarah B.
5:21 am | Posted under
Classes
,
Food
|
1 comment