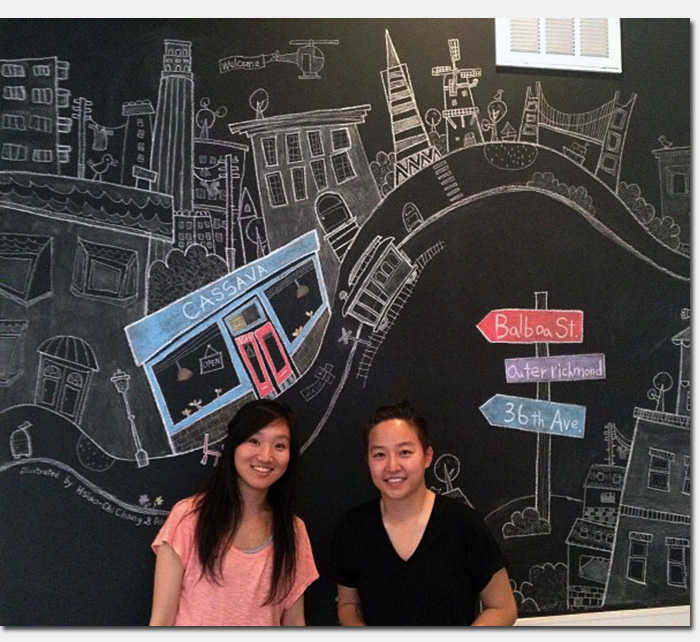 Artists HsiaoChi Chang and Alex Lee stand in front of their chalkboard mural of Balboa Street inside Cassava Bakery
Lots of food tidbits to report on for outer Balboa this week!
Shanghai Dumpling (3319 Balboa) closed a few months ago for renovations, but reader Steve tells us it is finally back open for business. So if you've been jonesing for their dumplings, General Tso chicken or sugar egg puffs, get out there.
I am carnivore, hear me roar… We got a note from Erin at Hockey Haven (3625 Balboa) who tells us that they've teamed up with The Boneyard Truck (BBQ), who will be serving from the HH kitchen on Friday and Saturday nights from 6pm until 10pm, and serving Sunday brunch from 11am until 3pm. "Our meats are smoked and roasted to succulent perfection every day. Paired with fresh homemade breads and seasonal side dishes, we create exciting flavor combinations that are sure to awaken your inner carnivore." Brisket chili nachos, anyone? Erin says Boneyard will also take over the Monday Night Football steak dinners starting in August.
The much beloved Cassava Bakery (3519 Balboa) closed a couple of months ago so they could expand into the space next door. We stopped by last Saturday for a sneak peek and it's nearly done. They hoped to open this week but next week is more likely. In addition to having a beer and wine license, the "new & improved" Cassava will have seating for roughly 25 inside and 20 outside, an expanded menu, and plans to serve their popular Japanese breakfast every day of the week. They will also continue to offer pop-up dinners on Friday and Saturday nights. Follow them on Facebook for the latest updates.
Speaking of pop-ups – one has decided to commit and settle down on Balboa Street. Tablehopper reports that Marla Bakery plans to open in the former Crown Lock space (3619-21 Balboa). "They will be open for breakfast and lunch daily, plus Sunday suppers, and eventually dinner too (the space will initially be used for pop-up dinners and cooking classes in the evenings). You can also come by to just pick up bread and pastries." Targeting a Spring 2014 opening.
Bon Appétit Balboa!
Sarah B.
5:01 am | Posted under
Business
,
Food
|
2 comments