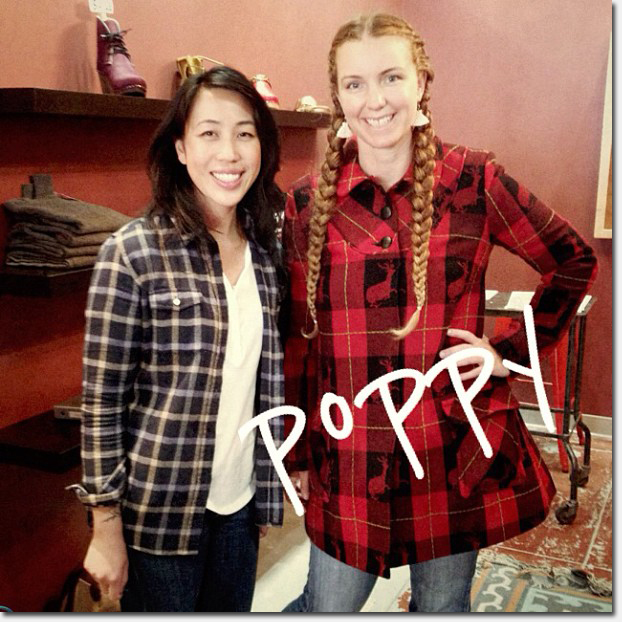 Poppy von Frohlich owner Trudy (R) poses with Seedstore owner Cynthia Huie
in her "Lumber Jane" coat
Just like a hyperlocal Wall Street ticker, here are some updates on a few neighborhood businesses. Have a good Tuesday! – Sarah B.
We got word on a new cottage business here in the neighborhood called Poppy von Frohlich, specializing in outerwear for women. Owner Trudy tells us, "I design and pattern and sample sew everything in my outer richmond home and then all of my manufacturing is done in down town SF." She comes out with a new design every 6 weeks and produces a limited amount of each design, offering free fittings and alterations to her local customers at her in-house studio. Check out her designs online at PoppyvonFrohlich.com or stop in Seedstore (212 Clement) to check out some of her designs.
Foggy Notion Boutique on 6th Avenue was selected as one of the first businesses to be in Square's new marketplace, Square Market. So when you can't make it into the store, or want to show off a cool neighborhood store to your out of town friends and fam, point them here.
Some sad news from inner Clement: The owner of Murasaki Sushi (211 Clement), Toshi Sasaki, passed away earlier this month. The restaurant had been closed for a few weeks with a sign saying that the owner was sick. Cynthis Huie of Seedstore wrote to us and said, "He was an amazing sushi chef, who kept my family and I well fed and a really nice man." Sasaki was born in Hokknido, Japan, and was in the restaurant business for 28 years.
A drive down Geary on Monday night reminded us that we never posted about a new doggy boutique and grooming business, Top Dog Boutique Grooming, open at 5050 Geary and 15th Avenue (looks like it used to be Hollywood Dog Grooming in Laurel Heights?). Bring Fido by for a Bath & Brush ($45), and extra $10 gets his teeth brushed too (lots of other services too). The shop also sells premium natural dog food and natural shampoos.
We're a little late with this news but a new restaurant, My Thai has opened up at 908 Clement. Previously it was Zaab Thai Cuisine so we're not sure if this is a re-branding or new ownership altogether. Their awning promises "Authentic Thai Food & American Breakfast".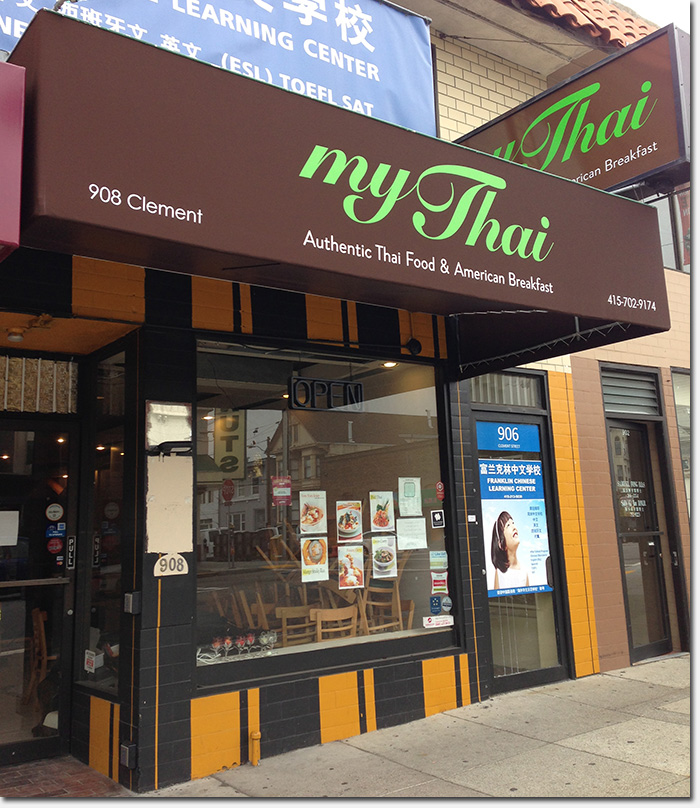 My Thai restaurant at 908 Clement
5:13 am | Posted under
Business
,
Food
|
2 comments