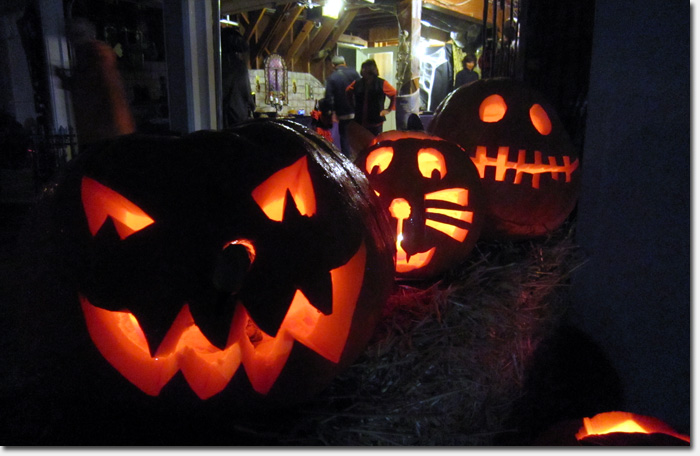 There's no shortage of Halloween events in the neighborhood this year! So put on those costumes and get out there to grab your share of ghoulish fun. Happy Halloween to all!
YMCA HALLOWEEN PARTY – Friday, October 24 | 5:30pm – 8:30pm
Richmond District YMCA, 360 18th Avenue
The Richmond District YMCA will have bounce houses, healthier s'mores, arts and crafts, pumpkin carving, a photo booth, and more. Admission is $5 per child 2 and over, chaperones and children under 2 are free.
SUPERNATURAL HALLOWEEN PARTY – Friday, October 24 | 5pm – 9pm
California Academy of Sciences, Golden Gate Park
Have yourself a ghoulishly great time trick-or-treating your way through the Academy at night, among spooky skulls and spine-tingling specimens. Trick-or-Treating, Dancing, Face Painting, Magic Shows, Scientists and Specimens, Live Animal Shows, Giant Pumpkin Carving, Crafts, a Photo Booth and more. Tickets start at $30 for children. More info
CLEMENT STREET KIDS' COSTUME PARADE – Sunday, October 26 | 11am
Clement Street Farmer's Market (3rd Avenue & Clement)
Stop by the Clement Farmer's Market on Sunday for the Kids Costume Parade. Meet at the musical acts section near 3rd & Clement for a singalong, then parade over to Toy Boat Dessert Cafe for free scoops of ice cream! Sponsored by the Clement St. Merchants Association.
THE MANY HAUNTS OF THE RICHMOND DISTRICT NEIGHBORHOOD CENTER – Sunday, October 26
12:30pm – 3pm | 741 30th Avenue
Children and families are invited to come in costume and explore the Richmond District Neighborhood Center, transformed into a haunted wonderland complete with a Haunted Room, Dr Funnybone Laboratory, Ghosts and Globins Hangout, and Madame Katrinka, Fortune Teller. There's also arts and crafts, costume contest, bake sales, games and prizes. Costume contest at 2:30pm.
HALLOWEEN BIKE TO WORK WITH SUPERVISOR MAR – October 31 | 8am
Meet at the Velo Rouge Cage on Arguello near Fulton to bike to work with Supervisor Mar (costumes optional). More info and RSVP available on Facebook.
CLEMENT STREET TRICK OR TREAT – October 31 | 2-6pm
Look for the special Halloween stencils outside the stores of participating merchants. Then pop inside if you dare for a trick or a treat! Sponsored by the Clement St. Merchants Association.
22ND & CALIFORNIA HAUNTED HOUSE – October 31 | 6pm – 9pm
Don't miss this neighborhood tradition when the basement of Appel & Dietrich market is transformed into a haunted house. Start your adventure with a slide ride that descends you into the depths of scary! This year's theme is "The L.A.B." so be prepared for some interesting experiments. Free admission, all ages welcome but be prepared for a long line!
HEARTBAKER HAUNTED HOUSE – October 31 | 6pm – 9pm
Enjoy holiday fun watching your little ones making their way down haunted hallway and discovering a witch preparing her magic potion in a boiling caldron! Of course the night is not complete without treats. Heartbaker will provide free treats and refreshments at the end. Find out more
SPOOKY SAN FRANCISCO SCREENING AT THE BALBOA THEATER – October 31 | 7pm
Get a ticket to the spookiest show in the neighborhood. The Western Neighborhoods Project presents a special screening of Trina Lopez' documentary "A Second Final Rest: The History of San Francisco's Lost Cemeteries" along with short films and other surprises. Tickets are available online – $10 for general admission, $7.50 for seniors and children.
"DIA DE SKEETER" FREE SCREENPRINTING PARTY – November 1 | 8pm
Stop by Anthem Screen Printing at 6138 Geary and get a special "Dia de Skeeter" screen print on a t-shirt (Skeeter is the store's mascot). Bring libations, a costume, and friends! If you'd like to print your own shirt make sure to bring one or you can purchase a blank for $10. They will have a few Anthem designs on the press and a special design chosen by Facebook followers from their Dia De Skeeter album. RSVP on Facebook
4:54 am | Posted under
Events
,
Golden Gate Park
|
5 comments