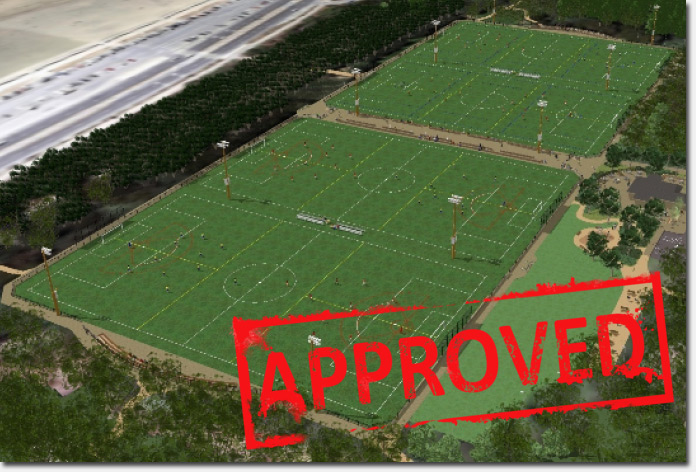 A conceptual, overhead rendering of the four renovated fields at Beach Chalet
City Fields Foundation issued a press release today about a legal ruling that will finally allow the Beach Chalet Soccer Fields renovation project to proceed:
===============
The San Francisco Recreation and Parks Department and the City Fields Foundation announced today that Superior Court Judge Teri L. Jackson has ruled in favor of the renovation of the Beach Chalet Athletic Fields in San Francisco's Golden Gate Park.
Judge Jackson found that the City's Environmental Impact Report (EIR) adequately reviewed the project under the California Environmental Quality Act. Recreation and Parks and the City Fields Foundation can now bid the project and then initiate construction.
San Francisco Recreation and Parks and the nonprofit City Fields Foundation are jointly funding the $14,000,000 renovation of the Beach Chalet Athletic Fields. Construction is anticipated to begin in 2014 and the fields are expected to reopen in 2015.
===============
On their website, City Fields posted "The lawsuit challenging Beach Chalet's environmental review has been denied! Congrats and thank you to all of you, the City Attorney's Office and our partners at Recreation and Parks! Yahoo!".
More about the renovation from the City Fields website:
City Fields and SF Recreation and Parks are proposing to install synthetic turf, field lights and on-field spectator seating – bleachers on either end of the field and low profile bench seating between the two center fields. A new viewing plaza will connect to the restored restrooms with new paths leading from JFK Drive in the Park to the athletic fields.
A children's play area will occupy the little ones while spectators watch the games from adjacent barbeques and picnic areas. With neighbors in mind, field light heights were reduced by 20 feet so the light standards will not be visible from surrounding neighborhoods and "open play" hours will be posted to ensure community access to the new fields.
A new pick-up & drop-off area near the restroom will increase safety for kids and athletes and 81 bike parking spots will be installed. Twenty new spaces will be added to the existing car parking lot to keep additional cars off park roads and a pathway will encircle the fields to provide disability access and to make it easier for everyone to enjoy the fields. The current eight foot fence will be lowered to four feet around most of the fields and rise to 16 feet behind the goals to keep balls in bounds.
Sarah B.

An overhead view showing the renovated parking, playground and seating area.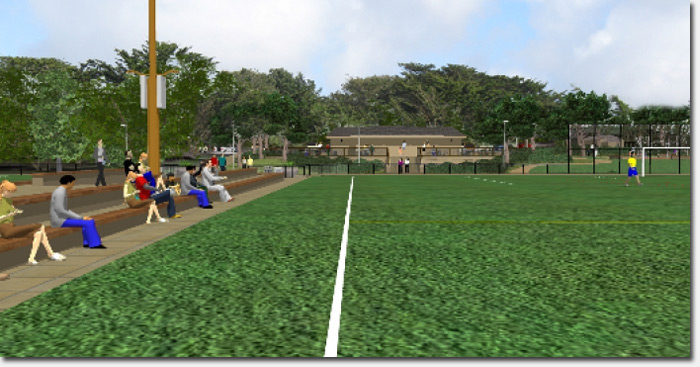 Instead of tall bleachers, an 18-inch raised walkway featuring built-in spectator
benches runs across the center of the fields.
3:47 pm | Posted under
Golden Gate Park
,
Parks
|
6 comments