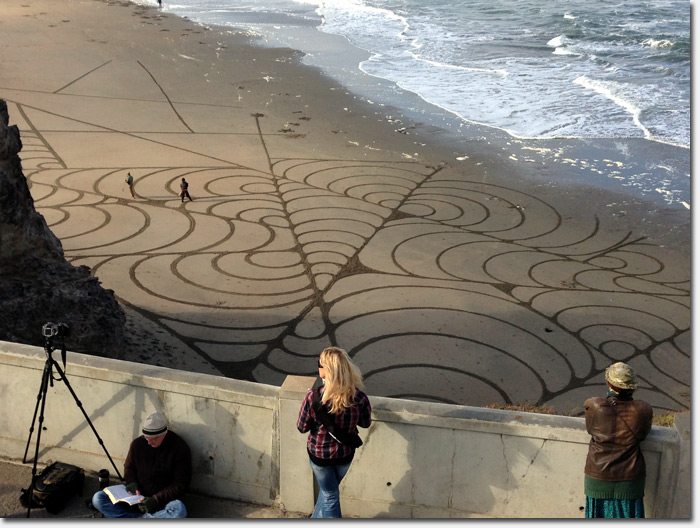 Here are some local links to get you through your Wednesday…
Want to catch sand art in action? Head out to Ocean Beach on Sunday at 12noon to see Andres Amador at work. He usually wraps up the piece in about 2 hours.
Foggy Notion is now a pickup spot for Community Supported Agriculture (CSA) boxes from Say Hay Farms', a 20-acre farm in Yolo County, California that raises certified-organic vegetables, melons, and eggs. Subscriptions start at just 4-weeks and as little as $16/week and can be picked up on Wednesdays from Foggy Notion (256 6th Avenue) between 3 – 6pm. More info
Parking alert: The metered lot on 8th Avenue between Clement and Geary will be closed for repaving from February 16 until March 14th.
The Chronicle recently highlighted some historic, long-running brands from San Francisco and we had a couple on the list. Its-It ice cream sandwiches started at Playland in 1928, and Boudin Bakery is still using the mother yeast from created by Isadore Boudin in 1849. The yeast was saved in the 1906 quake and the bakery moved from downtown to its current 10th Avenue location.
The start of the year restaurant shuffles continue… Reader Sarah tells us that Japanese restaurant Kaminari at 7th and Balboa is closing. And Francisco reports that the former Ju-Ku location at 19th Avenue and Clement is being taken over by a restaurant called The Flame (Hot Pot), with an opening date of March 1.
9:10 am | Posted under
Art
,
Business
,
Events
,
Food
,
History
,
Ocean Beach
|
8 comments