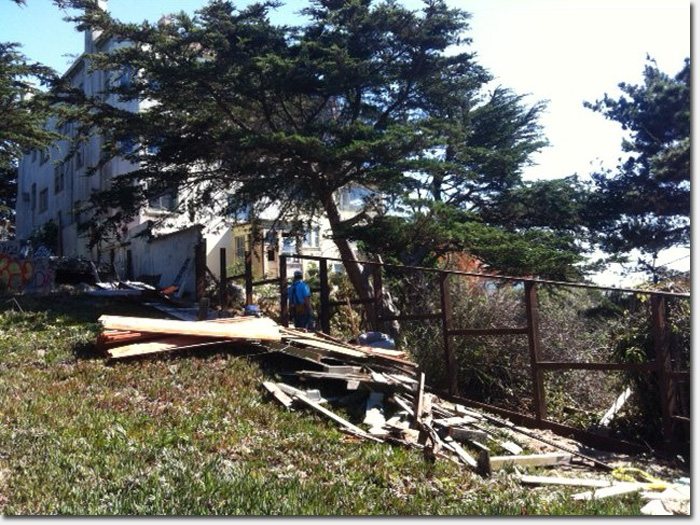 Photo by Jason J.
We've written a couple of times on the blog about the troubles at the southern border of Sutro Heights Park, including one late night fire in January 2013, and the reclusive resident who lives adjacent to the park.
For several years, the adjoining property – more specifically the fence surrounding it – has been neglected. Homeless encampments have often found refuge within the fence boundaries, sometimes starting campfires.
The home (and the one next to it) is occupied by a Wing King, a licensed physician who last practiced endoscopy at UC San Francisco. In March 2013 the Examiner wrote a story about King and his house woes, which included multiple fires on the property since 2004, false 911 calls, and lawsuits related to his business dealings. When a fire does break out, it's challenging for SFFD as they have to access the location from down below on Balboa Street.
But to the delight of some neighbors and park users, improvements are being made to King's property which should help prevent further issues with homeless encampments.
Earlier this year, a chain link fence was installed along the western edge of the property that borders the trail that runs up from Balboa Street into the park's south side.
And last week, we received the above photo from reader Jason J., who noticed private contractors were installing a new fence on the property's north side.
"I was pleased to see that workers are repairing the horrible fence on the Dr. King property," Jason wrote to us. "Perhaps this sort of positive event happens every few decades. Better late than never."
In March of last year, the city tried to address King's property neglect by giving him 15 days to prove that the homes are occupied or he faced penalties of up to $7,000 per home. We don't know what happened with the case, and it's unclear if these latest improvements are a result of city or legal pressure.
Whatever the impetus, let's hope this prevents further homeless encampments and issues from arising.
Sarah B.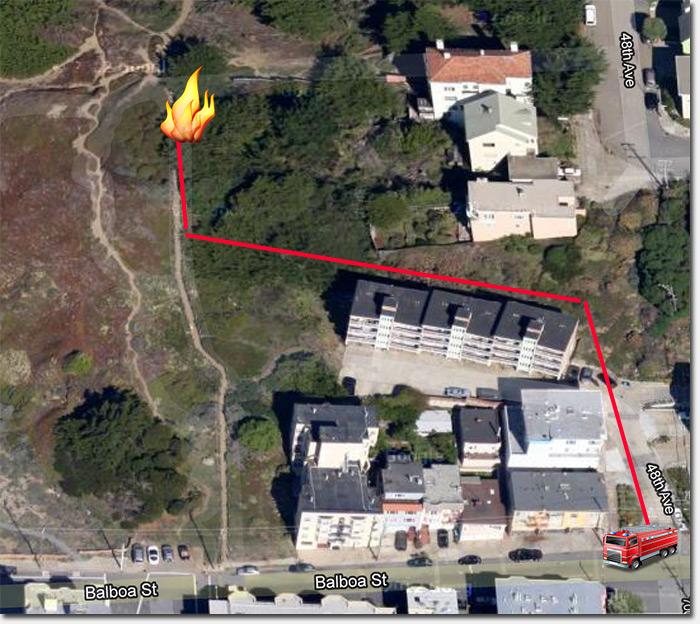 A diagram showing where the SFFD set up at 48th and Balboa to tackle the 2013
fire that broke out. The red line illustrates the path they took with their
hoses to fight the blaze.
5:12 am | Posted under
Parks
|
4 comments