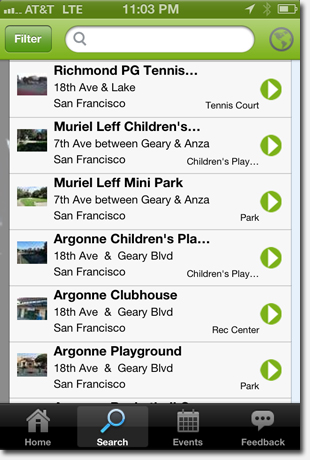 Last week, the city unveiled a new iPhone app for San Francisco Recreation and Parks.
The SF Rec and Park App provides the public with the best app to find locations including Parks, Children's Playgrounds, Dog Parks, Museums, Rec Centers, Picnic Tables, Gardens, Restrooms, News, Events, and POI's all provided with descriptions, pictures and displayed on a GPS enabled Mobile Map with directions.
The app uses your current location to show you the closest parks closest. Or you can search for parks and even filter your results by 24 different criteria like athletic fields, dog play area, children's play area, skate park, and even community garden.
Tap on a park to see a photo of it, get hours and directions, and even sign up to be notified of volunteer opportunities.
The app has a reservations section where you can email in requests for picnic table space at parks, including Golden Gate Park. A great time saver when you're planning an outdoor event (though as CurbedSF points out, you still have to wait for an email reply from Rec & Park to confirm your reservation). Still, loads easier than navigating the Rec & Park website or trying to find phone numbers.
The app also has an Events section which based on your location, will show you nearby happenings. Included in our list was a variety of events including the latest exhibition at the Conservatory of Flowers, Off the Grid at Civic Center, free Zumba classes, and habitat restoration volunteer events.
This is a good first effort for an app like this, and I can imagine this being handy for the SF families on the go that are looking for parks, or events to spice up the weekend.
However we did roll our eyes a bit at the persistent "Donate to Rec & Park" prompts that are visible on every park's listing page, and even from the main screen of the app – especially since the app was developed at no cost for the city by local developer Appallicious.
SFGate reports that "upgrades to the app scheduled over the next few months will eventually let anyone report park problems to 311 using the app and also buy tickets to Rec and Park events on their phones."
You can download the "City of San Francisco Recreation and Parks Official Mobile App" (whew, long name!) from the iTunes App Store.
Sarah B.
P.S. – Appalicious says an Android version should be available in January 2013.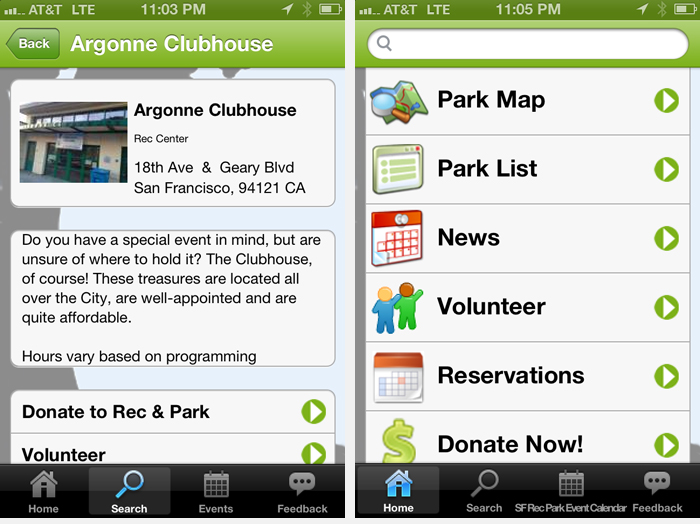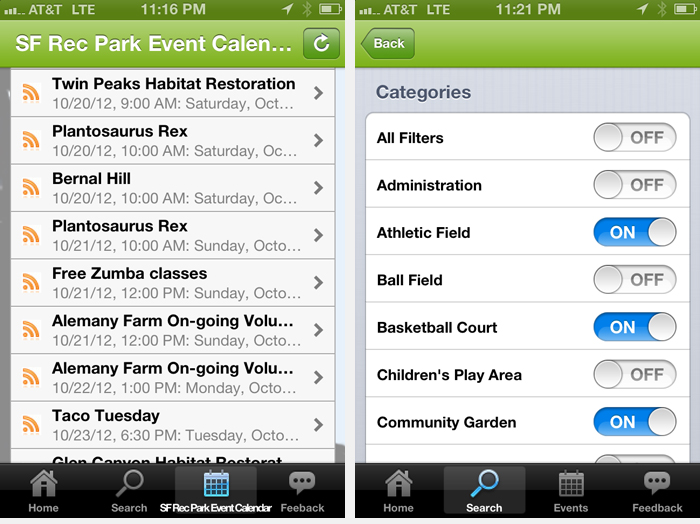 5:12 am | Posted under
Golden Gate Park
,
Parks
|
3 comments