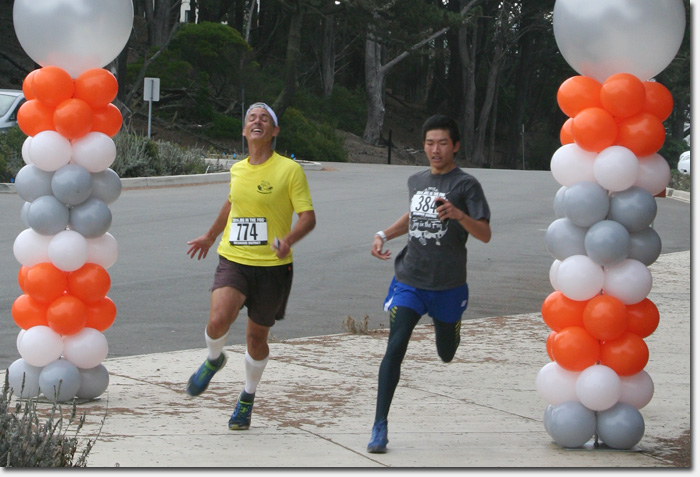 A sprint to the finish. Jerry Flanagan (L) nosed over first for the win in 24:21
It was a photo finish at Sunday's Richmond District Jog in the Fog 5k as top finishers Jerry Flanagan and Jamie Tran sprinted to the finish line in the USS SF Memorial Parking lot at Lands End, with Flanagan just nosing over the line first with a time of 24:21.
Over 400 people came out for the race's second running, including families, tourists from Mexico and Brazil, some first time 5k'ers and plenty of running veterans.
Shortly after Flanagan crossed, the top boy, Andrew Blelloch crossed in an impressive 25:42 (if anyone knows how to get in touch with Andrew, please contact us – we have prizes for him!).
Top woman finisher Liz Hubertz was close on his heels, crossing past the finish columns supplied by Sparky's Balloons at 27:32. Top girl Vanessa Miller finished with a time of 28:38, and all finishers received a trophy from All American Bowling & Trophy on Cabrillo, a gift card from Green Apple Books, and for the adults, a gift bag from Senspa. All young finishers also received finisher wristbands from the Richmond District YMCA.

Top man Jerry Flanagan (24:21) and top woman Liz Hubertz (27:32) with their race booty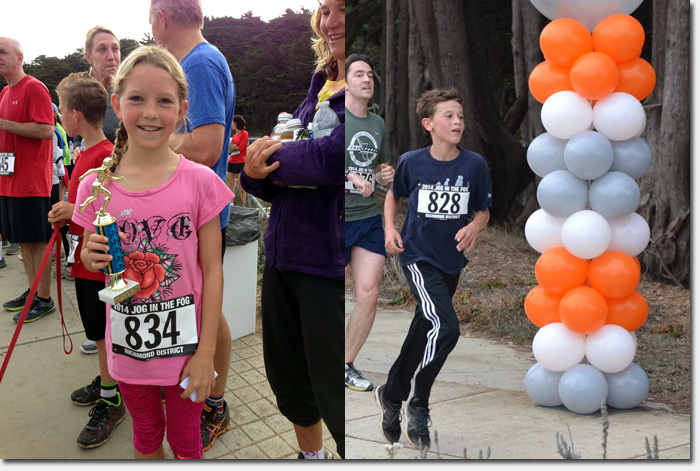 Top girl Vanessa Miller (28:38) and top boy Andrew Blelloch (25:42)
The weather was perfect this year, with high clouds and overcast allowing racers to enjoy spectacular views of the ocean and Golden Gate Bridge along the Land's End portion of the course. A group of dolphins even played in the water below as racers rounded the corner to the finish in the USS SF Memorial Parking lot at Land's End, completing the 3.4 mile course – after tackling a final set of stairs.
Waiting at the finish were beverages from Purity Organic, and tasty granola samples from race sponsor Angelina's Deli & Cafe. Proceeds from Sunday's race benefited the Richmond District Neighborhood Center, a non-profit that provides free and low-cost resources, support, and activities to children, teens, adults and seniors in the neighborhood.
We want to thank everyone who came out to support the race and the RDNC this year, and give special thanks to our sponsors and partners who make it all possible. And to our enthusiastic volunteers – we couldn't do it without you!
If you participated in Jog in the Fog, we'll let you know when finish line photos are available online (for free download).
Way to go foggy joggers – we'll see you in 2015!
Sarah B.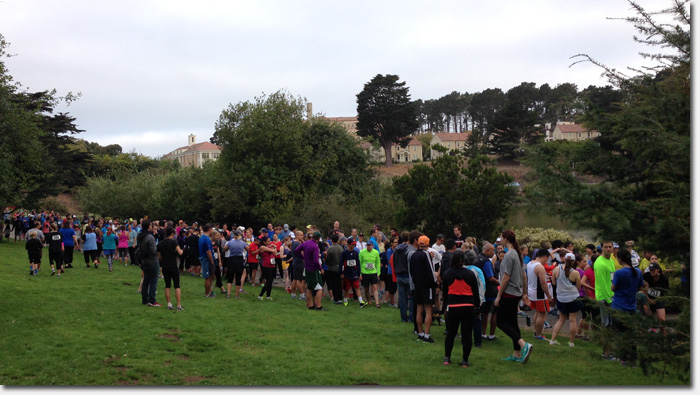 Racers queue up at the start line in Mountain Lake Park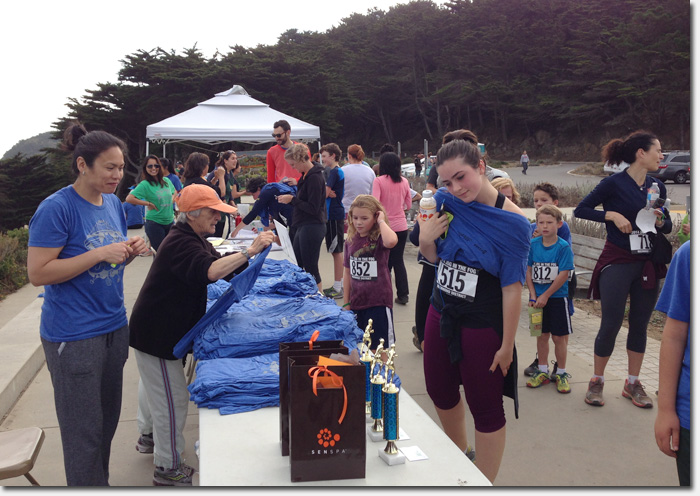 T-shirt pick up at the finish area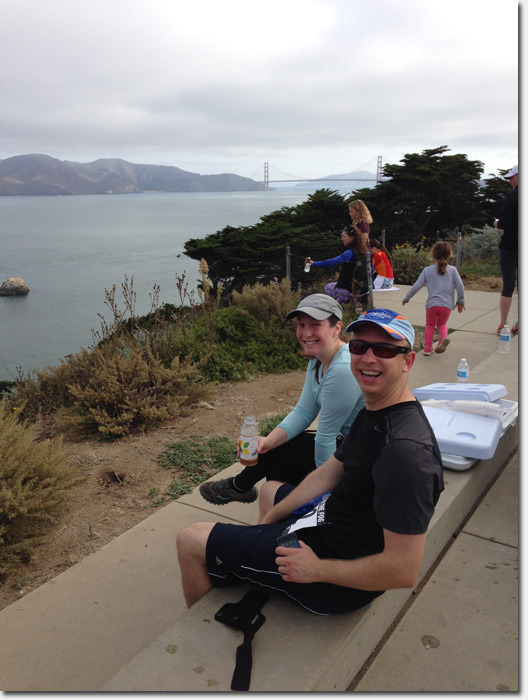 Enjoying the views from the finish area at Land's End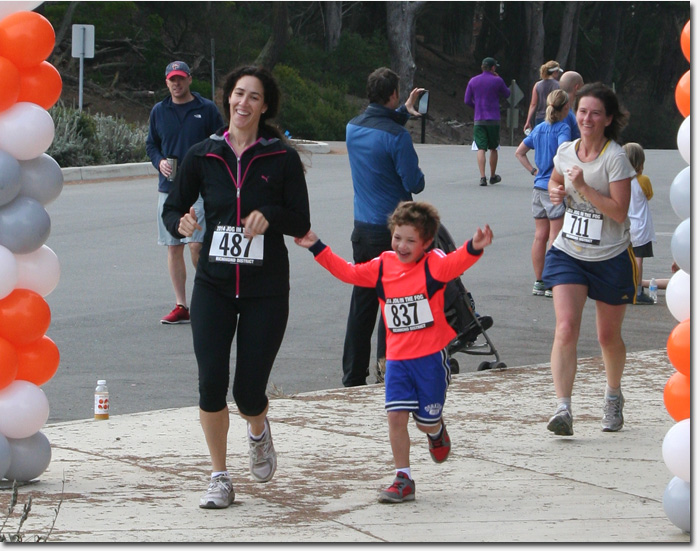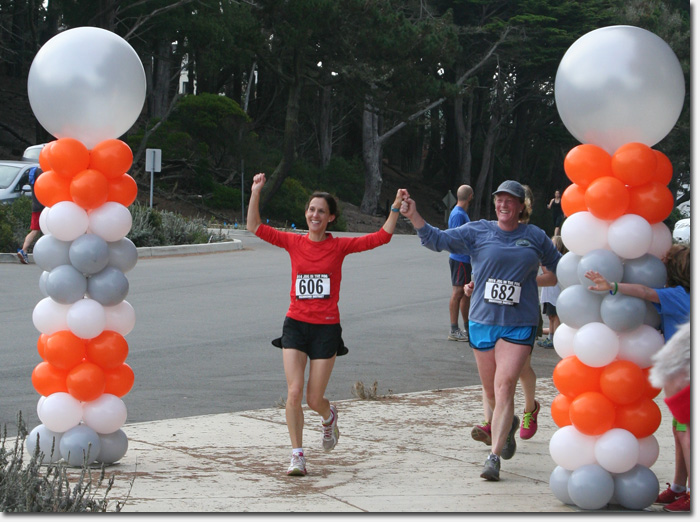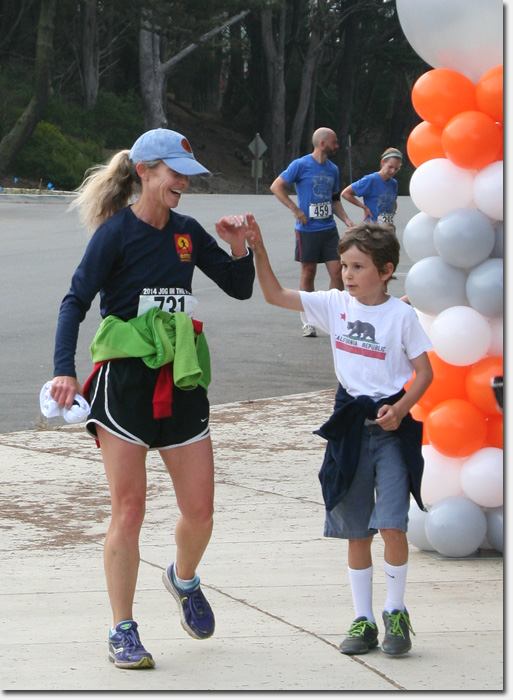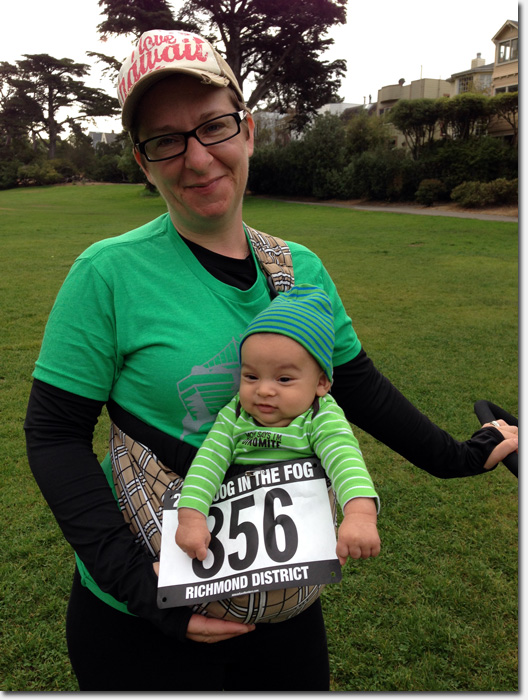 A Jog in the Fog volunteer with a special bundle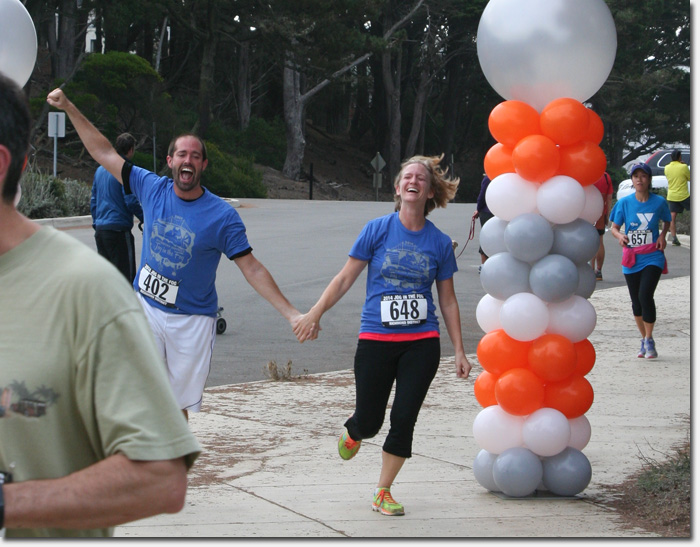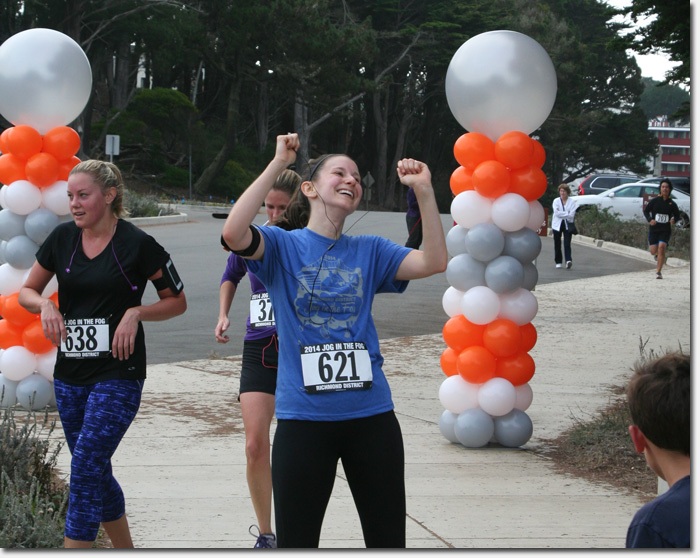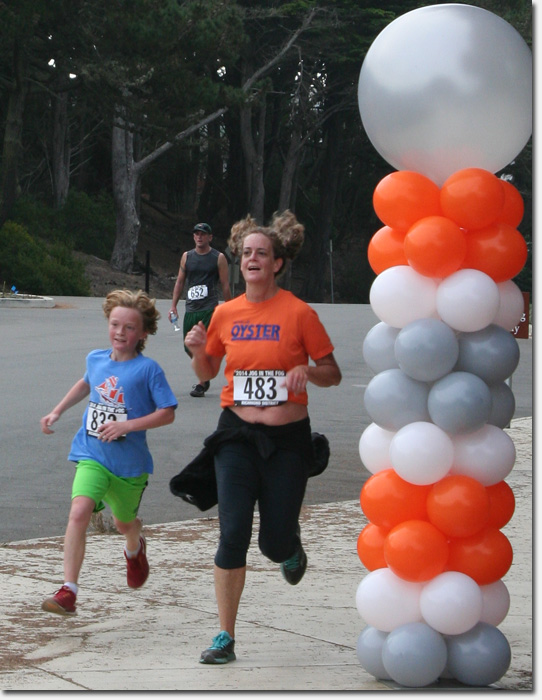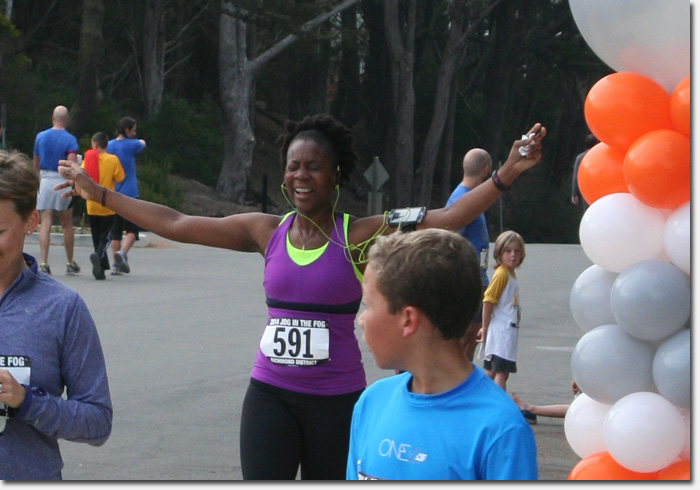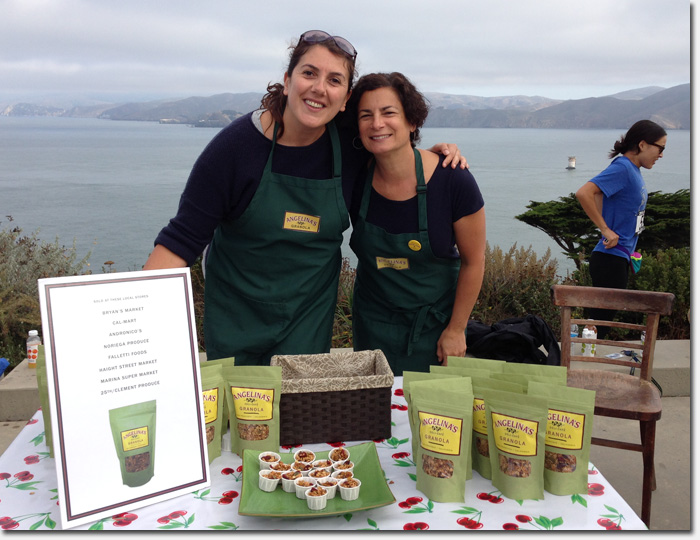 Sponsor Angelina's Cafe & Deli sampling their granola at the finish line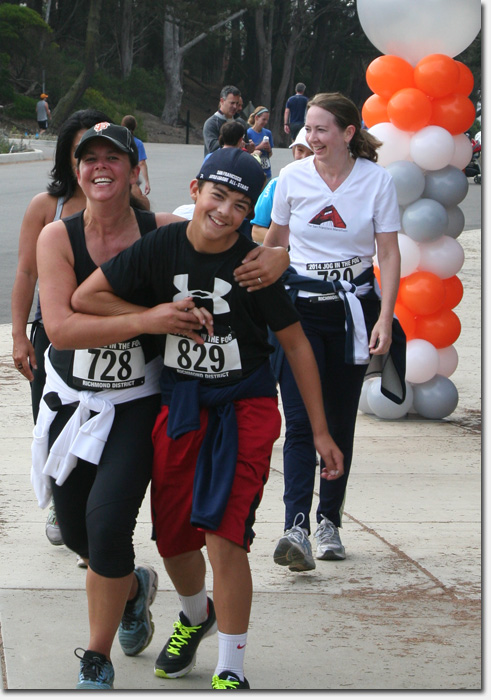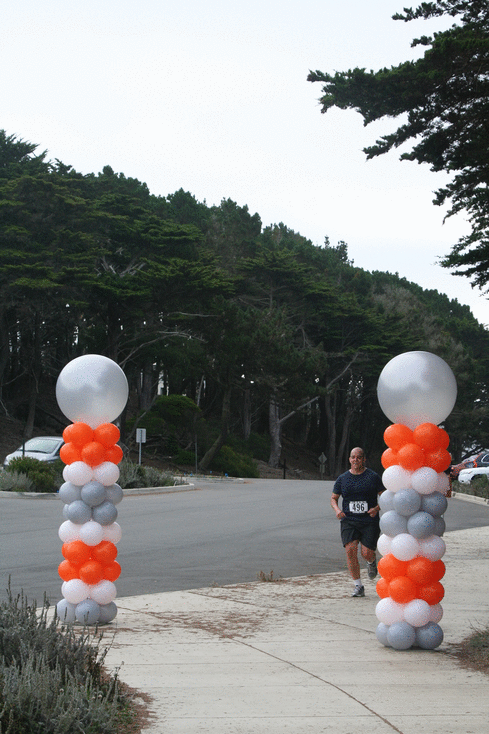 A spirited finisher! (this is an animated gif)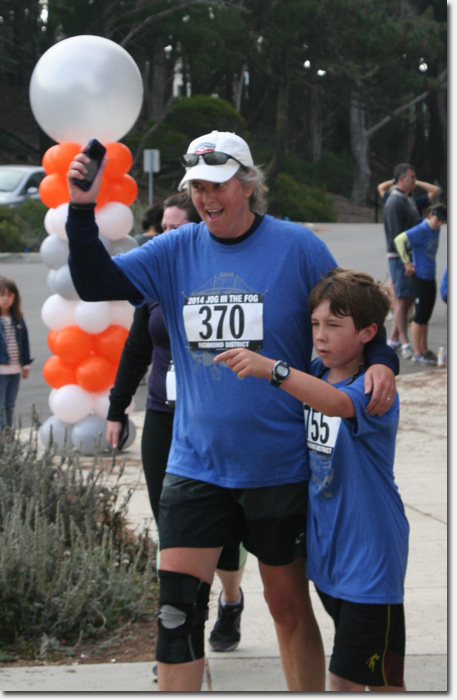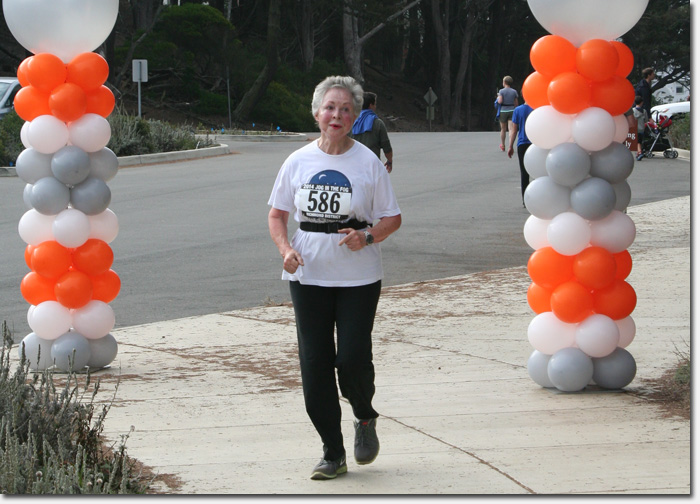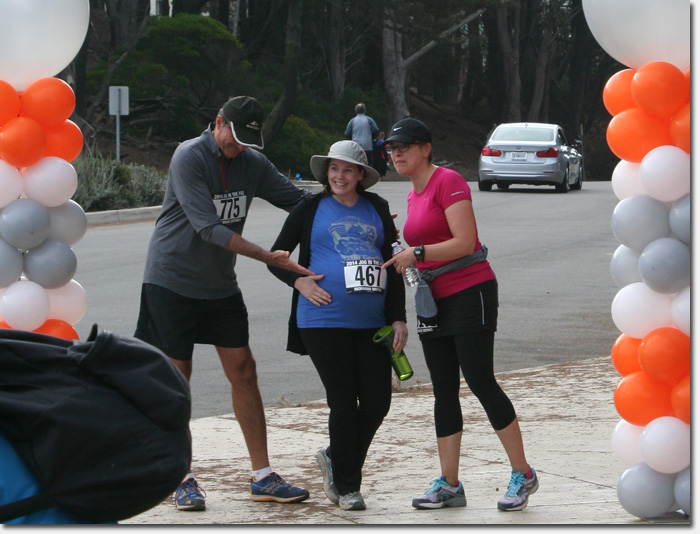 Our most pregnant finisher – 9 months and due next week!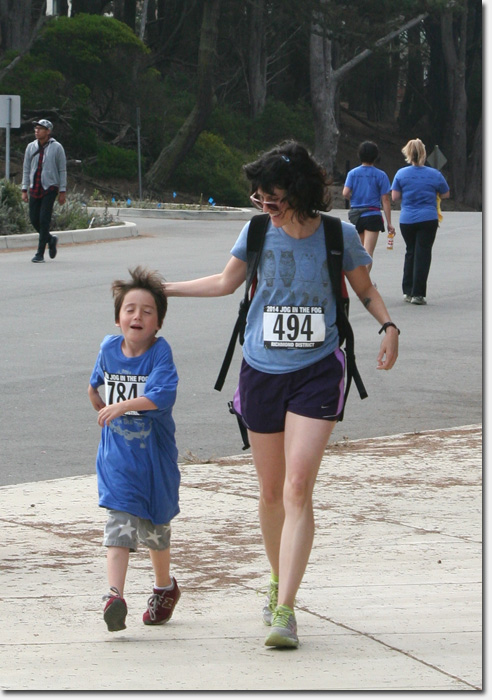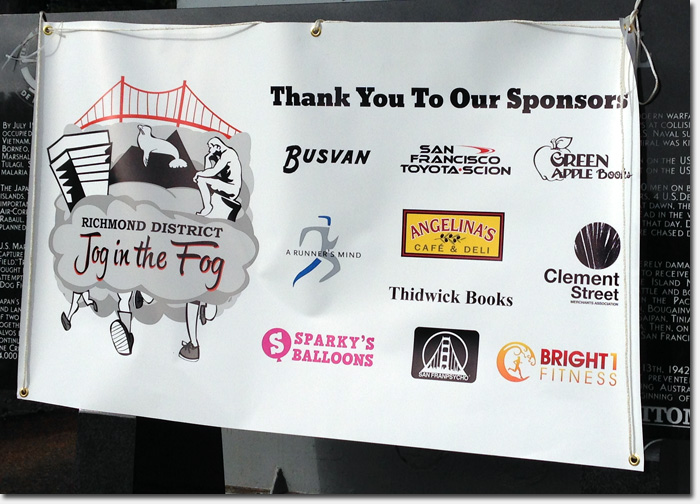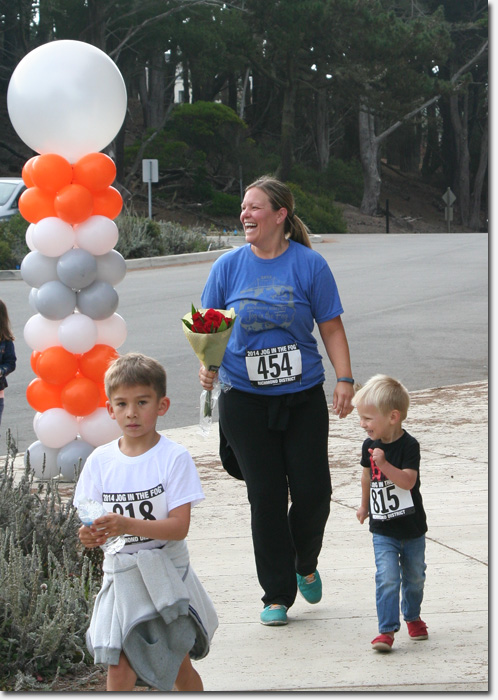 4:15 am | Posted under
Events
,
Photos
|
8 comments