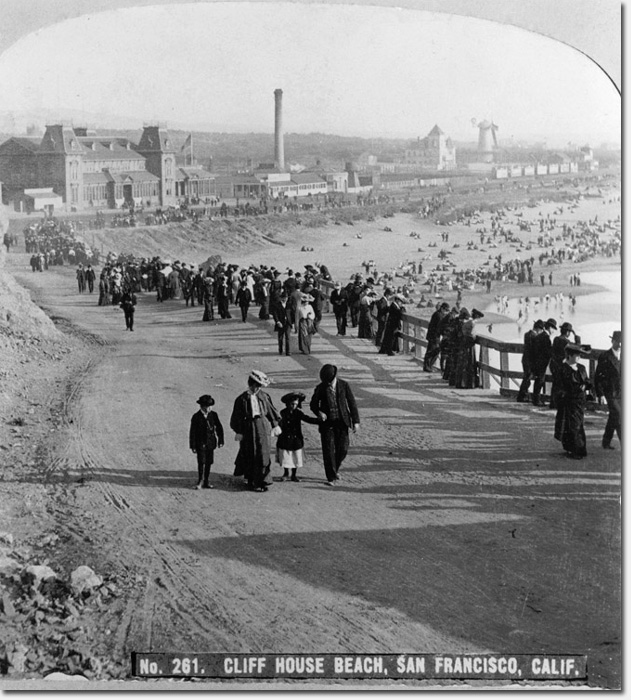 Ocean Beach. View looking southeast from the Cliff House circa 1905.
(Courtesy of a Private Collector & outsidelands.org)
In early 2013, the volunteers at the Western Neighborhoods Project (WNP), a historical group dedicated to preserving the history of San Francisco's western neighborhoods, were offered the chance to take stewardship of a massive photo collection containing thousands of images of San Francisco's past.
The goal: to digitize and archive the photos, and make them available to the public. The collection, spread across more than 25 filing cabinets, contained 8×10 inch prints; acetate, glass, and nitrate negatives; cabinet cards; panoramas; postcards; scrapbooks; yearbooks and other items.
The WNP is a small organization but they took on the task, deciding to initially pilot the project with the historical images from the Cliff House, Sutro Baths, Sutro Heights, and Ocean Beach areas.
"We would sort, rehouse, catalog, digitize, and put online this first installment, then step back to assess the effort, costs, and rewards," they wrote on their website.
Efforts began in summer 2014 and after 6 months of hard work, the WNP shared the first 1,182 images from the pilot last week.
We interviewed WNP members Woody LaBounty, David Gallagher and Nicole Meldahl about the project to find out more about the massive undertaking and why this collection is so significant to their mission, and the city's history.
On your site, you refer to this as "perhaps the greatest collection of historical San Francisco photographs in private hands". What makes it so valuable and great?
Woody: Sheer size to start. We're talking tens of thousands of images. The collector's house is jammed from basement to rafters with filing cabinets of negatives, prints, slides, and ephemera. The quality and clarity of many images is stunning and some items are incredibly important to San Francisco history. We may have discovered the very first photographic view of Alcatraz, for example.
We know these are a from a private collector who wishes to remain unnamed, but do you know how he or she came into possession of these images? You mention that much came from other local collections but do you know any more than that?
Woody: The collector is an accomplished photographer and knows his way around a darkroom. Over the past thirty years, he's made copy negatives and prints from local collectors, institutions, businesses, and libraries, and, like all collectors, he traded and bartered and bought, from flea markets to eBay. The whole collection contains prints of well-known shots many of us have seen (say, much-reproduced views of Market Street or the 1906 earthquake), to one-of-kind negatives that exist nowhere else.
David: What Woody said is correct, I would add that the collector was tenacious in their pursuit of images and finding sources for them.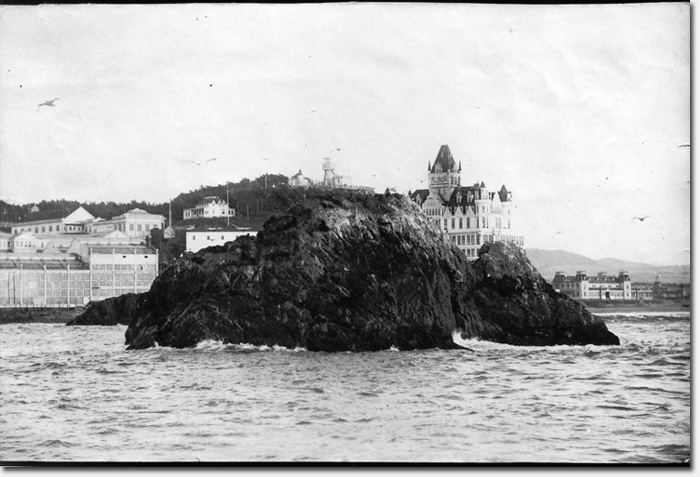 Second Cliff. View looking west from offshore circa 1890 (Courtesy of a Private Collector & outsidelands.org)
Are there more in the collection from the west side? Or just these ones from Cliff House, Sutro Baths, Sutro Heights, and Ocean Beach? If more west side, how much do you estimate?
Woody: Every corner of San Francisco, west side and east, is covered. We came to an agreement with the collector that we would do a pilot project, starting with Ocean Beach views, to see if both sides felt comfortable with the arrangement. This is a huge responsibility, caring for these objects correctly, saving them for future generations, and we didn't want to jump in without being certain we'd have the resources to do it right. This is an ongoing discussion internally, and we are carefully moving forward about taking more.
David: I would estimate that there are hundreds of images for every neighborhood.
Describe the process you went through to digitize a single 8×10 image including a time estimate per image.
David: The over 1600 8×10 prints (made by the PC in his darkroom in the 80s) came to us roughly sorted in 6 boxes arranged by location: Playland, Cliff House, Ocean Beach, Sutro Baths, Sutro Heights, etc. These areas were what we agreed to take in the pilot project, primarily because we all believed that they would be the most popular. These were sorted into a single set, duplicates weeded out ( although we kept at least 2 of each image if we had them), the prints were numbered and rehoused in archival folders and boxes, catalogued in a spreadsheet, the best prints were scanned at 600dpi 13" at the long side (about 7000 pixels) each one took about 2 minutes. The spreadsheet, which documents any notations or words on the prints and the physical folder was used as the basis for adding descriptive information about the image to a database. We put versions of the images on a hidden site online and invited local experts to help with the metadata for each image; adding dates, titles, descriptions, locations, photographer, even other copies on the web. We are also producing an academic finding aid for the collection which will be available on the site at some point. It's hard to estimate the time for an individual image, but suffice to say that it is multiple hours from removing it from the original storage, cataloguing, rehousing, digitizing, documenting, identifying, and posting it to the web. All that is without even interpreting it for the public, which is what we are more known for in the first place.
Nicole: What David said is spot-on. This is been a time intensive labor of love.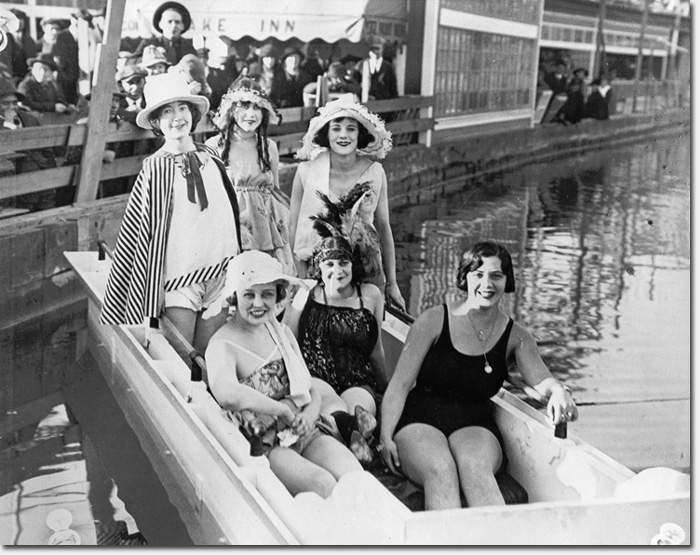 At Playland: Shoot the Chutes circa 1925. (Courtesy of a Private Collector & outsidelands.org)
Who worked on digitizing the collection? Feel free to name volunteers etc – we want to acknowledge them!
David: The collection has had many volunteers and still needs more. Nicole deserves the greatest praise in this, without her archival and cataloguing skills from her 8 tears at the GGNRA, we wouldn't be in a position to accept this at all. I did the heavy lifting of scanning the images and building the interface online to display them. We had documentation help from Dustin Magidson, Julie O'Keefe, Beth McLaughlin, and Brandi Chalker. (all west side residents I might add.) We had expert identifications help from James R. Smith, John Freeman, and especially John Martini who has spent many hours online and in our office. I use the past tense here, but all these efforts are ongoing.
I'm sure you have many, but what are your 3 favorite images from the collection?
Nicole: It's so hard to pick just three! However, a favorite series of mine shows a group of young boys adventuring around Ocean Beach and Lands End. A truly charming slice of life from the early 1920s bit still completely relatable to modern life.
Was there a particular image that made your heart beat faster when you first came across it? Why?
David: I put together the 25 featured images, the ones I thought were the best and most interesting, but my absolute favorite of those is the glass negative showing the view from Sutro Heights in 1895: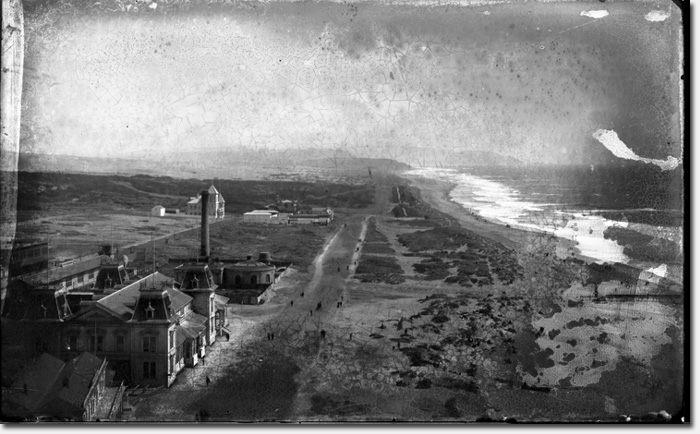 View south. Seal Rock House, Ocean Beach Pavilion, and Lurline Pump Station at left.
(Courtesy of a Private Collector & outsidelands.org)
Nicole: Again, it's too hard to pick just one! We've just received a large series glass negatives that depict the 1894 Mid-Winter Fair in Golden Gate Park. We usually see officially sanctioned images that were mass produced in souvenir publications, but these are more informal and while you lead through them in succession you almost feel as if you're touring the fair in person. In particular, they document the people who worked the fair–not the high profile officials or visitors, but the ladies and gentlemen who worked the exhibits. That was pretty exciting to see.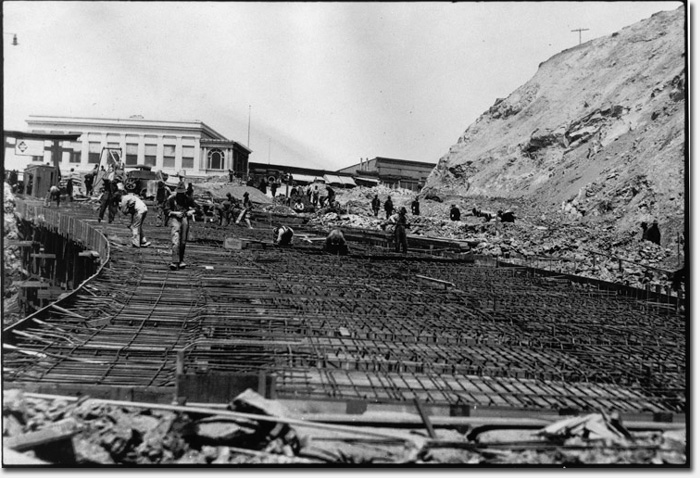 Point Lobos Ave. Paving street near Cliff House 1922. (Courtesy of a Private Collector & outsidelands.org)
Was there an image that you remember that made you say "well that hasn't changed at all!" or "that is completely unrecognizable compared to today"?
Nicole: Visitors to Ocean Beach all take the same photo of friends and family looking up the beach towards the Cliff House, no matter the era. And the versions of the Cliff House may change through the years but that visitor vantage point remains the same. As for unrecognizable, the obvious call would be Sutro Heights and the Sutro family residence that is a shadow of its former glory.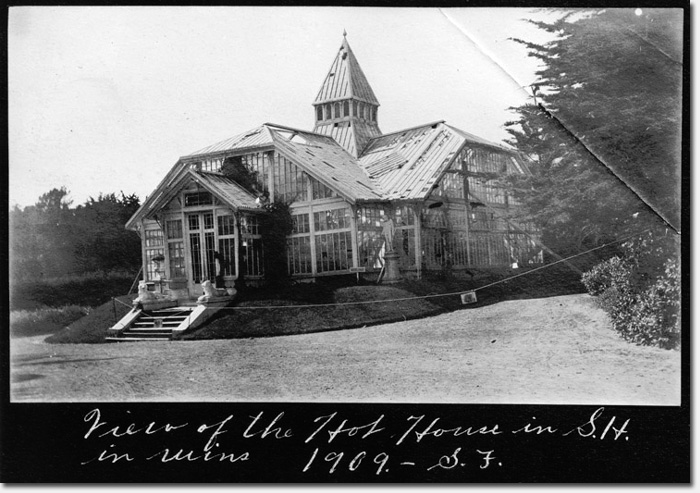 Sutro Heights Conservatory 1909 (Courtesy of a Private Collector & outsidelands.org)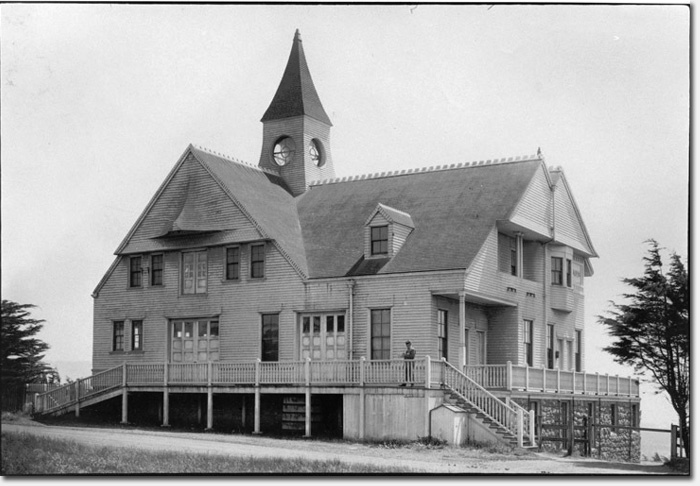 Adolph Sutro's Stable 1910 (Courtesy of a Private Collector & outsidelands.org)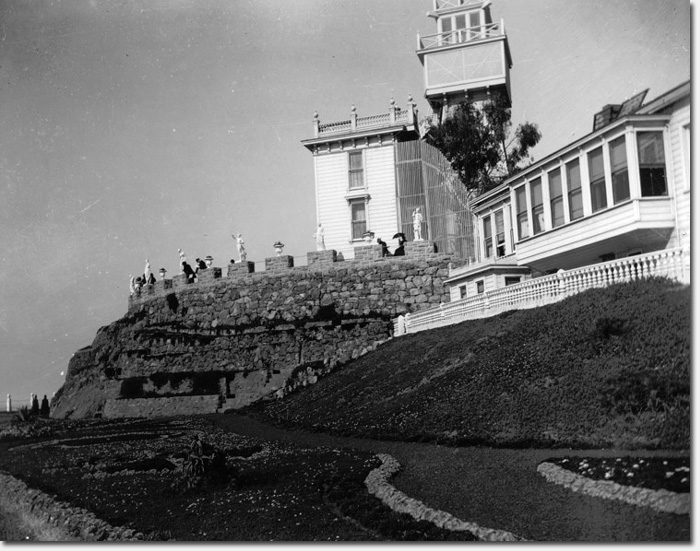 Sutro Heights. View of Adolph Sutro's residence and observatory tower circa 1895 (Courtesy of a Private Collector & outsidelands.org)
What surprised you about these images? Were there any social or cultural findings that surprised you?
David: One detail I love in seeing the large scans of these is the bicycles. We talk on our site about the bicycle culture that existed in the 1890s, the Lady Falcons of Carville for example, but it's another thing to see bicycles sitting around in so many of the pictures. I know it's a long hard ride to get all the way out to the beach, ok it's harder getting back, but folks have been doing it for more than 100 years!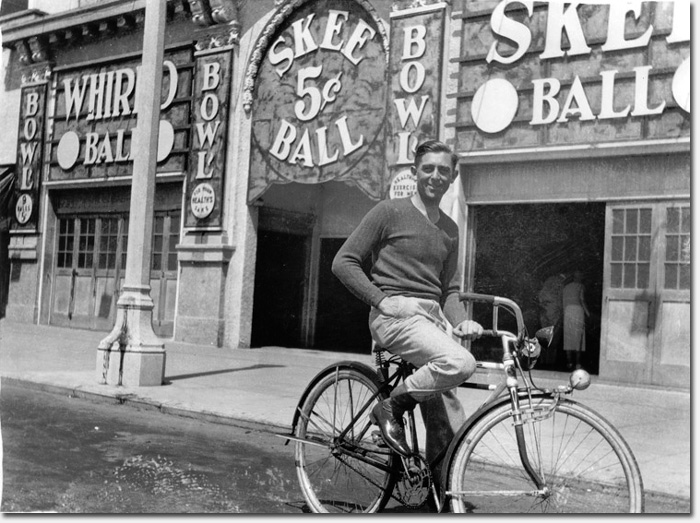 Leonard Mendoza in front of the Skeeball parlor at Playland. circa 1935. (Courtesy of a Private Collector & outsidelands.org)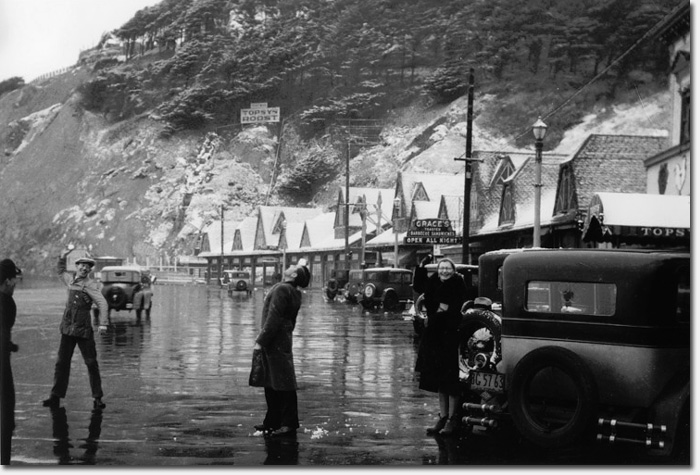 Snow on Ocean Beach Dec 11, 1932. (Courtesy of a Private Collector & outsidelands.org)
Nicole: Even after eight years of processing and researching historical images of San Francisco, I am always struck by how the City is continually evolving yet the people–be they plumbers, politicians, or someone in between–are the same. They visit the Conservatory of Flowers, they picnic in the sand at Ocean Beach, they come out in droves to see a shipwreck at Lands End. San Francisco's changing landscape and the sociability of San Franciscans are the same now as they were in 1890, the only difference being technology and fashion! (And probably a few other differences too)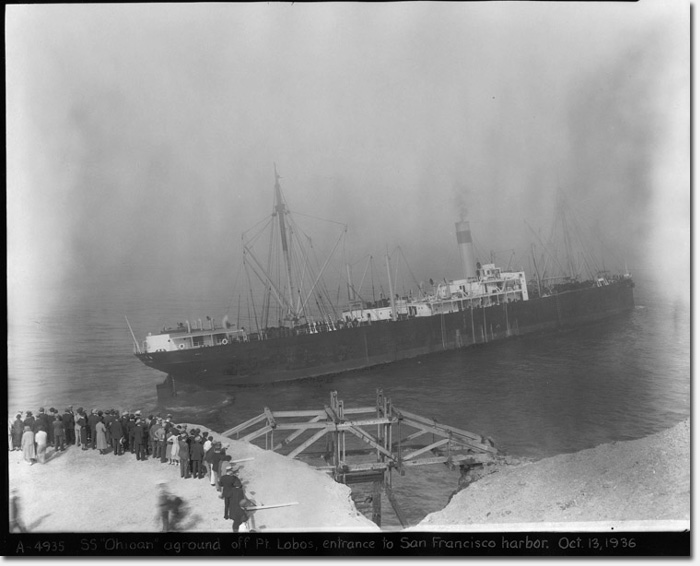 Wreck of the freighter Ohioan at Point Lobos 1936 (Courtesy of a Private Collector & outsidelands.org)
What was the total spend for this pilot, be it $ and / or volunteer hours?
David: Specifically for the pilot project we received donations of over $12,000. All of it was used for archival supplies, equipment and software. Volunteer hours amounted to at least 2500.
Do you plan to make these available to other digital archives? And if so, which one(s)?
Woody: We're exploring best practices in the display, organization, and contextualization of historical images online. We're contacted frequently to add Western Neighborhoods Project content (mostly images) to mobile platforms, aggregation sites/projects, social media groups, and slideshow presentations for use on other sites. Our mission is to share history with the public, so we're not opposed to a lot of this, but we want to make sure that the information that travels with an image is accurate and that people have an easy way to find out more (usually linking to our site). So we are open to such an idea if it makes sense.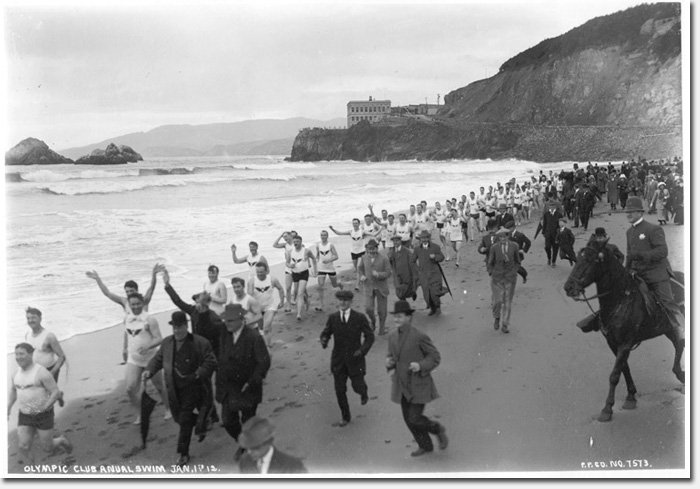 Ocean Beach. Olympic Club run and swim 1912. (Courtesy of a Private Collector & outsidelands.org)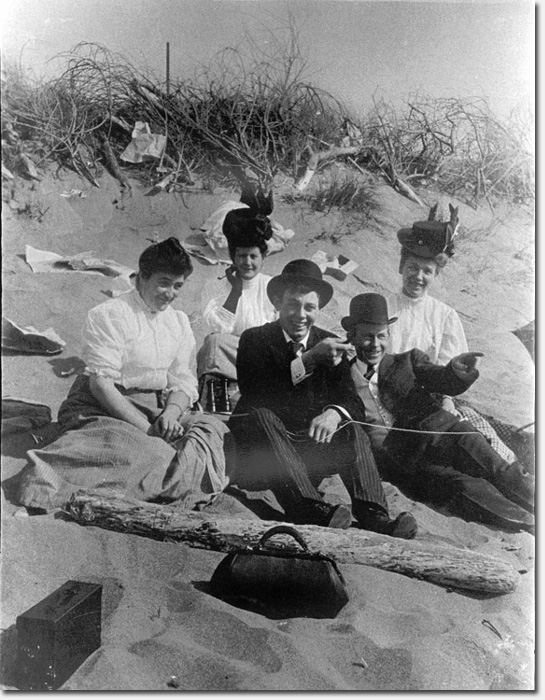 Picnickers at Ocean Beach circa 1910 (Courtesy of a Private Collector & outsidelands.org)
If there was one place or event you could travel back in time to in the neighborhood, what would it be and why?
Woody: In the Richmond? Well, my family is from here, so I selfishly would like to go back to my great-grandparents house on 16th Avenue a century ago to chat up my relatives. Other than that, I think an 1897 stroll around the Victorian Cliff House (what's going on in those towers?), a brand-new Sutro Baths, and some tea with Adolph Sutro in his library above it all sounds great.
David: It's hard to argue with Woody's idea, but I wouldn't mind taking the Park and Ocean Railroad out from Haight and Stanyan all the way to end of the line at 49th and B then setting up a barstool at the Seal Rock House or Ocean Beach Pavilion. (maybe climbing some shipwreck junk while I'm out there.)
Nicole: This might seem a little too recent, but I wish I could have seen Robin Williams perform at Holy City Zoo on Clement. His high energy comedy in a space that intimate would have been unforgettable.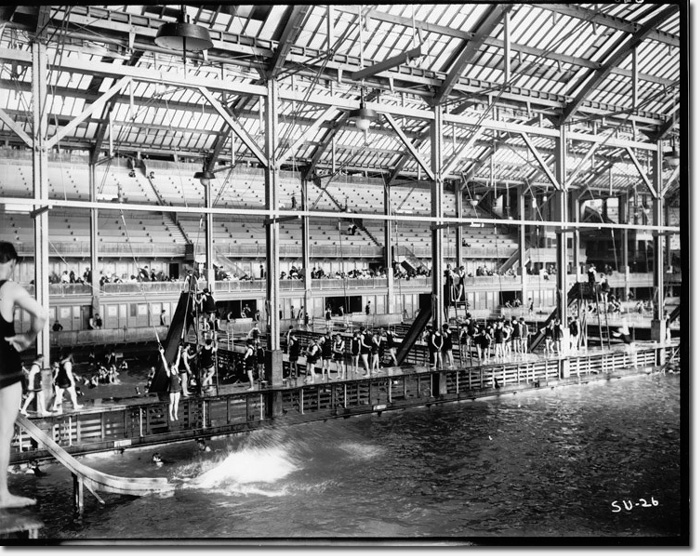 Sutro Baths. Bathers in pools with bleachers in background circa 1910 (Courtesy of a Private Collector & outsidelands.org)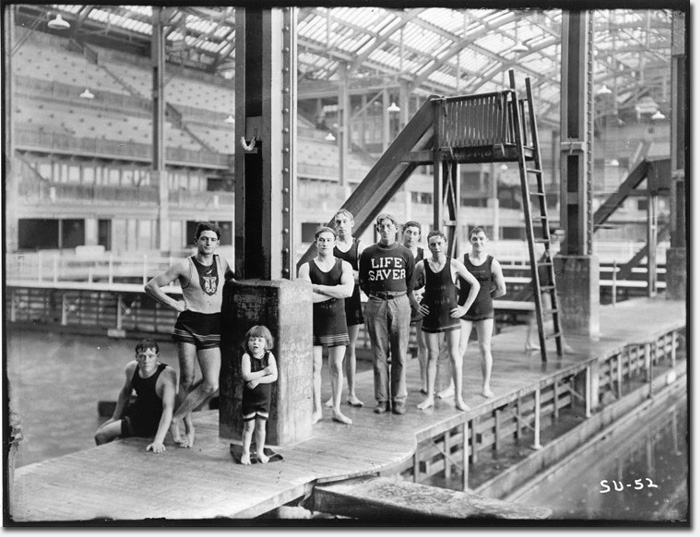 Sutro Baths. Life Saver and swimmers circa 1910 (Courtesy of a Private Collector & outsidelands.org)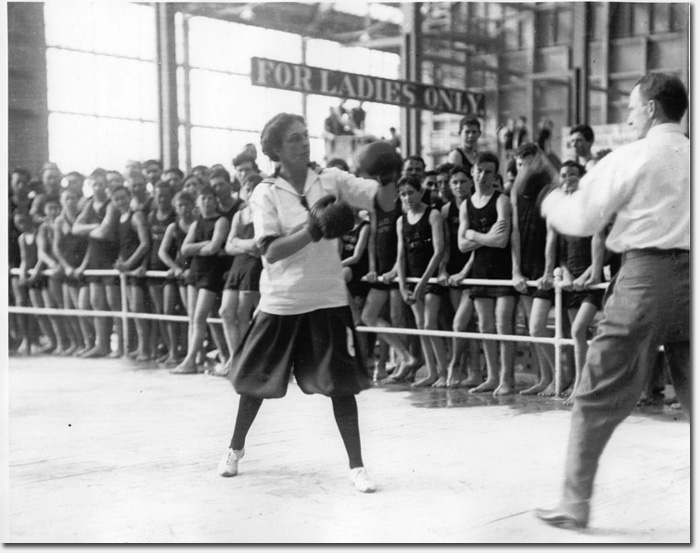 Sutro Baths. Woman and man in boxing match circa 1910. (Courtesy of a Private Collector & outsidelands.org)
4:15 am | Posted under
History
,
Ocean Beach
,
Photos
|
24 comments