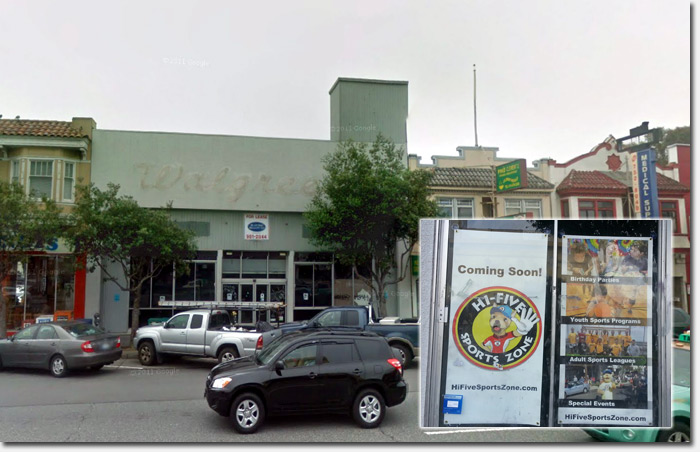 What was once a former Walgreens at 5411 Geary near 18th Avenue is soon to be a Hi-Five Sports Zone, a 5,000 square foot sports facility designed for private events and athletic development.
According to their website, Hi-Five's "classes, leagues, and camps are designed from Hi-Five's proprietary curriculums that have been proven and tested for over 20 years".
The facility, which includes a large basketball court, can also be used for birthday parties, team practices and other athletic events for $100 per hour.
We spoke to Ryan Tuchman, CEO of Hi-Five Sports which started as a family business in Chicago in 1990. The company also offers its programs, designed for kids age 2-10 years, in Menlo Park, Atherton and Scottsdale, AZ.
The Geary location is the first brick-and-mortar location for Hi-Five Sports, which typically relies on venue rentals from schools, Rec & Park or other indoor venues for their programs.
Ryan says that the new location will feature "kid-sized" equipment. The basketball court will be large enough for adults to play on, but hoops will be a bit lower, and it can be covered in turf to accommodate soccer, flag football and tee-ball games.
Hi-Five chose the Richmond District for their first location because "it's in a residential part of the city where families live, and there is a lack of indoor sports facilities there. And the space was perfect for what we needed."
The company has hired General Manager Chris Tabarez, a former San Francisco State Gator and professional basketball player in Mexico, a teacher, coach, and athletic Director to run the new facility.
Ryan says construction is already underway inside the space and they anticipate opening in May or June of this year.
The company's icon is Mascot Murphy, a French bulldog decked out in athletic gear. Ryan said to look for him around the neighborhood and that a possible "Murphy for Supervisor" campaign may be in the works.
It will be great to finally have that space occupied on Geary. Pressure's on, Alexandria!
Thanks to cub reporter David H. (and other readers) for the tip.
Sarah B.
2:08 pm | Posted under
Business
,
Kids
,
Sports
|
14 comments