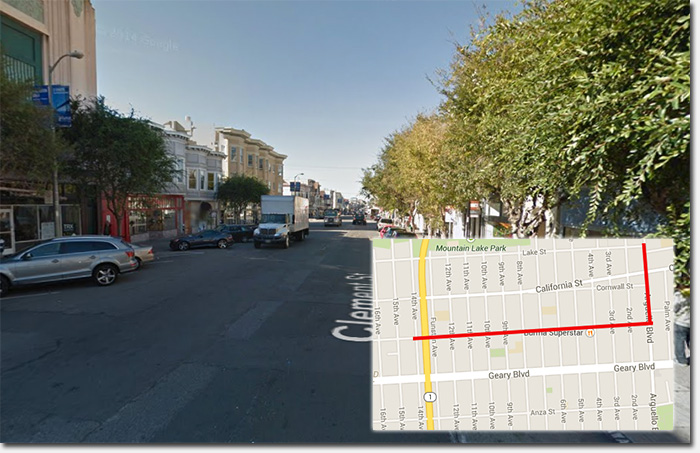 Get ready for some traffic disruptions along Clement Street for the next year.
Starting March 23, 2015, a SFPUC contractor will embark on a 300 day project to replace the water main lines below Clement Street from Arguello to 14th Avenue. The blocks of Arguello Boulevard from Geary to Lake will also have its water main pipes replaced.
According to the SFPUC:
The contractor will most likely begin on Clement and Arguello and work west towards 14th, then work on Arguello. For Clement the pipe is to be installed on the north side of Clement Street although parking will be impacted on both sides of the specific block the contractor is working on.

For Arguello Boulevard the pipe will be installed on the east side of the street and the contractor will likely work from Geary to Lake.

The contractor will post no parking signs on the blocks affected, once work begins they will saw cut the street where the new pipe is to be installed; then demolition of the asphalt; installation of pipe, back fill and temporarily paved and the move on to next block. The connections from properties to new pipe will be performed by the water department and will come later in the project. There will need to be a short interruption of water service to make these connections and advanced notice will be given and every effort to accommodate the best time for businesses will be made.
A 30-day notice will be mailed to all business/residents along the project route, and any business/residents that will have their water service interrupted during the project will also be notified.
We asked Roberto Lopez of the SFPUC how this construction will affect the weekly Sunday Farmer's Market that runs on Clement from 9am to 2pm. His response:
I've been in communication with the Farmer's Market to discuss this. The contractor is likely to move all equipment/materials off Clement Street on blocks where the Farmer's market occupies (Arguello to 4th). Any areas where a pipe trench is present and where not enough time to back fill and temporarily paved will be plated over with steel plates.
You all know the drill – old city, old infrastructure that needs replacing. Deep breaths, people!
Sarah B.
4:36 am | Posted under
Traffic
,
Utilities
|
11 comments