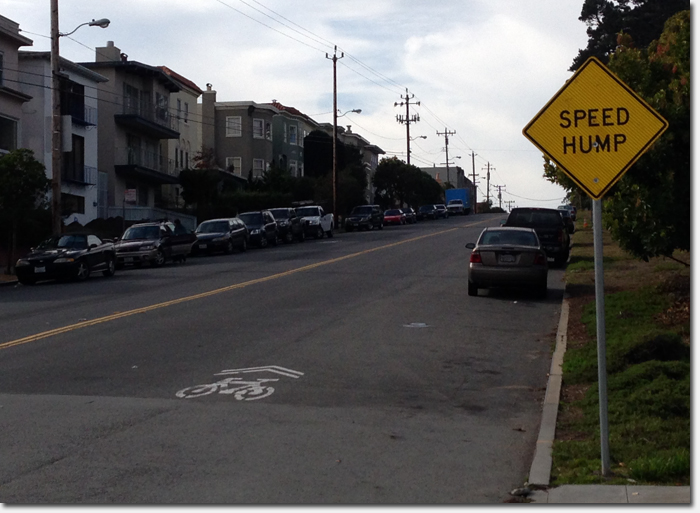 Speed hump? Really? Where?
We got a couple of emails recently about a mysterious disappearance in the outer Richmond.
There was a speed hump installed recently on Clement Street near the intersection of 36th Avenue. They even installed a warning sign on the north curb.
But suddenly, late last week, the speed hump vanished. Only the warning sign remains.
The SFMTA has been busy this year installing traffic calming in various spots around the neighborhood including Lake Street, the infamous (and neighborhood's only) roundabout at 23rd Avenue and Anza, and out on Point Lobos Avenue.
Did they need the concrete from this hump for another project? Or did someone living nearby convince them it's usefulness had expired? Or did a swampy sinkhole swallow it up?
It was a curious hump, on an uphill block – albeit on a long stretch of Clement Street that has no stop signs.
One reader wrote "it was huge – safe to cross it at 5 mph, no higher." Maybe it was TOO big? Size does matter when it comes to humps.
If you've seen the hump wandering the neighborhood, let it know some residents have been asking about its well being. If we hear back from 311 on the matter, we'll let you know.
UPDATE: The speed hump was removed because the initial installation was "out of spec" according to the SFMTA. As many of you have commented, the speed hump was too high. It will be replaced, but we were not given a firm date as to when. There are additional speed humps planned for that stretch of Clement as well.
Sarah B.
5:09 pm | Posted under
Traffic
|
27 comments