It's time to take a trip down memory lane and check out the most popular stories from this past year. From faery doors to farmer's markets to sinkholes to human remains – our readers have a wide range of interests! It's been our pleasure to cover it all.
Thanks for coming along for the ride in 2013! We can't wait to see what 2014 has in store…
Sarah B.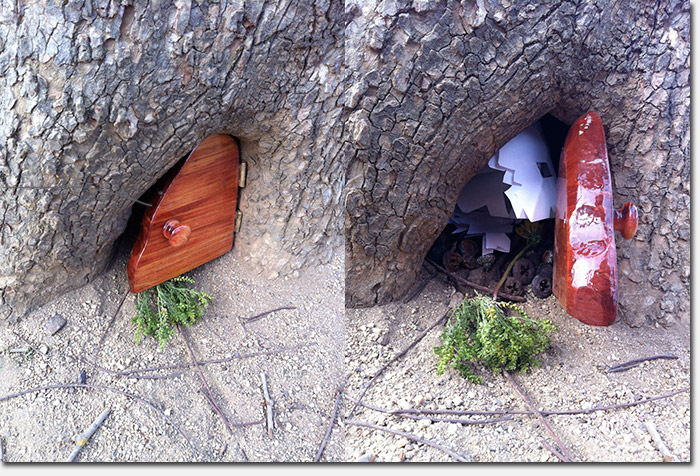 The original miniature faery door installed near the concourse in Golden Gate Park, filled with offerings from visitors. Photos by Erica Reh
1. The Mysterious Mini-Door in Golden Gate Park
This delightful story captured the hearts and imagination of readers not only in the neighborhood, but around the world. The story was full of whimsy, wishes and even shady politics when Rec & Park decided to remove the door without even serving the faeries an eviction notice. Undeterred, the father and son team behind its creation fashioned another bureaucrat-approved door that they installed in another spot in the park. The faeries even answer their mail from time to time…
2. De Place restaurant on Geary closes after only three weeks
After licking the wounds of Video Cafe closing, neighbors eagerly awaited the new restaurant that would open on the corner of 21st and Geary. It was under construction for months and when it finally opened with the underwhelming name of "De Place", it sported tv screens, fountains, ample seating and a giant crawfish statue that greeted diners at the door. But after just three weeks, a sign on the door said they were closed, with the vague explanation of "we are not able to enlist the staffs than can assist us with our operation". Things that make you go hmm.
3. Clement Street Farmer's Market makes it debut
It took several years to come together but the Richmond District finally made it onto the Farmer's Market map, debuting the Sunday market on Clement Street between 2nd and 4th Avenues on June 23. The market was an instant hit with shoppers and vendors, and has been approved to run weekly through June of 2014 (and will likely be extended after that).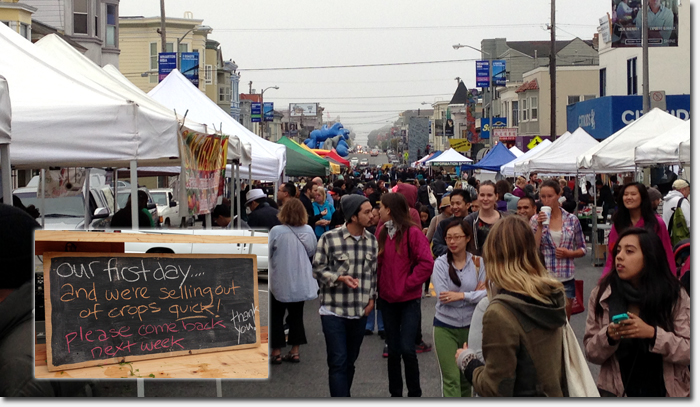 4. Large HUGE sinkole opens up on Lake and 2nd Avenue
This story brought us one of our best photo ops of the year… Around 5:30pm on a weekday afternoon in May, the road gave way to a huge sinkhole on Lake Street and bungled up traffic for several hours, even attracting news helicopters overhead. The rupture of a 19 inch sewer drain was responsible for the fiasco.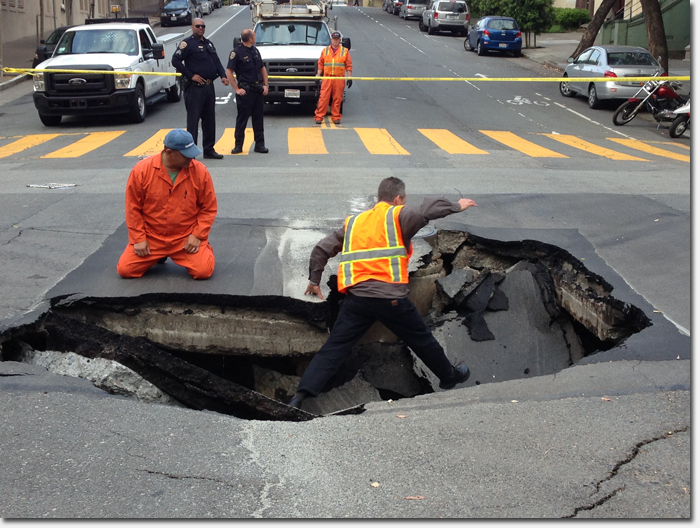 5. Fresh & Easy to close all stores; what will happen to the Richmond District location?
In April, Fresh & Easy's parent company, Tesco, announced they were planning to close all of the nearly 200 stores in the chain. The Richmond District location on 32nd Avenue and Clement hadn't even been open two years. In September, we got the news that billionaire investor Ron Burkle was buying the Fresh & Easy chain and that only 50 of the stores would be shuttered – and the Richmon District location is not one of them. Phew!
6. Shooting at 29th & Geary
Thankfully, we don't see a lot of violent crime in the neighborhood, so when gunshots rang out at 7pm on a Sunday night on Geary near 29th Avenue, it sent a ripple through the neighborhood. A few eyewitnesses left their comments about what happened, and to date, we haven't heard any news of an arrest of more information about the crime.
7. Bicycle lane on JFK Drive in Golden Gate Park cause for concern
We reprinted an article from the Richmond Review (because we agreed with it) about the new, questionable configuration of the bike lanes on JFK Drive in Golden Gate Park. Like most cycling stories, this set off a debate in the comments, which had both bikers and non-bikers taking both sides of the arguments. SFMTA, what say you?
8. What (or whom?) lies beneath the Legion of Honor?
Readers seemed to enjoy our Halloween photo special of human remains underneath the Legion of Honor Museum. They were discovered during the 1993 renovation and were photographed extensively by Richard Barnes. And yes, they're still there.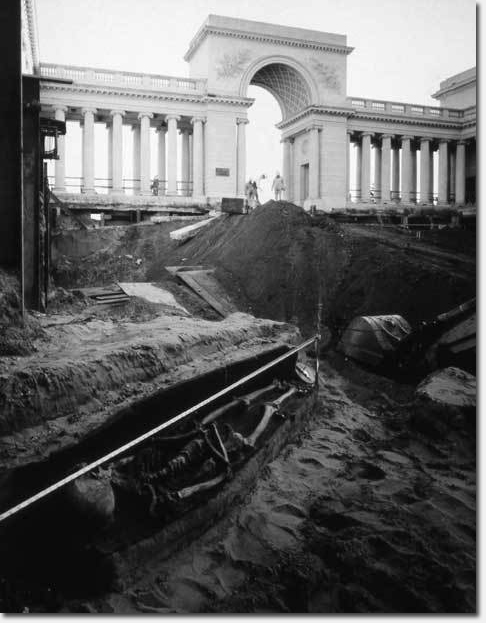 Photo by Richard Barnes
9. Neighborhood's first traffic circle installed at 23rd & Anza
Heads were being scratched after this roundabout was installed in January. It's the only one in the Richmond District and it's unusual/non-standard because it has stop signs on all sides, making it more decorative than calming. So it was hardly surprising when KRON TV's Stanley Roberts provided video proof of how badly people navigated the circle. SFMTA is supposedly planning more for the neighborhood, ugh.
10. Haig's Delicacies closing after 57 years
We do love our businesses here in the Richmond District, so many readers were saddened when Haig's on Clement Street announced they were closing their doors after a half century. Beloved for the selection of spices and hard to find foods, commenters lamented the loss. A new spot (Local's Cafe?) is under construction in the space, and it's from one of the owners of Chomp & Swig. We'll keep you posted.
4:30 am | Posted under
Business
,
Crime
,
Golden Gate Park
,
Traffic
|
1 comment