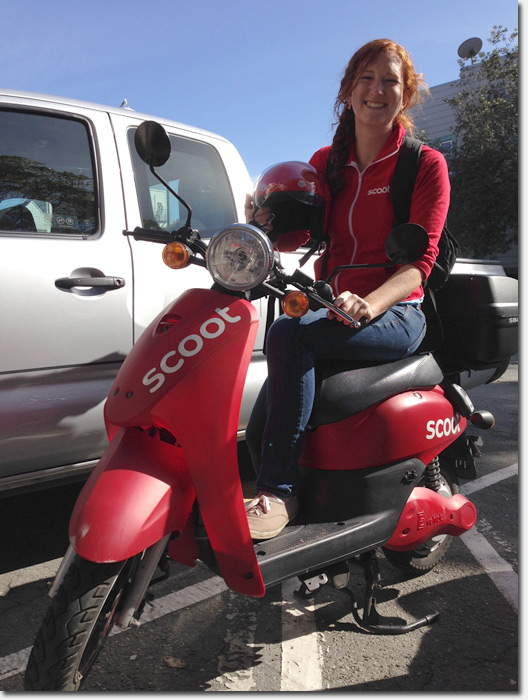 Scoot trainer Kelly at our orientation
More and more companies are enabling San Franciscans to get around town quickly and easily. Last year, the city implemented the Bay Area Bikeshare program, enabling point to point, short-term rides at affordable rates. And companies like ZipCar and City CarShare have been around for awhile now, making car rental close to home effortless and affordable.
Now there's a new player in the cheap, green transportation game. Scoot Networks (scootnetworks.com), which has been in business for about a year, offers affordable rentals of electric scooters in San Francisco. Riders can pick up at one location and drop off at another for short trips, or rent the scooter for up to 48 hours (longer if you have a motorcycle license).
The latest location to open up is right here in the neighborhood near the corner of 7th and Clement. Our Scoot location houses 2-3 scooters at any given time, and can be accessed 24 hours a day.
Signing up for Scoot is easy through their website. Before you can start renting, you have to attend a useful, 45 minute orientation class with a Scoot team member. We took ours on Sunday in the parking lot on 8th Avenue near Clement, covering the basics of the Scoot app and the how-to's of the electric scooter.
Scoot's fleet is all electric, and the app (native for iOS, mobile web for Android) does much of the heavy lifting. Log on to the app, find an available scoot on a map of the city, and reserve it. Once you get to the pickup location, simply mount your phone into the holder (charger is included), log into the app, and tap "turn on" to power on the scooter. The scooter powers up remotely via GPS and the app shows you how much charge the scooter has, how fast you're going etc.
Driving the scooter is easy – there's no shifting or special controls to master. During orientation, you're shown how to reserve your scoot, get it started, control it, park it, and when you're done with the rental, return it to an official Scoot parking location. The app shows you where there is an available spot in the Scoot network to park.
A fully charged Scoot scooter has a range of 5-10 miles depending on your terrain, and it takes 3-5 hours for a full charge.
After completing training, our instructor Kelly advised us to follow the Scoot motto – Be safe! Be seen! Be nice! – and sent us on our way. I had a 35% charge and decided to head out to the Cliff House to see how the vehicle performed on some minor hills.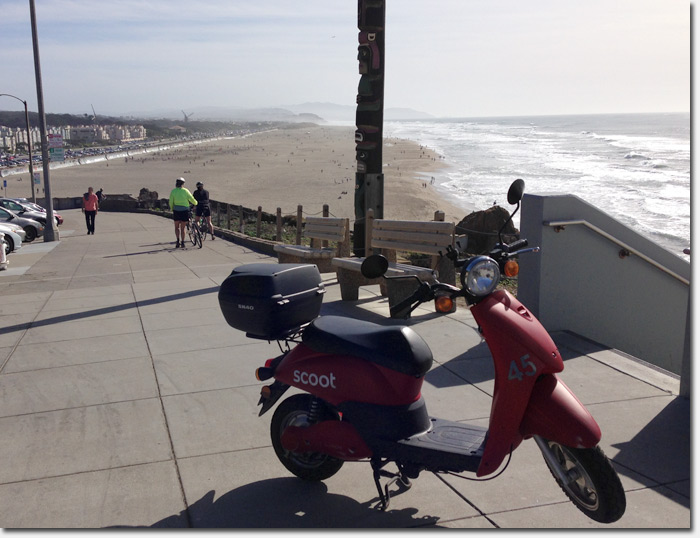 Riding a scooter is just plain fun, especially on a nice, sunny day. The scooters have a max speed of 25-30 miles per hour which when you're riding it, feels like more than enough. I was surprised by its guts on a flat block and pleasantly surprised with its hill performance. The scooter also includes a helmet (two sizes to choose from) and a storage compartment if you need to carry some items on your ride.
The app has helpful features to keep you up to date on your scooter's health. It displays your current charge which you can tap on to see the approximate mileage you have left. When I left 8th and Clement I had about 33% charge remaining, and after out to the Cliff House and back, was at 18%.
The app texted me when I reached 25% charge, urging me to seek out a place to recharge (tip: plugshare.com – web or app – is a great directory for such things). There are a few public charging stations in Golden Gate Park, but any standard electrical outlet will do.
Pricing for using the Scoot Network varies depending on the membership plan you choose and how many hours you keep your rental. The most basic plan is $5 per month, and the first half hour of every ride is just $3. Keep it longer than 30 minutes and the rate is $1.50 per half hour for the daytime, and $.25 for the nighttime hours. Other membership plans are available for $10 and $29 per month, with varying hourly rates.
If you get really hooked, you can rent a scooter 24/7 for $185 per month.
Like many vehicle sharing programs, you'll find the most economy with Scoot on short, point to point rides. Maybe you don't want to take Muni home from work so you pick up a Scoot downtown for the commute home. It does take some planning though as you want to make sure you have a Scoot location to return it to near your destination.
Daniel, another student in our orientation class, lives in the Richmond and says he is thinking about using the scooter to go back and forth to school. "It ends up costing me about the same as Muni on the short rides," he said.
When you return your scoot, you put the helmet back in the storage compartment, plug in the charging unit, and lock the front wheel in place. Then just hit "End" in the app to conclude your rental. That puts your scooter back into the available rental network, where prospective riders can see its location and available charge.
We had a lot of fun on our scoot around the neighborhood, and could see this catching on as an easy, affordable way to get around town. Where would you scoot to?
UPDATE: Scoot Networks is offering Richmond Blog readers a discount. Signup for Scoot this week (by 2/23/14), use the promo code #RICHMONDBLOG and get $10 of riding credit.
Sarah B.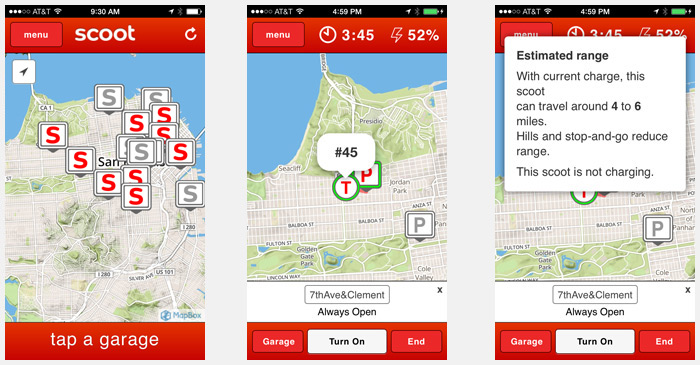 Screenshots from the Scoot app showing available scooters in red,
a reserved scooter, and estimated miles remaining on your charge.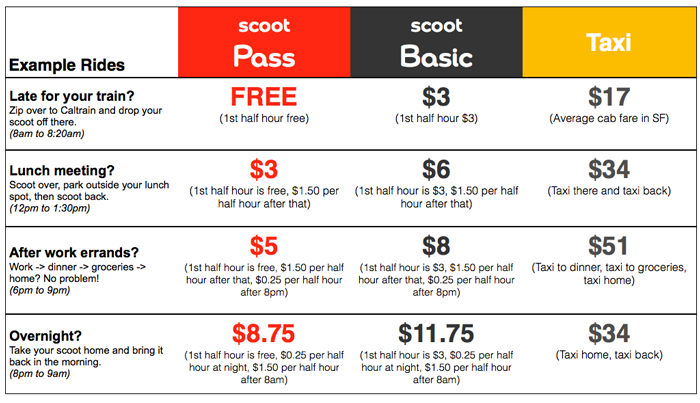 4:45 am | Posted under
Green
,
Transportation
|
8 comments