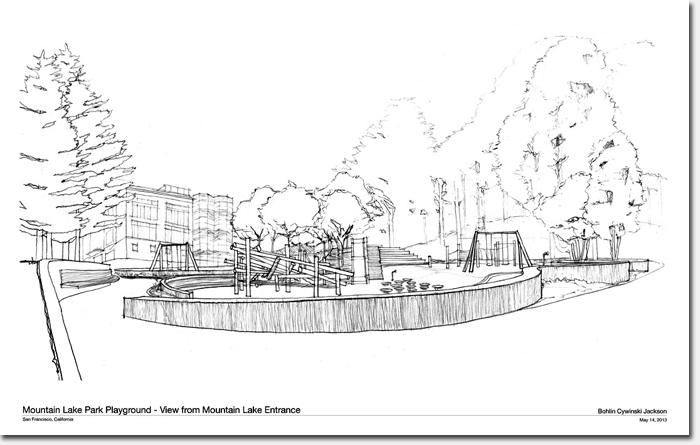 A rendering of the new playground, as viewed from the Mountain Lake entrance
Last November, we told you about the project that is underway for a much needed renovation of the playground at Mountain Lake Park.
The planned renovation will feature brand new structures and separate play areas for preschool and school age children. The new playground will also have additional seating, expanded picnic and parents' areas, and enhanced lake views. For improved safety and accessibility there will be limited entry points, smooth surfaces throughout, and improved sight lines for watching multiple children.
The playground was last renovated in the early 1980's, and is well overdue for an upgrade. The $3.1 million cost for the playground renovation is primarily covered by a 2012 bond measure, but a small group of neighborhood Moms undertook the task of raising the remaining funds.
"It's critical that we raise $750,000 by May of next year," Claire Myers told us last November, who teamed up with friends and fellow moms Jen Fetner and Kate Green to create the Friends of Mountain Lake Park Playground to lead the renovation effort.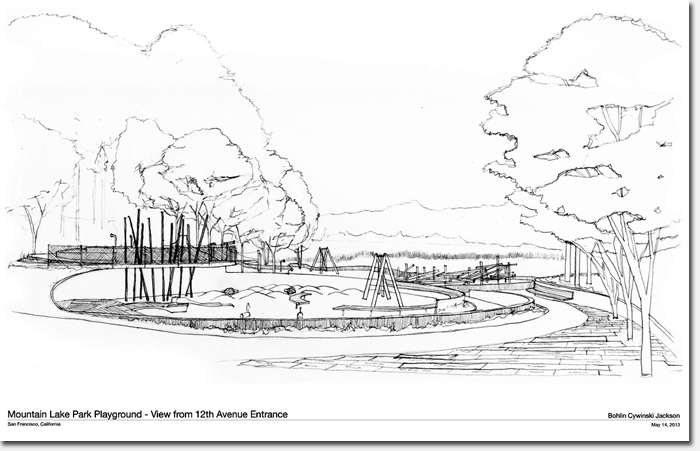 A rendering of the new playground, as viewed from the 12th Avenue entrance
Fast forward to today and the group has some exciting news to share.
"Supervisor Mark Farrell successfully helped to secure an additional $250,000 in funding from the City for the playground renovation recently. This additional funding, as well as our very successful fundraising campaign this past spring, means that we only have the last $150,000 to raise to make our new playground a reality," Myers told us in an email.
Now, Myers said, they're on a final push to raise the remaining $150,000 which needs to be in place for construction to begin this Fall. If everything stays on schedule, kids will be playing on a new Mountain Lake Park playground in Fall 2015.
The FMLPP is now turning to the community (that's you, readers!) to help them reach their goal. Donations are tax-deductible and can be sent in online through the Parks Alliance website, or by sending a check to:
San Francisco Parks Alliance*
P.O. Box 170160
San Francisco, CA 94117-0160
*In the memo line of your check, please write "Friends of Mountain Lake Park Playground"
Any amount is appreciated – even $20 makes a difference – and donations at the $1,000 level or higher are eligible for recognition in the new playground via pavers, park benches and more. Merchants and businesses are also welcome donors.
To find out more about the Mountain Lake Park playground renovation, visit the FMLPP website or email info@flmpp.org.
Sarah B.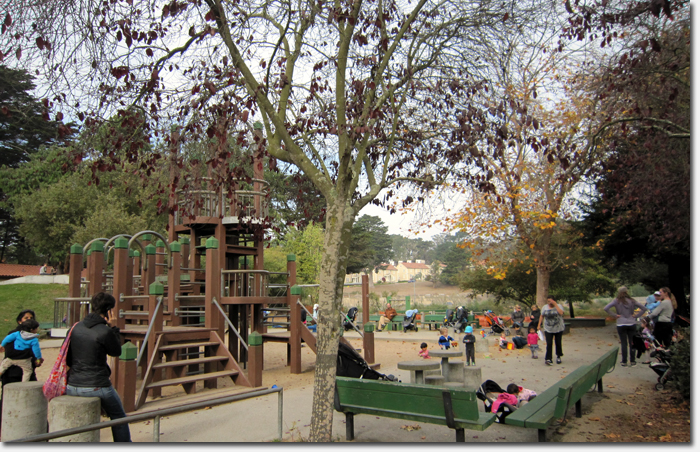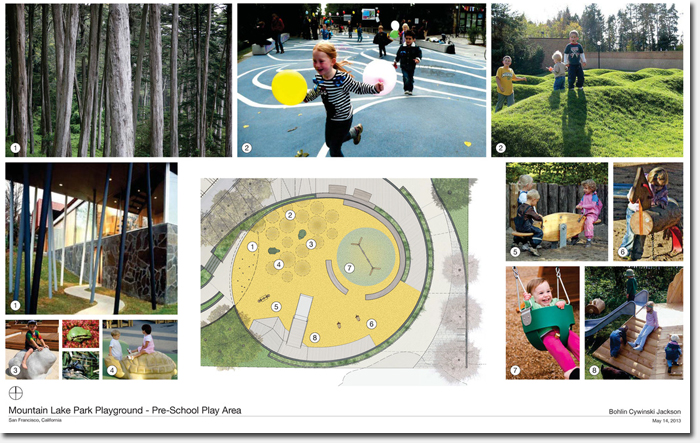 A rendering and examples of the structures in the pre-school side of the new playground. Click to enlarge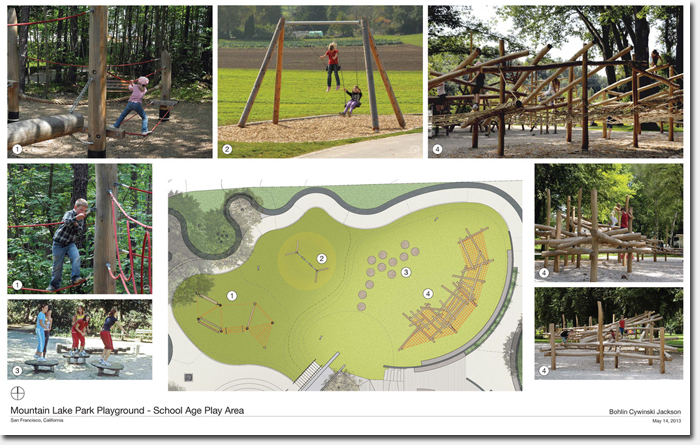 A rendering and examples of the structures in the school-age side of the new playground. Click to enlarge
4:30 am | Posted under
Parks
|
3 comments