There are two big events taking place in Golden Gate Park this weekend:
TOUR DE FAT SPONSORED BY NEW BELGIUM BREWING COMPANY
Saturday, September 13 – 10am – 5pm | Lindley Meadow in Golden Gate Park | Free admission
Self-described as a "traveling celebration of all things bicycle, honoring mankind's greatest invention", this annual festival features many things bicycle, along with live music and beer. In its 15th year in San Francisco, the festival kicks off with a costumed bicycle parade that winds through Golden Gate Park. That's when eclectic entertainment takes over from musical acts to yo-yo performers, bike contests and even vaudeville acts. This year will also include some brewing education and feature a "Bicycle Revival" to inspire festival-goers to believe in the power of two-wheeled transportation. See the event schedule
COMEDY DAY
Sunday, September 14 – 12pm – 5:30pm | Sharon Meadow in Golden Gate Park | Free admission
Get ready to laugh as 40 professional comedians perform at the 34th annual Comedy Day. This was a favorite stop for Robin Williams, so expect some kind of tribute to the late comedian. This year's performers include Margaret Cho, Scott Capurro, Will Durst, Keith D'Souza, Bob Sarlatte and Tom Ammiano. Comedy is PG-13 related so don't worry about bringing the kids.
Sarah B.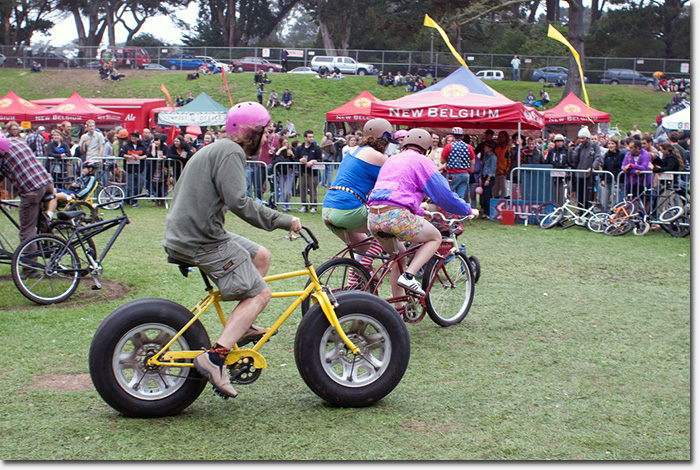 Tour de Fat 2011. Photo by SF Bicycle Coalition
11:50 am | Posted under
Events
,
Golden Gate Park
|
1 comment