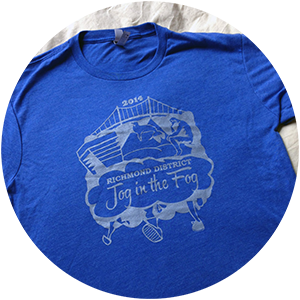 Don't procrastinate any longer! Your neighborhood Jog in the Fog 5k is this Sunday and if you don't sign up by today, no t-shirt for you.

Boooo! No one wants THAT!
Jog in the Fog is a 5k fun run, and both runners and walkers of all ages are welcome. The course begins in Mountain Lake Park, winds down Lake Street, up El Camino and into the Lands End trail, finishing at the USS SF Memorial Parking Lot at Lands End (3.4 miles in total).
Sign up by tomorrow to guarantee you get a 2014 race t-shirt featuring our race logo designed by neighborhood artist Andy George. (Online registration closes on Friday, but you can always come on race day and sign up at the start line (no t-shirt guarantee though!).
Registration is just $35 for adults (13+) and includes a race bib and t-shirt, plus refreshments at the finish line. Kids 12 and under race for free – just bring them to the starting area on race day and we'll give them a free bib number.
Proceeds from the race benefit the Richmond District Neighborhood Center, a non-profit that provides free and low-cost resources, support, and activities to children, teens, adults and seniors in the neighborhood.
We look forward to seeing you out there!
Sarah B.
Jog in the Fog is sponsored by:
9:42 am | Posted under
Events
|
Add comments